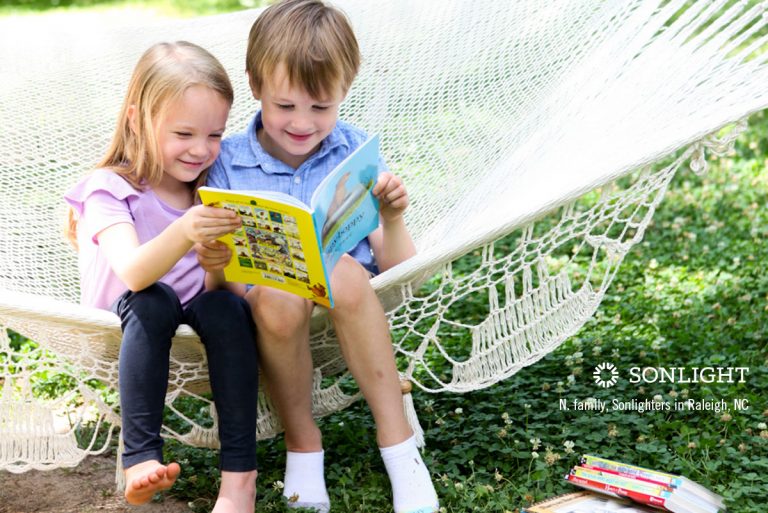 Lanie (age 4) and Liam (age 6), reading in the hammock

"One of the greatest joys of our first year of homeschooling has been to watch my oldest two children's relationship blossom. I've often found them nestled together, reading books alongside each other or to one another, and it's the most precious thing to witness. I know they are making the sweetest memories. I'm so thankful that because of our choice to homeschool with Sonlight, their childhood can be spent togetherand not in separate classrooms."

—Whitney N. of Raleigh, NC
---
About 9-12 weeks into your first year homeschooling you're probably thinking,
"Oh my goodness...what have we done?"
You are knee deep in overwhelm, right? Let me reassure you….
This feeling is 100% normal.
If I can be very honest, eight years into this homeschooling gig, that feeling is still occasionally normal for me.
Let's face it. We have chosen to take our children's education into our hands. Hands that sometimes don't feel qualified. It can be daunting.
But nothing is more daunting than that feeling the very first year. I still remember ours. I had decided to piece together the curriculum for my first grader. I can't decide if I was totally naive, or just overly ambitious... probably a mix of both, really.
I remember being about a fourth of the way through the school year, thinking, "Oh my...this is way harder than I thought! Maybe we made a huge mistake!"
If I could go back in time and reassure my first-year self, here's what I'd say…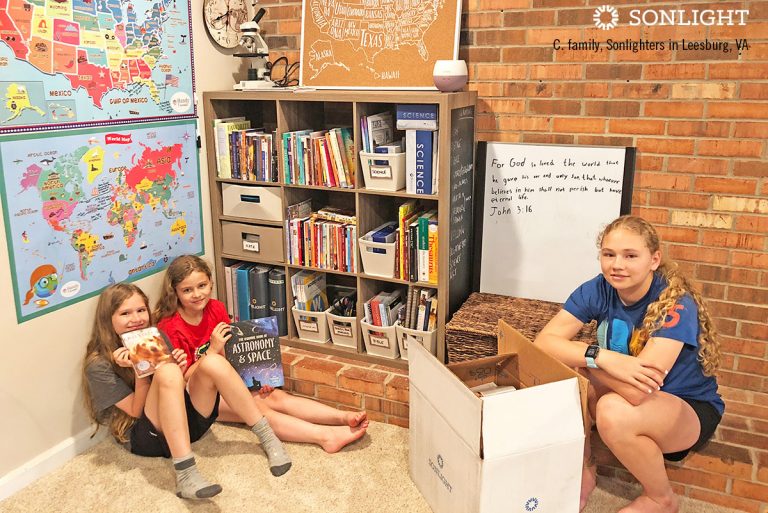 1. Survive Your First Year
I'm forever convinced that people who choose Sonlight right out of the gate are at a huge advantage, but I'm sure that even those moms and dads have that moment of panic when the big box arrives. Here's what you need to know about the first year: You just need to survive it.
You and your child are learning so much this first year. Just get through it. Don't worry about having things set up just so. Don't worry about checking every box. Just finish the year.
2. Set the Tone
This first year will set the tone for your homeschooling adventure. This year, you need to focus on the fundamentals of homeschooling, and I actually don't mean reading, writing, and arithmetic! I mean relationships, expectations, and procedures.
Relationships
Focus on your personal relationships with your children.
Value connection over academics.
Enjoy your children as often as you can.
Study them to know their likes and dislikes.
I always like to challenge myself with this: If someone were to ask me to describe my child, could I do a thorough job? Strive to deeply know and enjoy your children.
Expectations
This is the year you will begin to establish expectations. Don't stress too much. Your expectations will change as your children grow older, but you'll need to get a good start this year.
First, establish expectations in the home. Since your children are home rather than at school all day, they will be able to help with the housework. What are your expectations there? Keep in mind that a huge part of life is learning how to deal with housework, so time spent on chores is not wasted.
Next, consider your schoolwork expectations. Do you expect them to work mostly independently or will you be available during certain hours? What happens if they dawdle? Will you let it slide, or will there be a consequence?
Year number one is the best year to instill your expectations. Now, don't despair. If you are well past your rookie year, it's certainly not too late. It's just much easier to set expectations in that first year before bad habits set in.
Procedures
Many public schools spend the first week of school establishing procedures for the classroom. While homeschoolers generally don't have to devote so much time to logistics, it is important to establish procedures in the first year.
You'll want to make sure that your child knows where to gather supplies, where they should do their work, and how supplies should be cleaned up after tasks. Teaching these simple procedures early in your homeschool journey will save a surprising amount of time in the long term.
3. Celebrate
You and your family are doing a big thing! It should be celebrated! That first year is a prime time to learn to enjoy each other. Homeschooling families spend a lot of time together, so families need regular times to blow off steam and relax together.
Find big things to celebrate. Find little things to celebrate!
You made it through your first week? Yay! You should take everyone out for a park play-day!
You completed your first biology dissection with limited gagging? Way to go guys! You should go grab a snow-cone!
Your kiddo finished their very first Sonlight reader? Wow! That deserves an outdoor picnic I think!
Your first year holds the potential for thousands of small and big celebrations. Take advantage. Those are good memories you're making!
In a nutshell, your rookie year is all about learning and growing together. Focus on the big things this year instead of the little things. Think about the big picture. Remember why you're doing this, and keep your eyes on that single goal. You're going to have your moments, but everyone has moments. You can do this!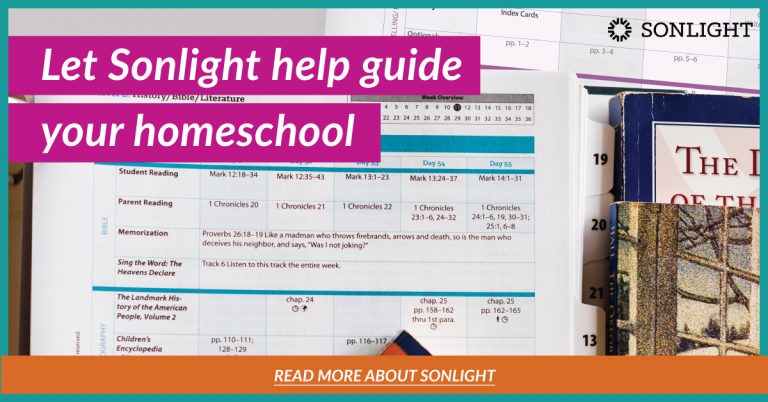 Sonlight Instructor's Guides include complete lesson plans and notes for the entire year! See how easy they can make your first year (or any year) of homeschooling.