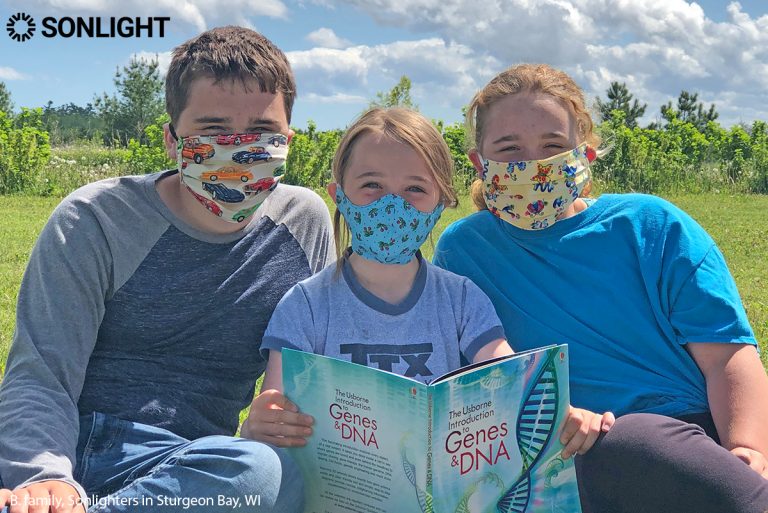 Jan. 24-31, 2022 is School Choice Week, a time when Americans celebrate their freedom to choose how to educate their children whether it's in a public school, private school, charter school, homeschooling, distance learning, or some other hybrid set-up.
In celebration of this annual event, we talked to new homeschoolers to find out how contented they are about their choice to homeschool compared to when they first made that choice.
Are they happier with their choice? Less happy? Or feeling the same?
But what we wanted to know is: Now that you are homeschooling, are you happy with it?
Homeschool Happiness Scale 5 out of 5
I was homeschooled in early elementary, but never thought I could do it for my kids, as I own a restaurant with crazy hours. But when schools closed, I started looking and kept being drawn to Sonlight. I almost decided to start in September but let self-doubt get the best of me and opted for virtual learning at my kids' public school, against everything in my gut telling me to homeschool. I called it quits after 3 weeks and ordered Sonlight for my K and 4th grader. It's turned the dreaded year of more blessings than we can count. The juggling is difficult with a full time job, but the rewards are exponential. We traded frustrations for milestones and busy mornings to cuddly story times in front of the fire. It's not all sunshine and roses, but I can definitely say the blessings outweigh the hard days. —Summer S.
[Homeschooling with Sonlight has] been by far the best thing I could have done for my kids. I wish I had done this sooner, but better late than never. —Iris T.
This is our first year in school (my oldest is a kindergartener). I had her enrolled in a private Christian school, but due to Covid, they had to close down. I was scrambling to find something as I didn't want her first experience with school to be online. I asked around, and a friend suggested Sonlight. I'm so glad she did! At first it was a struggle, especially with two younger children (ages 3 and 1). But now that we are about halfway through, we have a system we love! I'm seriously considering continuing with Sonlight next year. —Jessica B.
My homeschool mom friends encouraged me that distance learning and homeschooling are not the same. Before long, I was discussing homeschool options with my husband and ready to move forward with it. I was scared, felt unqualified, and completely overwhelmed. Five months into it and, not only do I love it, but my kids do, too! Best decision ever! We have been able to review areas that my children feel that they struggle with, we have all learned new things, and their confidence in their learning ability is improving. We have our rough moments/days, but we really feel that the good ones out weigh the rough ones. I really never expected it to be like this! 😍🤩 —Lindsey M.
For my family, [homeschooling] has been a very good decision. Since we started in August 2020 our life has changed a lot: less stress, my son is very happy learning, he enjoys the readings, and he is eating better!! I was so nervous about his learning with no grades and no teachers But it was a very good decision, and we are very happy. —Jenny S.
Homeschooling Next Year, Too!
"I'm a pandemic homeschool mom. I have children with special needs. Though I was not sure if I could handle it, it has turned out to be the best thing for my kids. They are less anxious and have fewer meltdowns. I love the flexibility of homeschooling. We have decided to continue homeschooling next year." —Kim O.
Homeschooling has been the best choice for our family. As a former teacher, I said I could never teach my own kids. Well, God showed me not only that I could, but that this [choice] is not just for one year. We will continue to homeschool so that my kids can get individual, accelerated instruction at their levels, therapies, and still have time for fun! —Rachel B.
Happy Kids = Progress in All Areas
Homeschooling for the first time this year. Best decision ever! I love it; my kids mostly enjoy it. We decided to homeschool due to not wanting our children in masks all day. My son's attitude (3rd grade) was very poor while in public school. I felt like every weekend was a detox only to repeat it all over again. His attitude is so much better and my youngest loves preschool. We love all the books so far and really dig into the history. We love it! —Amy Roach
My daughter is very high risk [for Covid-19]. I was terrified. We pulled her out right before the schools closed last spring. We started dabbling in homeschool while the school was trying to get virtual up and running. Virtual was not good for us. I started researching, and Sonlight just kept coming up. I'm so glad we chose it for science and history. My daughter is dyslexic, and the read-alouds are just the right thing. I'm very happy with my choice. She will go back to public school eventually, but I'm not worried anymore and am very grateful for Sonlight to carry us through. —Angela G. S.
Flexibility that Works for Our Life
I needed a school day that revolved around my work schedule as a full time professor, instead of a zoom schedule and demands coming from a school system that did not understand how to be effective with a distance learning model. I found Sonlight during the summer and have been so happy to include Jesus and our Christian faith during this season. Both of my kiddos (2 & 3rd grades) are thriving! I get to see immediate connections made, and also see where they are struggling. —Erin H. W.
This has been the best decision I have made in regards of schooling for my kids! Last year public school ended in such upheaval! My daughter lost her entire second grade year of math due to shutdowns and struggles that the school wasn't willing to help with. This year she is excelling in math! My son is reading for pleasure now instead of "because he has to" and will read to his little sister who's a toddler. This is our lifestyle now. Homeschooling has offered such freedom! I'm here to say that homeschooling is easier than homework! —Katie J. B.
Share Your School Choice Experience
Use #sonlightstories
We'd love to hear from you, whether you are a brand new, 2021 homeschooler or a long-time Sonlighter. Choose one of the stories backgrounds below and personalize it with your own photos, text, and stickers that tell why you are happy you chose to homeschool with Sonlight. Just click the image to enlarge it.
Be sure to use #sonlightstories on your share.
Still on the fence? It's not too late to switch to homeschooling with Sonlight and get the same benefits our other rookie families have experienced.