Whether you homeschooled from kindergarten through high school or only for the last few years of high school, a homeschool graduation is an immensely rewarding and personal experience for both the student and parents. Like so many aspects of homeschooling, you get to tailor the graduation to your individual student, whether you have a ceremony, a party, or simply go on a meaningful trip together.
So how do you plan your homeschool graduation? Much the same way you would any graduation: send announcements, reflect on your student's accomplishments, and get some good food. Here are homeschool graduation ideas to help you plan for this important milestone in your teen's life.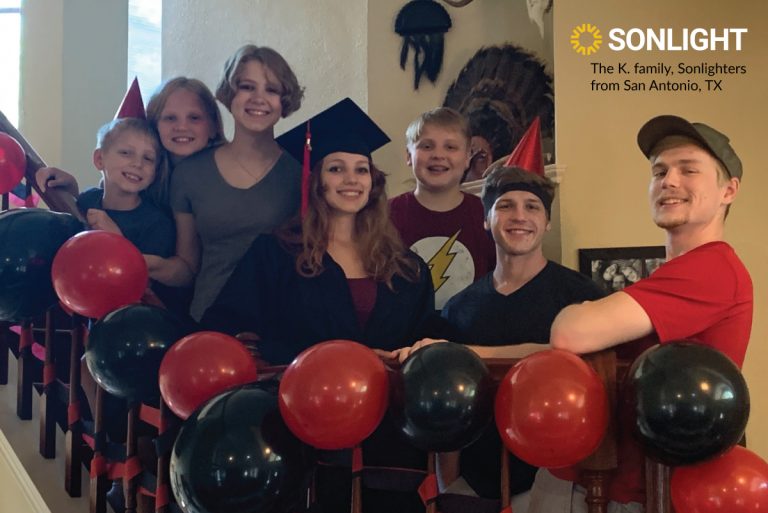 1. Do Homeschoolers Have a Graduation Ceremony?
Yes, they do! But they also don't have to. This is probably the first question to discuss with your senior, months before your homeschool graduation. Does your senior want a homeschool graduation ceremony and what options are available to you?
Why Is Having a Graduation Ceremony Important?
A graduation ceremony a special commemoration to honor both your graduate and yourself! You worked hard to be here, too. Your high school graduation ceremony doesn't have to include speeches and walking across a stage if that doesn't fit your style. But having an official moment to recognize all the hard work you and your graduate put in is an important act of closure to the homeschool journey.
What Are Some Homeschool Graduation Ceremony Ideas?
State/National Organization Ceremony: Some state or national homeschool groups put on a large homeschool graduation ceremony every year with commencement speakers and hundreds of participants. If you are willing to travel, you may be allowed to join even if you live in a different state. There is often a fee, but all the organization is taken care of.
Local Organization Ceremony: Sometimes local homeschool co-ops or organizations hold a homeschool graduation ceremony. Your ability to participate may depend on your being active in that group as a homeschooler.
Small Group Ceremony: A homeschool graduation ceremony can also be as simple as you and a few fellow homeschool families who join together to celebrate your graduates. Having friends involved can make a big difference in the day. Each family presents a diploma and has a short commemorative speech about their student. You could even get a local speaker to present a commencement address.
Individual Ceremony: Plenty of families hold a personalized ceremony for only their graduates. They gather friends and family at their home or another local venue and create a personalized celebration.
Family Night Out: Perhaps a ceremony of any sort is just not your family's style. There's no rule that you must have a ceremony. But even if you aren't doing an event of any kind, you should still consider sending announcements and certainly create a diploma.
Once you find out what options are available to you, have an honest discussion with your senior to see how they would like to celebrate the occasion.
2. Should You Send Homeschool Graduation Announcements?
Always send announcements. Whether you have a full graduation ceremony, a quiet party, or take a family trip to the Grand Canyon to celebrate, you should absolutely send out announcements! Friends and family who supported you along the way should get to share in the celebration. And, let's be honest, friends and family who didn't support you along the way should get to see that you made it!
Announcements can be as simple as an ecard, but people are more likely to send back a graduation gift if they get an announcement in the mail. Including a photo of your graduate is always a nice touch that makes the announcement feel special even if you aren't inviting them to an event.
3. Do You Need a Homeschool Graduation Diploma?
Yes, you need a diploma to graduate your homeschooled teen. Having a high school diploma is a requirement for many jobs and college applications, and even for being able to homeschool one's own kids in some states. So it is definitely worth investing in an official-looking one. You can purchase one or find an online template and have it printed on good paper. Having a diploma to hand to your graduate, whether you have a ceremony or not, also gives a final sense of accomplishment.
Make sure you are familiar with your state's homeschool laws so you include all the necessary information on the diploma: legal name of the student, name of the educational institution (your homeschool has a name, right?), city and state, etc.
4. Do You Need a Homeschool Graduation Cap and Gown?
Maybe, maybe not. Many graduates want a cap and gown for senior photos, even if they aren't doing a walk-across-the-stage ceremony. If you aren't doing an official ceremony, this is certainly up to you and your graduate. Your state or local homeschool group may be able to direct you in finding one, but cap and gowns tend to be abundantly available via online sources as they are a common photo prop.
5. Should There Be Speeches at a Homeschool Graduation?
For some people, speeches are the first element to cull from a homeschool graduation ceremony. For others, it's what they remember most. One or two formal speeches are certainly expected if you have a classic Pomp and Circumstance-styled ceremony; if you have a small gathering at your house, a speech is not necessary.
Whether you have actual speeches or not, however, make sure you reflect on your graduate.
Remember, a homeschool graduation is partly your success too! You, their teacher, got your student this far and pushed through many hurdles to see this day. Look back on the journey! That might be through a photo slideshow or a homeschool showcase rather than speeches, but make sure you do something that commemorates the journey you've both been on.
6. Should I Surprise My Graduate With a Ceremony or Party?
You can always pop one or two surprises, but graduations are personal and monumental; you should definitely consult your graduate about expectations. Don't assume because you have fond memories of your high school graduation that your senior wants a similar experience.
For many homeschool students, there is no nostalgia associated with ceremonies, so they may not want to endure a full event with lots of expectations. That's okay! Find another way to make your student feel special.
On the other hand, you may have a student who loves being the center of attention and dreams of walking across a stage to receive a diploma. It may be worth a drive or a full day dedicated to celebrating this momentous occasion. Give your senior space early in the senior year (or even before) to talk about what options you are capable of and comfortable with doing. Your teen may surprise you with what sounds appealing.
7. What If My Graduate Doesn't Want a Ceremony?
Feel free to get creative! Yes, there is a lot of tradition and expectations that surround graduations, but isn't family freedom one of the best perks of homeschooling? If your family likes tradition, you can absolutely create a classic high school graduation. But if you are more of a free-range family, there's nothing but social expectations to disappoint.
Go on a parent-child trip.
Have a family bowling night.
Order your teen's favorite takeout.
Go to an amusement park with close friends.
You can also absolutely have a graduation celebration that ignores the ceremony part.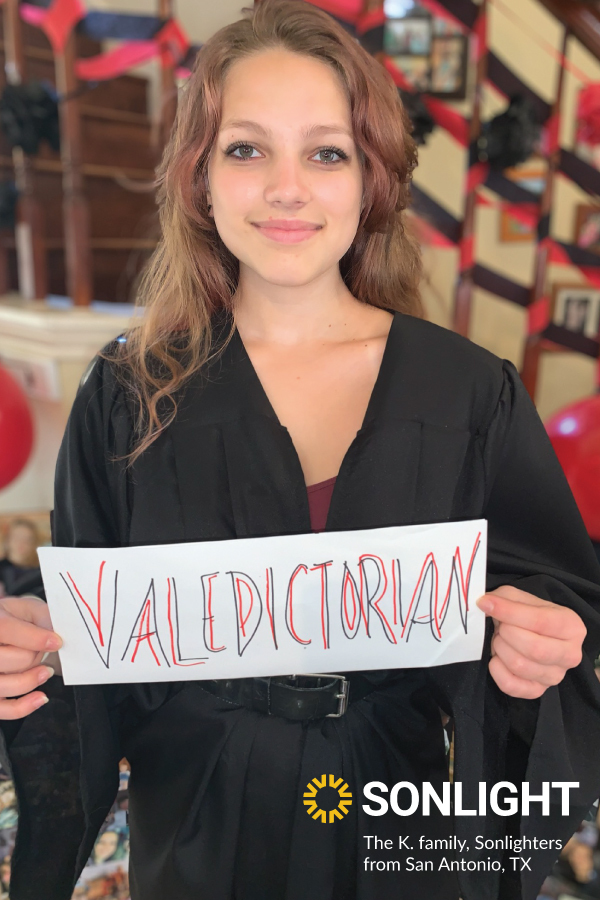 8. How Do You Plan a Homeschool Graduation Party at Home?
You've decided you want the party. You've sent the announcements. You've picked a date. You've made your choice about a ceremony. Now you need homeschool graduation party ideas.
What Are Some Fun Things to Do at a Graduation Party?
Plan specific games. This is a great area to personalize to your graduate. Is she into sports? Set up mini golf or backyard volleyball. Does he like board games? Have several guests bring different board games to rotate through.
Tailor it to your graduate's academic interests. Think outside the box for activities. Gather science experiment kits and divide into teams to see who can complete the project the fastest. Pick a favorite play or novel and do a dramatic reading, assigning parts to different guests. Set up a scavenger hunt where guests have to solve puzzles to find the next clue.
Have fun food. Teenagers tend to be all about snacks, and also all about not eating when they are told. Single-serving options are a great fix for this.
Make a memory station. This could be a photo booth to take pictures of the friends/family who came. It could also be a place with photos of your graduate's favorite memories from their homeschool journey, or favorite projects, papers, or even books.
9. How Do You Host a Virtual Graduation and Make It Special?
If you have to go virtual for your graduation celebration, there are still ways to make it special and run smoothly.
Set expectations with guests ahead of time. Will there be a schedule to the party? Should they come prepared to answer trivia questions or to play a virtual game?
Ask for guest submissions ahead of time. Someone will inevitably have tech trouble, so if you ask your guests to send favorite memories, or best life tips, etc., via email ahead of the party, you can read the submissions aloud instead of virtually passing the mic.
Still have snacks! If your guest list is small enough, you can send snacks to each guest ahead of time and tell them to have them handy. This can be as simple as a microwavable popcorn package or as unique as a ziplock of homemade treats. If this is impractical, suggest in the invitation that everyone have a favorite drink or snack handy during the party.
Play games. You can still play games virtually. Scattergories, trivia, charades, scavenger hunts (with common household items), and Would You Rather? are all great games that still get people laughing and engaging in a virtual setting.
Still reflect on your graduate. You can share a video or photo slideshow virtually and let everyone look back on what an amazing person your graduate has always been and is growing into.
10. What If I'm On a Tight Budget?
There are many ways to make your graduate feel special without having to break the bank. Even if you decide to do a party, you don't have to follow every Pinterest idea out there.
Keep decorations to a minimum. Balloons are cheap and always festive! Not everything has to have the graduation year emblazoned on it.
Send ecard or social media announcements. Yes, the printed version is more formal, but you can send a few mailed announcements if you/your graduate really cares and then evite the rest.
Stick to one or two food items. No one goes to a graduation party expecting a feast. A few light refreshments are fine!
Plan games based on what you already have. Be that board games, dramatic readings, or scavenger hunts, it will be new to your guests and therefore a fun experience for your graduate.
Embrace small and intimate. You can send graduation announcements to all your extended family, but only invite a few of your graduate's closest friends to the celebration.
In Short, Make This Milestone Personal
The best thing about homeschooling doesn't stop with graduation. You can make it all about your individual student and what fits him/her. Plan the homeschool graduation that fits your family and your graduate.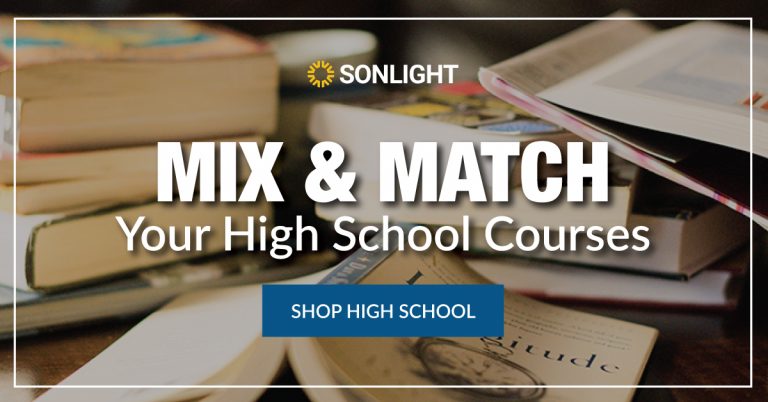 Shop Sonlight for the best high school curriculum for homeschoolers.