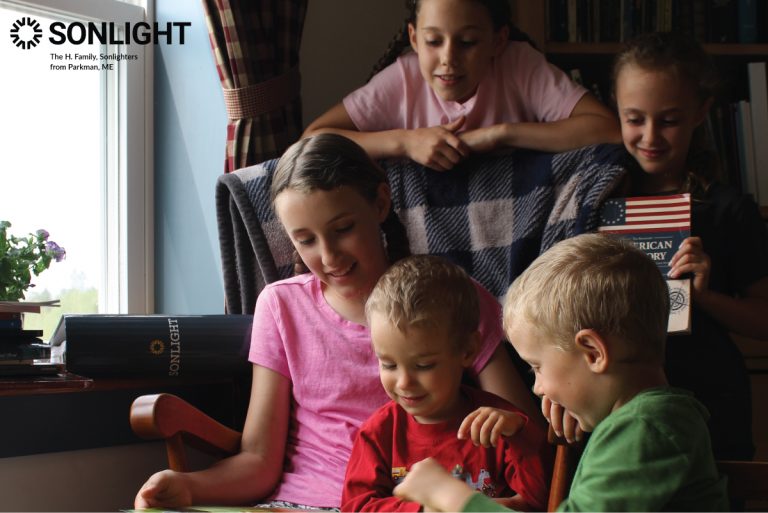 In the Sonlight Connections group (membership for anyone with a free account on sonlight.com) and the Teacher Connection group (membership offered to qualified new Sonlighters), we asked brand new, unexpected homeschoolers how they are juggling the task of homeschooling multiple children.
It's quite an adjustment when you're used to sending your children to school every day and are suddenly faced with meeting all their educational needs yourself. The challenges of keeping babies, toddlers, and preschoolers occupied and happy while you're teaching school-age children is a frequent headache for homeschool moms. These newbies quoted below are no different! Their ingenious solutions are the same ones we suggest: let the little ones get involved in their own simple way, and sneak in homeschooling during naptimes and after early bedtimes. Most of these moms have discovered the key to homeschooling multiple children is to combine them whenever possible, using the same curriculum.
We hope their stories will encourage you in your challenges! And maybe you'll find a few tips for smoother days at home as a family.
[Some responses have been shortened for brevity and lightly edited.]
Sometimes Stressful but Overall Freer

"We began homeschooling due to COVID. There's never a dull day around here as I have a 6-year-old doing HBL K and a 4-year-old not quite ready for lessons. Finding the best time for instruction so that my 6-year-old can focus while not causing my 4-year-old to feel neglected has been a significant challenge, and at times a stressor. That being said, I wouldn't trade it for the world. Our family feels so much freer now. My daughter believes she's actually smart and my son is finally engaging in stretches of independent play. We are now looking for a property where we have more space to live and play and enjoy our new lifestyle." —Tracy N. A.
Creative Scheduling and Help from a Babysitter
"We began homeschooling this year due to COVID. We're 8 weeks into doing a HBL D and K for my 4th and 1st graders. It gets a little tricky because I'm also working a 40% load. I cover about 4 days of curriculum in 3 days and leave most of the independent work for our babysitter to oversee. I won't say it's easy, but it's definitely working, and I feel confident it's the best choice for us this year. The curriculum is truly outstanding and comprehensive. The ability to cover Bible, history, and culture with in-depth reflection just can't be matched." —Lindsay B. H.
Combining Kids Is a Lifesaver
"We're new to homeschooling this year due to COVID. I have four boys (ages 10, 9, 8, and 3), and I knew that it would be easier to homeschool the boys together using the same curriculum than to try and help them with 3 separate curriculums with our district virtual and hybrid learning. I was extremely worried, especially since my oldest has ADHD and is hard to teach. However, we have been SHOCKED at how much we are all enjoying Sonlight! And my oldest is the one who likes it the best; he's thriving with the study of history! And two of my boys had never read a chapter book before this year. After some initial frustrations with comprehension of the readers, they are suddenly enjoying the reading and able to discuss what they've read with me! The 3-year-old does present some challenges, but he loves memorizing the Bible verses with the big boys, memorizing his own poems, looking at the pictures in the books we're reading, and doing "math" (i.e. writing "numbers" on a white board). I'm lucky to have my older 3 boys so close in age (and at very similar learning levels), so the only thing I have to differentiate is math. We do all the couch subjects together and then rotate while I work with one on math, one does his reader and the other ones gets "recess" with the toddler, and then we switch. We are so thankful for the peace that homeschooling has brought to our home (especially when we see our friends trying to survive hybrid learning)." —Audrey A.
Let the Little Ones Tag Along
"Our daughter is in first grade, we have a 1- and 2-year-old, and I'm pregnant with our fourth. The hardest thing for our homeschooling has probably been interruptions from younger kids and lack of ability to hold structure in this season. But the Lord has taught me so much through this new endeavor:
To let go of the need for structure and plans to go exactly as planned, which is difficult for being type A.
That my two-year-old loves to do her own activities and learn alongside our first grader, so instead of it being a burden to have toddlers/babies, it's been a blessing and an opportunity for growth." —Arianna M. S.
"I'm new to homeschooling, and I'm really enjoying it. I have a 7-year-old 2nd grader and also 4-year-old in preschool. I think the hardest thing for me is keeping the 4-year-old entertained, She does an hour of school work, and then I have to find ways to keep her busy. I am pleasantly surprised how much I am enjoying the curriculum for my older daughter and the freedom of going at our pace! I love how great math is going! We are using Math U See, and she is learning in leaps and bounds! I never thought I would homeschool, but here we are and I think we are here to stay!" —Raquel R.
"First time homeschooler, and yes, because of the pandemic. I was on maternity leave with my 9-month-old when we started homeschooling my eldest for Kindergarten. Bought the full package, and we are loving it. There are crazy times especially since the little one is in the stage of teething. Husband helps with prep, and and I'm the instructor. I figured out the best way is to let our little one join in the class. He seems to be listening, and when bored, he will crawl back to his play area. Most days, it's breastfeeding while teaching 😁 If I can't get a Read-Aloud done for the day, I use the book as our bedtime stories."—Joylyn T.
"I have a kid in college and a 10th grader doing online school. I'm homeschooling my 3rd grader now. I was always one of those moms at church who said I'd never do it, but after the school system being wishy washy about when school will open and Zoom meetings being so boring for my daughter, I asked church friends about homeschool sites and I ordered the full 3rd grade curriculum! So far so good but I'm still surprised at how short the school day is…I also have a 4-year-old who plays electronics while we do school, so I'm trying to figure out what to do. I sort of work from home too but love the flexibility of homeschooling!" —Bea L.
Homeschooling Siblings Together Means Family Bonding
"I started homeschooling due to the shutdowns of COVID. My daughter was already struggling in math, so once the shutdowns happened, she basically lost a whole year. I had my daughter and son do Horizons Math 2 together. We then decided that going into the new year with so much uncertainty would not make going back to public school possible. I combined my son and daughter in their math, science, and HBL. We have grown to love homeschooling. I've watched my daughter gain confidence in her math skills and they love all the books. Chasing their one year old sister has made this a bigger adventure (adventure sounds better than chaos), but I've watched their relationships thrive. Had the older two been in public school, they would have missed watching her grow and teaching her new things. This has made our family stronger. We are more relaxed and school is fun again. We have now decided that this is our new lifestyle."—Katie J. B.
Embracing the Beauty of Homeschooling
"My twin 8-year-old sons and 6-year-old daughter loved their public school experience, and as a mama I was very happy with how things were going and never expected to be a homeschooler. But seven weeks in, we have fallen in love with the whole experience. Reading timeless books to my kids is by far my favorite part. It never fails, but by the end of a book my kids all look at the end and the back to see if there's a sequel we can grab. Homeschool doesn't have to try to be public school because they are completely different. I think as a new unexpected homeschool mama, that's been the greatest lesson of all. I don't have to try to re-create public school because I'm giving them something that public school just can't be. Both are beautiful. I hope someday when my kids are telling their kids about the year 2020, they'll remember all the extra snuggles all the laughs and all the things we learned snuggled up cozy in our tiny RV taking a much needed break from the crazy world." —Melissa N.
My Kids Are Happy with Mom as Teacher
"[We are n]ew homeschoolers because of Covid. We have 3rd grade, K, and a 2-year-old. I always loved the idea of public school and kids being around other kids, but due to all the regulations and uncertainty with public schools right now, we didn't want to put our kids under more stress.
Homeschooling wasn't something we wanted to do, and we were afraid we will fail our kids if we do it. But it was worth to try, and we're glad we picked Sonlight. It's definitely a challenge with two different grades and a toddler that needs attention, but so far we are enjoying it. And to my big surprise, kids are happy with mama being a teacher (wasn't expecting it😄)! I love watching my kids learn. And even though we might not continue homeschooling after this school year, I love all this time of learning and new level of bonding we have now." —Zina M.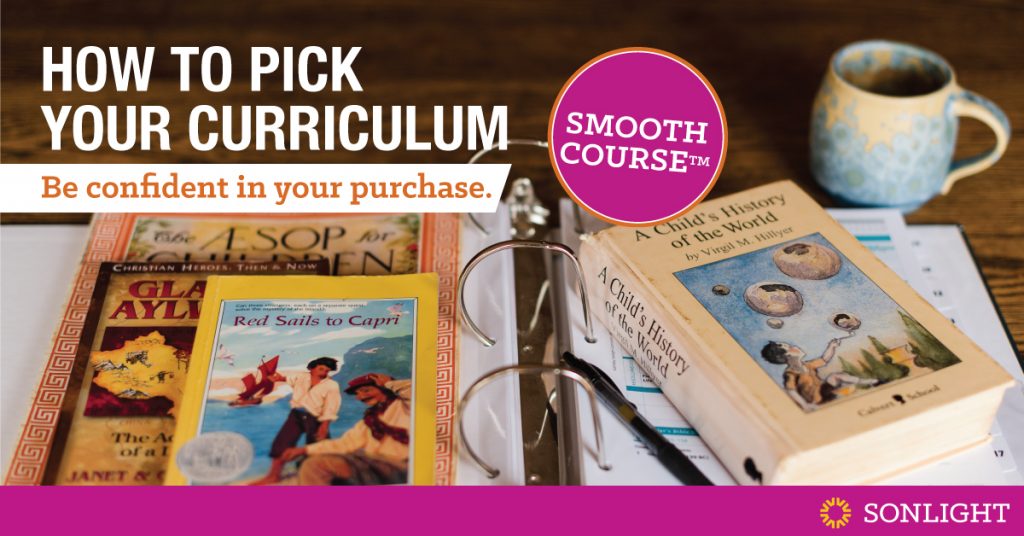 You can teach your kids at home! A well-planned curriculum makes it so easy, and you can trust that you are giving your kids all the academics they need.