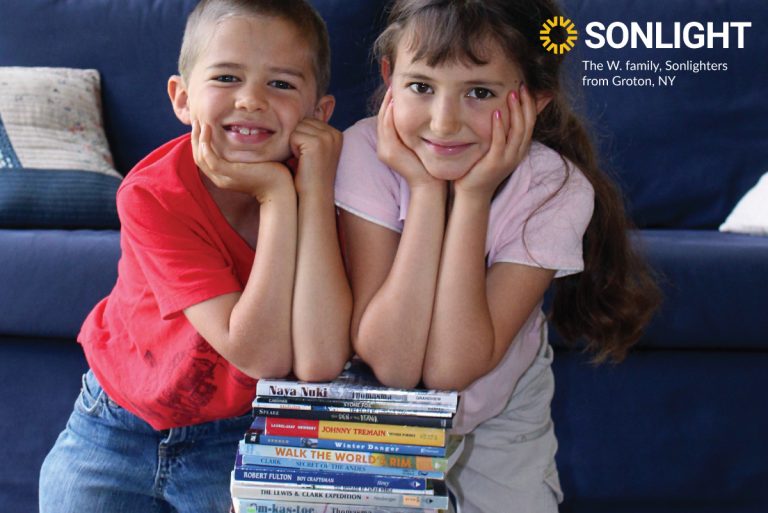 Change can be hard. Even when we're unhappy, our ruts of familiarity can keep us locked into less than ideal situations. Or maybe you're fallen prey to the very common sunk cost fallacy. You've already invested half of a school year with a certain program or educational choice. It's too late to change now, right?
Absolutely not! If you're not content with how your children are doing school right now, don't hesitate to jump ship and choose something new. Their childhood years are so brief that you don't want to waste even a few months on a school, a curriculum, or a method of learning that isn't serving them well.
Switch to Sonlight and give your children the education you've been fantasizing about—one where both you and the kids are happy.
Here are 100 reasons to make the plunge to homeschooling with Sonlight.
Sonlight Has Great Books!
Learn through engaging literature—no dry textbooks!
Sonlight inspires a love for reading.
"The fantastic literature that my whole family gets to experience. With 7 kiddos, there are always favorites that we can't wait to read again, and again & again. I have had the blessing of reading some books over 5 times!! My kids tell me never to get rid of any of them. They want me to save them for the grands!!" —Amy T.
Sonlight books will make you laugh!
Sonlight books will make you cry!
Sonlight books will make you think!
"Finding books I would have never known about." —Teri J.
Sonlight books are springboards to more reading (more of the author, sequels, more on the topic).
Sonlight exposes your family to multiple genres of literature.
"The books excite my child and inculcate a habit of reading. She turns to the books whenever she's bored and even reads them to her younger siblings. I'm glad I chose Sonlight!" —Vidyadhar M. of Pune, India
Sonlight Science Is the Best
Sonlight Science uses real books that beg to be devoured.
"With a detailed schedule, real books, and do-able projects, I actually like science again!" —Harmony K. of Carlos, MN
Science experiments have easy-to-follow directions and illustrations.
"Even though my kids are 2 1/2 years apart in age, the Sonlight approach makes it easy to combine them into one Science program that we can do together." —Molly Z. of Omaha, NE
The science experiments actually teach scientific concepts. They aren't fluffy, science-adjacent activities.
Sonlight Science adheres to Next Generation Science Standards (NGSS).
Science kits include what you need to actually do the experiments. No more last minute runs for supplies.
Sonlight Instills Christian Faith
30+ years of history: Sonlight is the original Christian literature-based homeschool curriculum.
Pass your Christian faith to your children.
Pray for the peoples of the world.
Pray for missionaries.
Boost your faith through inspiring missionary biographies.
"Sonlight curriculum is the essence of our homeschool – because of Sonlight, our children love books, love history, love learning, and most importantly, are learning to love and serve our Lord Jesus Christ." —Anna C. of Selmer, TN
"I didn't grow up in a Christian home. As a mom trying to prepare my children to be 'in the world but not of the world,' I felt a little under-equipped. With Sonlight, the Instructor's Guide helps me spot places in books that don't align with Christian beliefs and gives great descriptions of why so I can best explain these ideas to my children. Sonlight is helping me equip my children to go out into the world on their own, spot the lies in our culture, and speak against them. I am thankful to have Sonlight on my side!" —Dayna W. of Tyler, TX
Sonlight Challenges Minds
Sonlight develops a love for learning.
Sonlight teaches children to think critically.
Sonlight ignites your student's imagination.
Sonlight's approach teaches history in context (versus just memorizing dates & facts).
Sonlight builds an impressive vocabulary in students (and parents).
Sonlight lays a solid foundation for future academic and career pursuits.
Connect current events to historical ones.
"Sonlight books have been a launching pad for many family discussions. For example, after reading several of the Sonlight Preschool books about Thailand we asked a family friend who was a missionary kid in Thailand to spend an afternoon telling us even more about her childhood. Sonlight books have broadened and shaped our world." —Emily F. of Barboursville, VA
Sonlight Makes Financial Sense
Sonlight is economical because you can teach multiple children the couch subjects with a single level.
Upgrade your Instructor's Guides at a discounted rate when programs are updated.
Payment plans.
Use an HBL again and again with younger children.
Sonlight Lightens Your Load
Relax! The lessons are fully planned.
Get every subject you need in a single order.
Discussion questions in the IG help you talk about books with your kids even if you haven't read them yourself.
Zero prep: Open-and-go Instructor's Guide | Take back your Sunday nights!
Save time—combine multiple children with a single program.
"The flexibility and that it's prepared for me! This has been a year of craziness, and the fact that I can just grab what we need and have a full day without having to stress about it has been a huge blessing." — Katie B.
"Homeschooling with Sonlight has allowed us to continue small scale farming by eliminating time spent planning lessons." —Melissa A. of Mt. Jackson, VA
Organize your curriculum with color-coded labels.
Sonlight Flexes in So Many Ways
It's easy to adjust Sonlight to fit your family schedule.
The Instructor's Guide can serve as your homeschool planner.
You can easily adapt and flex your curriculum to meet your child's needs: skip things, rearrange things, make it more challenging, etc.
"We live in Uganda and need to travel frequently for work, both within the country and for periods of several months out of the country. Sonlight gives us the flexibility to be able to move together and embrace the opportunities of living between very different cultures. We can pack up our bags of books and off we go, enjoying learning the whole time." —Catriona W. of Kampala, Uganda
Customize your curriculum packages with multiple options: choose reading levels, add extras, remove items you already have.
"When Calvin was born in September, I planned to take several weeks off of school to adjust to having a new baby. Two weeks after his birth, the rest of my kids were starting to go stir crazy—they were ready for routine again! Sonlight's open-and-go Instructor's Guide and fabulous books made it so easy to jump in again. It's a huge blessing to know all of our children will grow up surrounded by such quality literature." —Rebecca B. of Pomeroy, IA
Each program is 36 weeks of instruction, a full school year. But you can go at your own pace, choosing year-round school or even working through the 36 weeks over 18 or even 24 months time.
"Sonlight fits perfectly into our hectic life. I'm a single mom with two little guys and a new baby. I feel blessed to be able to use a curriculum that allows me the freedom to grab a book, and read to my kids wherever they are ... on the couch or outside on a dirt pile." —Jacy G. of Harrison, AK
Sonlight Inspires Hearts
Sonlight Is Good for Families
Develop

stronger family bonds

.

Build a

cherished family library

right in your home.

Mom and Dad learn

alongside

their children.

Sonlight's great books provide fodder for dinner-table conversation.

Sonlight is efficient learning, leaving more time for kids to

play

,

sleep

, daydream, and just be kids.

"Our kids benefit from a diverse learning experience by having both Mom and Dad as teachers, and we get to spend fun, quality time together as a family doing joyful learning that otherwise wouldn't be possible given our family schedule." —Cherish P. of Cape Girardeau, MO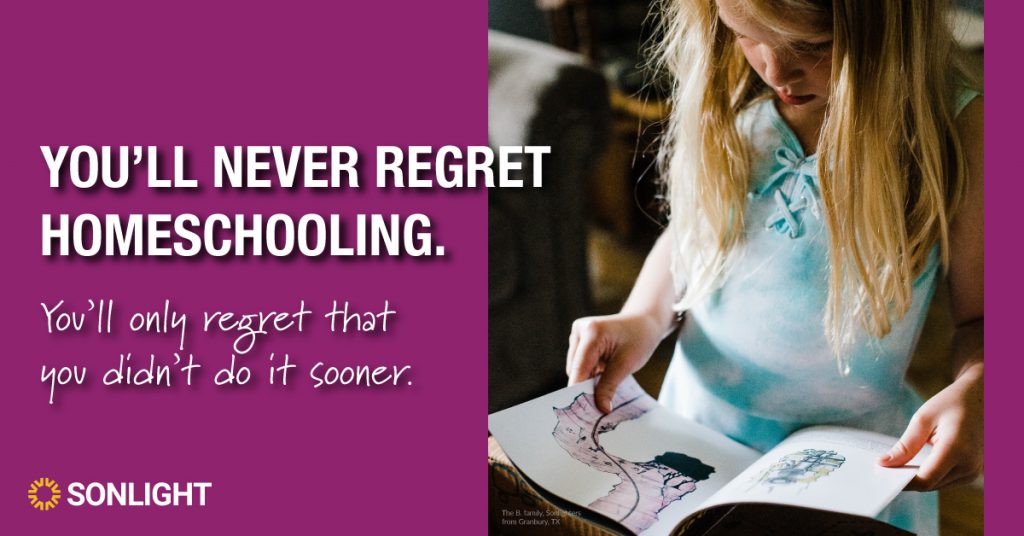 Sonlight Is Rewarding
Impress family members with your understanding of historical events!
You get to experience the thrill of the moment when your child realizes they have learned to read.
"No busywork." —Evie S.
"The living books cultivate meaningful conversations and bring life to every subject. Making the switch to Sonlight has been a blessing to both my children and myself!" —Lacey D. of Centralia, WA
Enjoy learning together when siblings share the same History / Bible / Literature program.
"Couch time is the BEST time! 📚🐛💙💙" —Karen D.
Sonlight Has Perks
Sonlight Covers All the Academics + the Extras
Grasp the big picture of history with the Timeline Book.
Easy-to-do crafts complement your history studies.
Lap book kits teach and review your history lessons.
Geography is integrated into the history material.
Thanks to the Markable Map, geography is no-stress and really works.
Use the math comparison chart to pick the ideal math curriculum.
Add age-appropriate electives like art and music to your curriculum with just a couple of clicks.
Carefully curated extras and supplements feed the voracious or gifted learner.
"There are no activities to constantly gather supplies for. It's all planned for me, and my kids and I are learning so much together!" —Shannon B.
"It's our seventh Sonlight Box Day, and this is why we keep coming back. Because what arrives on our doorstep every year is so much more than just a box full of books. It's a box full of quiet snuggles on the couch and exciting scientific discoveries. A box full of windows into other lives and other cultures, of many miles to walk in another's shoes. It's a box full of new things to experience, new ways to grow closer to each other and to God. A year full of joy and laughter, and maybe even a few tears, all packed up neatly in that big, beautiful white and blue Sonlight box. We can't wait to dive right in!" —Laurie H. of Fresno, CA
No more ignoring poetry! It's part of every HBL.
Sonlight Methods Really Work
"I put off using Sonlight for several years, curriculum hopping around. We just finished our first year using all Sonlight curriculum and it was probably our best homeschool year yet. Sonlight has made teaching our kids very doable and what they are learning is really sticking with them." —Laura E. of Cheyenne, WY
The natural approach to writing equips kids to express themselves well.
Sonlight is a print-based curriculum so kids aren't staring at screens all day.
Sonlight is a parent-intensive program, so you're there nurturing your children and learning alongside them.
"We never knew that we actually loved history until this year with Sonlight!" Nicki B. of Gillette, WY
"I love how Sonlight's curriculum uses a spiral method to teach and reteach topics, especially within the science curriculum. My kids learn about a topic at a simpler level, then read a book that discusses it more in-depth the following year. We circle around to similar topics at deepening levels, thus building on previous learning and growing my kids' mastery." —Amanda P. of Omaha, NE
Don't put off this change any longer. Switch to Sonlight and give your children the education you've dreamed of. It's never too late to switch!