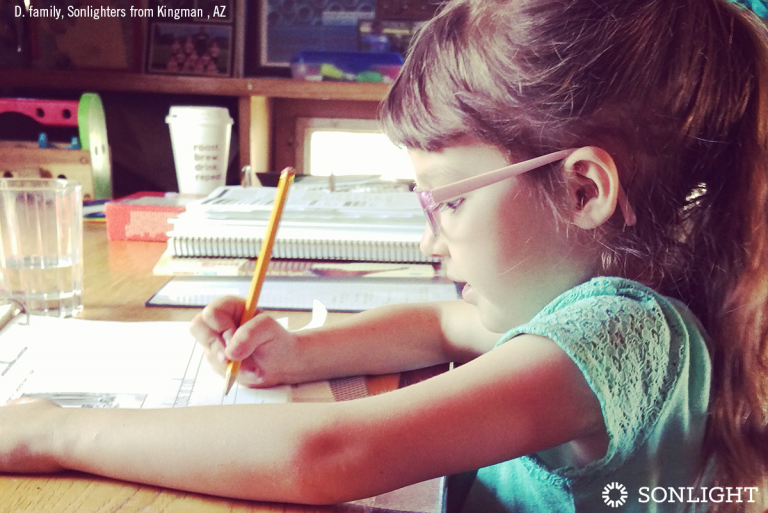 This is, perhaps, the main goal of all Language Arts instruction—the ability to put original thoughts down on paper or creative writing. But even here, different writing programs have opposite ideas about what makes for good writing.
Some programs emphasize simplicity and clarity. Other programs emphasize flowery, dressed up speech with lots of adjectives. And although this is not normally a technique professional editors recommend, many families delight to see their children's work filled with impressive words.
So even before you begin teaching writing, how do you decide on even a basic direction to go? Well, what kind of writing do you enjoy reading? Go with your intuition.
A huge part of good writing involves listening to good books. If your children have heard quality sentences for years, you'll find those quality speech patterns naturally inside them. Not impressed yet with the complexity of the sentences your 5-year-old produces? She is so young yet! Give her more years of listening to good books, and her prose will naturally improve.
"Creative Writing" in itself, though, covers such a wide range of disciplines.
Interpersonal communication: business letters, emails, social media posts.
Nonfiction reports: everything from a paragraph describing one's understanding of the latest news report to a doctoral dissertation, the ability to research and synthesize your findings.
Creative endeavors: novels, poetry, plays.
Over the course of a life, creative writing might also include memoirs and other autobiographical writing ("What I Did Last Summer"), news reports from sports to society, business writing from proposals to PowerPoint, note-taking during lectures and sermons, and so on.
How to Teach Writing, Step by Step
How do you prepare your children for writing?
Happily, you don't have to create assignments from scratch. Various programs, including Sonlight, have assignments by grade and ability.
But a general progression might look something like this:
In early elementary, your children come up with creative storylines in their play, or re-enact a story they've heard or seen. If you are willing to act as scribe, have them tell you the story and you record it.
Fiction creative writing can continue as long as the children enjoy it. Not all children will. Some are matter-of fact engineers and scientists who don't want to get in touch with their feelings or write about lost puppies. That's fine. Most of the writing in the world is not fiction.
Teaching Research Writing
You can start teaching your children how to write nonfiction in later elementary. You could begin by assigning a short research reports. In Sonlight F, the study of the Eastern Hemisphere, students write mini-reports on things as endangered species in China. Let them learn about red-crowned cranes, translating a few paragraphs of description online into a paragraph or two.
That's research!
Then you can teach your children how to do more advanced research. If they want to know about elephants, you can provide paper and sticky notes, and look online and in books (either from your personal collection or at the local library). When they find the answer to the questions they want to know, they record the answers and cite the sources.
In high school, they may find something they really want to know about. Perhaps something prompted from their own life, or something they read about that captures their interest. So they spend more time learning about it.
That's really all a research paper is—investigating something that you find interesting.
---
If there is one skill with incredible potential to reward any student who pursues it, it's the art of writing.
---
Sarita's daughter Amy thought she hated research papers, and was surprised, in her 20s, when someone said, "You love research!"
And it was true—when there was a topic that Amy liked, she pursued it wholeheartedly, and enjoyed summarizing what she learned to all who would listen. But having learned about "research" in her years before homeschooling, she had grown up thinking "research" was somehow related to post-it notes and specifically formatted attributions; that it required painful trips to the library and late nights of tears.
Happily, no! Research is looking things up until you have the knowledge you want.
Who would have thought it could be that easy?
Trying New Things for Homeschool Writing
Also in high school, your children get to experiment with various forms of creative writing. Though they might not be thrilled to write a sonnet, it's not a bad assignment to try once in a lifetime. Same with a movie review, or an essay analyzing a work of literature.
All of this is good, and also part of education—exposing a child to something they haven't tried before.
Sarita's grandson Abraham loves to draw. He does cartoons with colored pencils. When he is given an assignment from ARTistic Pursuits, initially he balks. But then he invariably says, "Oh! This is more fun than I thought it would be!"
It's good to be exposed to new things, to be stretched to write in new ways.
Final Thoughts About Homeschool Writing
In an ideal world, children would be enthusiastic to practice writing every day. Parents would have clarity on the most efficient and enjoyable way to get their children writing. And we would all communicate perfectly, without any misinformation or confusion. Since we don't live in the ideal world, though, you do the best you can with what you have. You recognize that the world's best writers write every day because they love it, and often because they are compelled to.
You have peace that if your children don't learn absolutely everything before they graduate, all is not lost. And you strive to encourage your children to be the best communicators they can be during these precious years that you have them.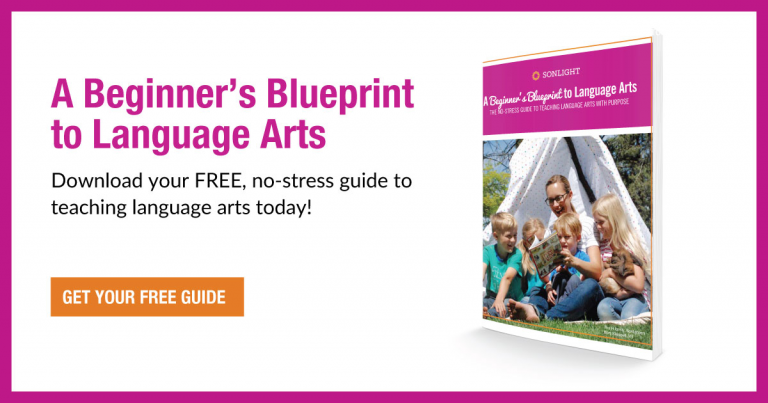 This article is excerpted from our free guide A Beginner's Blueprint to Language Arts: The No-stress Guide to Teaching Language Arts with Purpose. Download it here at no cost.