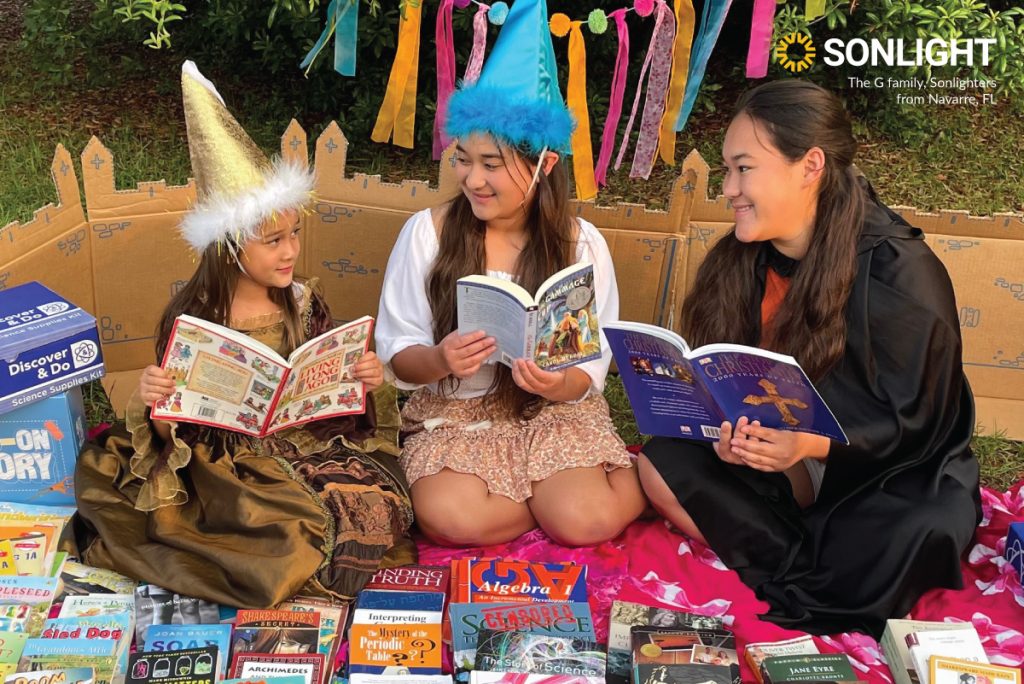 Homeschooling is a choice that can make a big difference in the overall education of your child. But what happens when you need to consider the needs of multiple children? The fact is most homeschooling families are doing so with multiple children. If you find yourself wondering how to best approach educating more than one learner at home, you are not alone!
The Reality Of Homeschooling Multiple Children
Although it may feel overwhelming at first, homeschooling multiple children is not only doable, but in many instances, it may actually add to your children's educational experience. Combined learning offers opportunities for discussion and contemplation. Having siblings who can work together may take some of the pressure off of you, as the teacher/parent. Finally, homeschooling multiple ages allows for an overall lifestyle of learning that supports sibling closeness and parent-child relationships.
While there are many benefits, that certainly doesn't mean that it is easy!
Because we know this is a pressing concern for many homeschoolers, we gathered Sonlight parent mentors from all walks of life, with children of all ages, and asked for their very best tips and tricks for homeschooling multiple ages.
Top Tips For Homeschooling Multiple Ages
We met with several of our Sonlight Homeschool Mentors and asked them to share what has worked best for them in their own homeschools, and in their experiences supporting other homeschool families.
These are their very best tips for thriving while homeschooling multiple children.
1. Use Your Parental Expertise
You know your children best! One important tip is to use this to your advantage.
When you are homeschooling multiple children, you are also homeschooling multiple personalities and energy levels. Jen Price, a Sonlight Homeschool Mentor and mom of four children of mixed ages shares,
"Deal with the highest maintenance kid first thing in the day. This should keep the highest energy child calm and focused, and that sometimes helps everybody else do the same. Also, you know who the instigator is in your family. If you keep the instigator within your line of sight, or even within your reach, things can go much more smoothly. You'll be able to head things off at the pass as behaviors are brewing, rather than letting them fester into something that takes the entire day off the rails."
2. Use Your Personal Discretionary Time Wisely
Each time you add a child to the homeschooling mix, you will notice less and less discretionary time available for your wants and needs. You will want to be intentional about scheduling and keeping your personal time your own. You will also want to consider how to best use it wisely. Sonlight homeschool mom and Mentor, Amber Severance's advice went so far as to recommend that on homeschool days, you have an easy hairstyle.
Anything and everything you can do to preserve your own time is essential to maintain your own health and self-care as you homeschool multiple-aged children.
3. Flexibility Is Key
Ask any veteran homeschool mom, and she will likely tell you that the most predictable thing in your homeschool is that there will be interruptions and a need to adjust your plans and schedule. Essentially, the most predictable part of homeschooling multiple children is the unpredictability.
"My top tip for homeschooling with multiple students is to always be adapting and adjusting to what works best for the time. Over the years, this has looked different for us as we have homeschooled with 1, 2, 3, and 4 students. For example, one of my favorite things to do during the Christmas break is to step back. It's a great time to evaluate what you've been doing, if there are any problem spots, and how you might adjust. Just little adjustments sometimes can make a big difference."

Christie Cook, Sonlight Homeschool Mentor
4. Schedule It All
Many parents homeschooling multiple ages say the secret to their success is scheduling every part of the day, by subject, by child. For example, homeschool mom Johna Lawrence shares,
"I did it by scheduling. When I had all four kids during school, or even just the top three kids, I would schedule one of my oldest kids to play with the youngest while I worked with the other two. They may or may not be in the same subject, but handling two at a time was a lot easier than having four kids asking me five different things. Chart out your day and schedule some bonding time with the older kids to be with the youngest ones to help them read a book, play blocks, anything that helps create some space in your day."
5. Manage Expectations
Sometimes, the very best thing you can do in your homeschool, no matter how many children you have in your care, is to let go and be realistic about your expectations.
For Sonlight Mentor Amber Severance, one of her most challenging homeschooling times was having her fifth child and then moving within two weeks to live with her parents. She has been homeschooling since her oldest, who is 24, was in preschool, with a 12-year age gap between her oldest and youngest children. She says,
"We made it through by managing expectations. We can talk about scheduling, but part of it is a mental game where you say, this is my life and this is my choice and we're going to accept it, and do our best by God's grace."
Homeschooling Multiple Ages With Sonlight
We agree with our homeschool mentors and appreciate their sharing so many wonderful tips and hard-won wisdom!
Sonlight is designed to support families homeschooling multiple children in so many ways. A simple example is in our schedule. We help you schedule your homeschool with a well-planned, day-by-day schedule, created to make your homeschool day run smoothly. Sonlight is an excellent choice for homeschool families with multiple children as our program includes these essential components:
Literature-based learning that allows for multiple ages to gather around and read aloud together.
"Couch Subjects" and "Table Subjects" that allow you to clearly delineate which subjects can be tackled as a family and which ones need an individualized approach.
Hands-on, creative supporting resources that are appropriate for a variety of ages.
Learn more about how Sonlight makes homeschooling multiple ages a breeze in this video.
Take a look at the Sonlight catalog. It has helps for combining children along with detailed package descriptions to help you make the best choices. For even more help and advice homeschooling multiple children, please contact our Advisors.