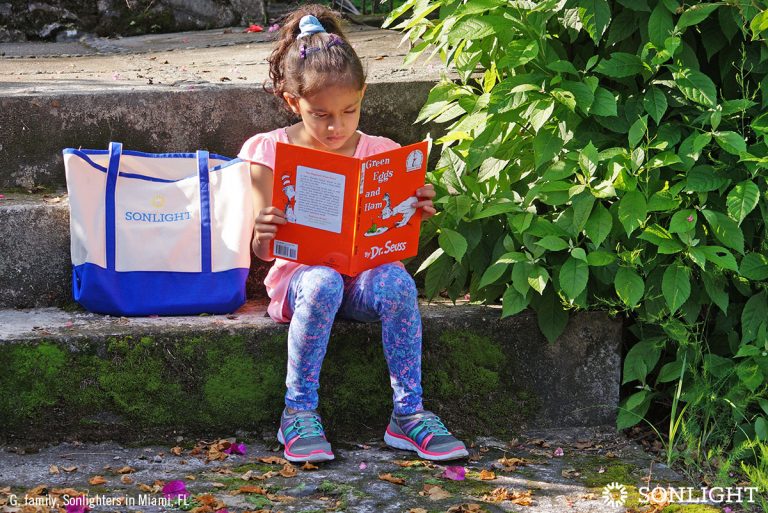 #SONLIGHTSTORIES

"After two years of using a computer/video-based curriculum, something wasn't working for us. The program left no space for fun, exploring, or developing my little one's interests. Most of all, our relationship began to suffer. Our homeschool day consisted of my supervising Gracia to pay attention to computer videos.

"It was a challenge to make the decision to move to a literature-based curriculum because English is my second language. But it broke my heart to realize that learning had become a burden to my daughter. This was not what my husband and I had in mind when we decided to homeschool; we wanted our kids to love learning. I wanted to learn with my children. I wanted learning to strengthen our relationship while discovering the world together, not for education to be a barrier between my children and me through a computer screen.

"So I took the challenge and switched to Sonlight! All my original expectations about homeschooling were met with Sonlight curriculum!! After a week of starting homeschooling with Sonlight, Gracia asked me when the vacations were going to be over. We were having so much fun that she hadn't realized we were doing school!"

Maria del mar Gaytan in Miami, FL
---
We've all been there. Something is not working for your child when it comes to education. It's a terrible feeling that can keep you up at night, worried about how to fix the situation.
Possibly your curriculum isn't a good fit.
It could be a teaching approach that is causing frustration or boredom.
Maybe your child's school environment is toxic and causing anxiety.
You know there's a problem. But should you push through and tough it out to the end of the year? Or is it time to try something new—midway through the school year?
If your school experience is more frustrating and less productive than you would like it to be, don't waste any more time. You can have the homeschool experience you want. Switching to a new curriculum or ending your relationship with the school system doesn't have to be a painful process even if you are mid-stream in the school year.
Don't let sunk costs in a bad situation keep you stuck. And don't think that you have to wait for a fresh school year to switch. You can make a switch at any point. The sooner the better!
Don't worry about the fact that there's no way you can complete a full year's worth of curriculum in the school year that's left. It's okay! There are three options for dealing with that situation when you make a mid-year switch to homeschooling with Sonlight.
---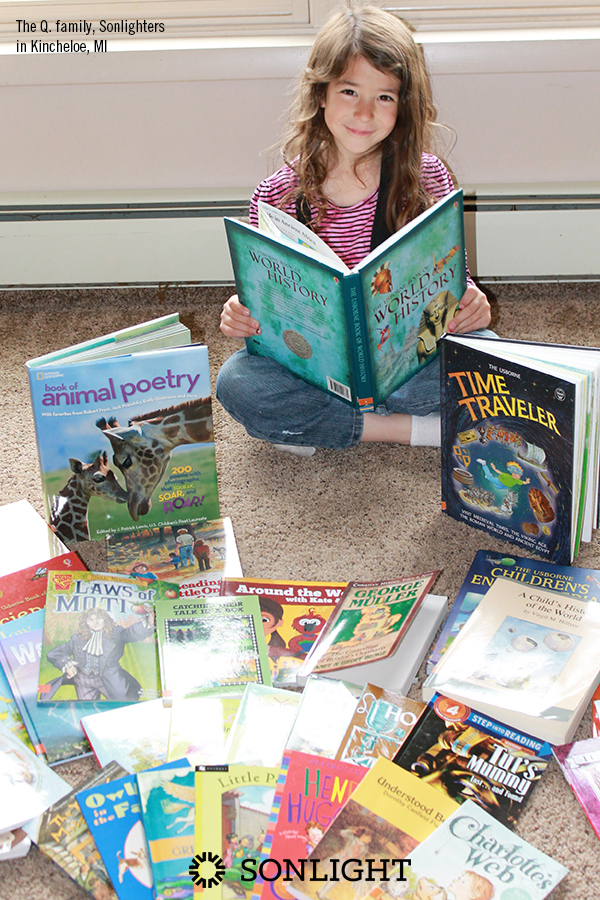 #SONLIGHTSTORIES

"Rosalynne absolutely loves reading, and Sonlight provides her with such a rich combination of books that speak right to the heart. I made the switch to Sonlight with my older children in History / Bible / Literature D, and I haven't had a moment's regret since!"

Lena Q. in Kincheloe, MI
---
1. Stretch Out a Sonlight HBL
Choose a Sonlight program for you child based on two factors:
Then begin on Week 1, Day 1 of your HBL Instructor's Guide no matter if you're starting in October or January. Work through the program until your school year is finished in the spring. Stop for the summer wherever you are in your History / Bible / Literature curriculum.
For skill-based subjects like Math, Reading, and Language Arts, finish your programs over the summer.
In the fall, pick up the History / Bible / Literature program wherever you left off before summer break. As far as the skill-based subjects, advance to the next level.
There are variations of this method depending on how much time you have left in your school year and what History / Bible / Literature level you choose. The bottom line is this: Finish the skill-based subjects to keep your child advancing and stretch out the History / Bible / Literature to cover all or part of the next school year.
---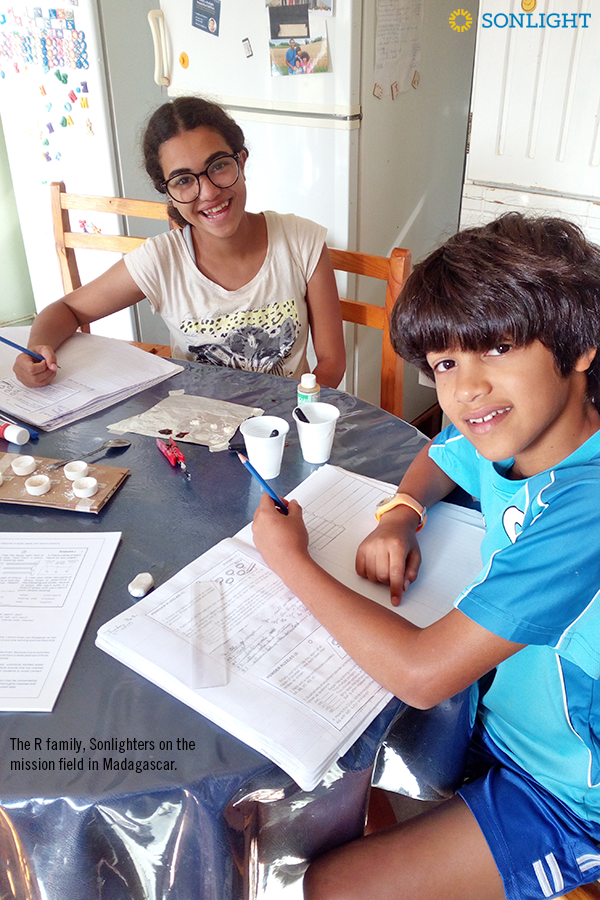 #SONLIGHTSTORIES

"We have been a homeschooling family for more than 9 years now on the mission field in Madagascar. After three years of working with Dutch schoolbooks and trying to fill in the gaps, we discovered and switched to Sonlight with much thankfulness! Sonlight curriculum reflects what I want for my children, deep in my heart."

Anita R. in Madagascar
---
2. Get Ready to Advance with Skill-Based Subjects
If you are close to the end of the school year when you switch to homeschooling with Sonlight, it may not make sense to start a History / Bible / Literature program at all. In that case, choose your Skill-based subjects (Math, Language Arts, and Reading) and complete those before the next school year so that you can advance on time. Without an HBL element, you can fill your days with those skill subjects. Start fresh in the fall with an All-Subjects Package.
---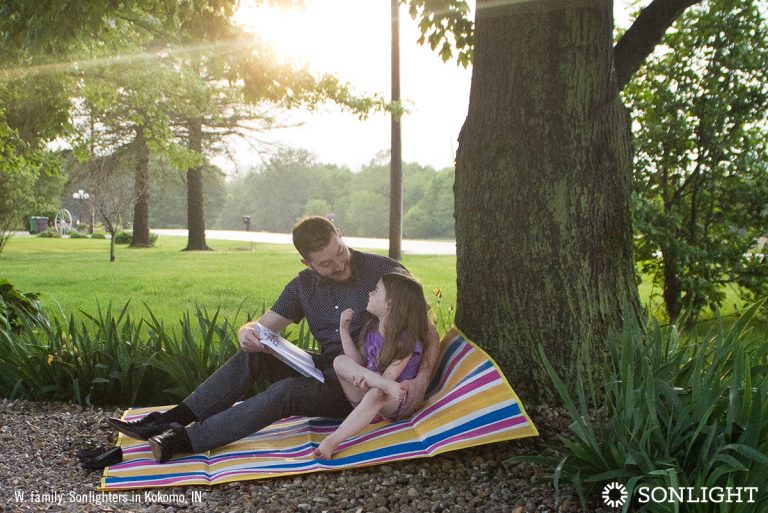 #SONLIGHTSTORIES

"We switched to homeschooling last year and were blown away by the difference in my daughter's learning.

Putting together a whole curriculum myself was overwhelming and left me constantly second-guessing if I was doing right by her education. With a 1-year-old running around and another baby on the way, I knew that we need a well-rounded and engaging curriculum for the coming year. Sonlight to the rescue! With the quality of books we received and her initial reaction, I'd say we made the right choice! "

Megan W. in Kokomo, IN
---
3. Complete Most of the HBL and Call It Good
If you have time to complete most of a year's worth of History / Bible / Literature, you might decide to simply call it good when its time for your school year to end. Sonlight programs are so rich that you will likely have had a very full year regardless of the number of weeks you've finished.
Advance your child to the next level in the fall right on schedule.
Whether you choose one of these ideas or come up with your own unique variation, switching mid-year does not have to mean skipping your summer break or working extra long days just to check every box.
Seize the opportunity to revitalize your child's education with something fresh. And, as always, the Advisor team is here to help you find a path forward.