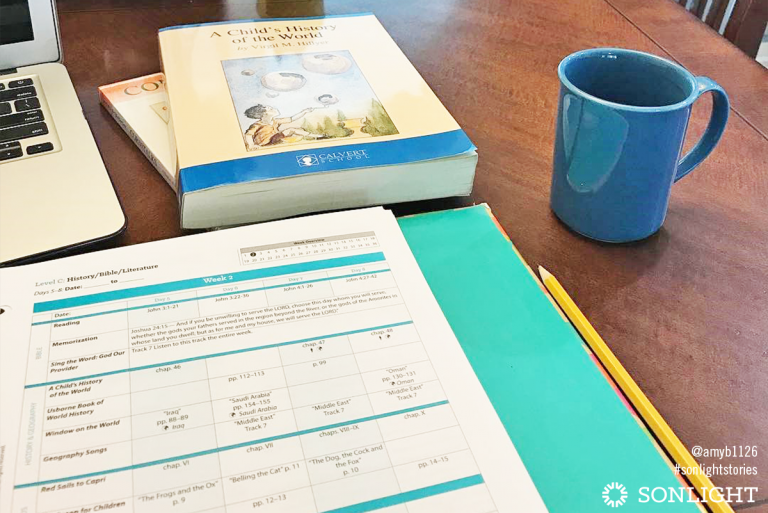 One of the best things about Sonlight is the easy-to-use Instructor's Guides (IG). We wanted to make the layout as helpful as possible for all customers, so here's a primer on how to use it, and adjust it, for your best year yet.
History and Bible tend to run all year, and those notes are directly behind each week's schedule page. You don't need to wade through 36 weeks' worth of notes—they are right there.
The notes for the Readers and Read-Alouds are at the end of the Instructor's Guide.
All the Readers are organized alphabetically by book.
All the Read-Alouds are organized alphabetically by book.
During your first week or two of using the IG, this might not seem to make much sense. Why break it up like this?
Why is the Instructor's Guide Laid Out Like This?
Most Sonlighters, over the course of the year, start to adjust the schedule to meet their family's needs. So they might drop a book. Or read ahead. Or do all of a Read-Aloud in three days because they can't stop reading, while the IG schedules it over the course of a week.
If you have to try to find the notes for a specific book, intermixed with History and Bible notes, and schedule pages . . . that is really frustrating.
We hope that, with this hybrid arrangement, you'll be able to utilize the notes effectively and efficiently.
Longtime Sonlighter Michelle Gibson says about the new IG order:
We just started a new IG and I LOVE, LOVE, LOVE it! We have used every level from Preschool to 100 over the past 12 years, and the current design is my favorite!

I love that I can pull out all the notes for a Read-Aloud and have them in one place, without having to pull out 4 weeks of the schedule and search through each page paragraph by paragraph to find the notes for the next chapter of a book! I hated that method.

With the new method there is less flipping. For example, my husband read The Boxcar Children to my first grader over the summer, and we just started A yesterday, so I am on Week 1 in History and Week 4 in Read-Alouds. I can just pull out the Read-Aloud notes, turn to My Father's Dragon and that's ALL. In fact, I just pulled out the whole Read-Aloud section and am laminating the cover and spiral binding it. That way, I can just grab the Read-Aloud guide and the book when I read to my son at bedtime or when we wakes up.

I have fumbled and flipped through a lot of IG notes to get to the Read-Aloud notes in the past—how they have it now is perfect!
Feel free to move the Reader and Read-Aloud notes up behind the schedule pages each week. Or pull the notes out of the IG and keep them with the books as you read.
Make Your Instructor's Guide Work for You
And if you do get ahead or behind in some subjects, how can you adjust the schedule to make it work for you?
First, note that the younger Sonlight programs are much easier to adjust, as the various readings are not as tightly connected. Sure, it's good to read Detectives in Togas when you're studying ancient Rome, but if you read Mr. Popper's Penguins during the Medieval Period or during the Renaissance, it doesn't make much of a difference.
But starting in D, the readings become much more tightly connected chronologically. Even here, if you miss a book, you can always read it later—and call it review or reinforcement or some such.
And if you read ahead because your children all begged you to "Read more!" and you find that you're a week ahead in the Read-Alouds?
Or maybe you're keeping up well with all the History / Bible / Literature, but you're falling behind in Science. What to do? Here are some ideas.
1. Use Sticky Notes
Put a sticky note in the IG for each different subject, and keep moving forward in them all.
2. Catch Up
Pause other subjects while you catch up in the one that you fell behind in.
3. Hold a Science Camp
Save Science Experiments to do as one big Science Camp experience late in the school year, over Christmas, or in the summer, and start doing the readings that don't relate to experiments, because that's still something.
4. Double Up
As you get a feel for how long different readings take, double up on some of the shorter ones in order to gradually catch up.
5. Find Sequels
So far ahead in the Read-Alouds that you fear you'll never catch up? Read some sequels of your favorite books while you gradually catch up in the other subjects. This also works with a speed-reading child who can't stay in Readers.
6. Just Ignore It
Ignore some assignments. Really! If you're having a hard time keeping on track with, say, the Language Arts, you can skip some. The grammar and spelling will keep coming up until your children have mastery.
Basically this advice in a nutshell is to know where you are, and then move forward. And if you move forward a little faster in some subjects, realize that you'll either need to add additional material if you want to do that subject every day, all year, or you'll just be done that much faster.
And if you fall behind in a subject, look at why that's happening. Do you need to start doing that one first each day? Are the assignments too robust and need to be modified to fit your family? That's fine. Modify away!
Because you homeschool, you have that flexibility.
Try three weeks of any Sonlight Instructor's Guide for free. Click here to get one for any level, preschool through twelfth grade.