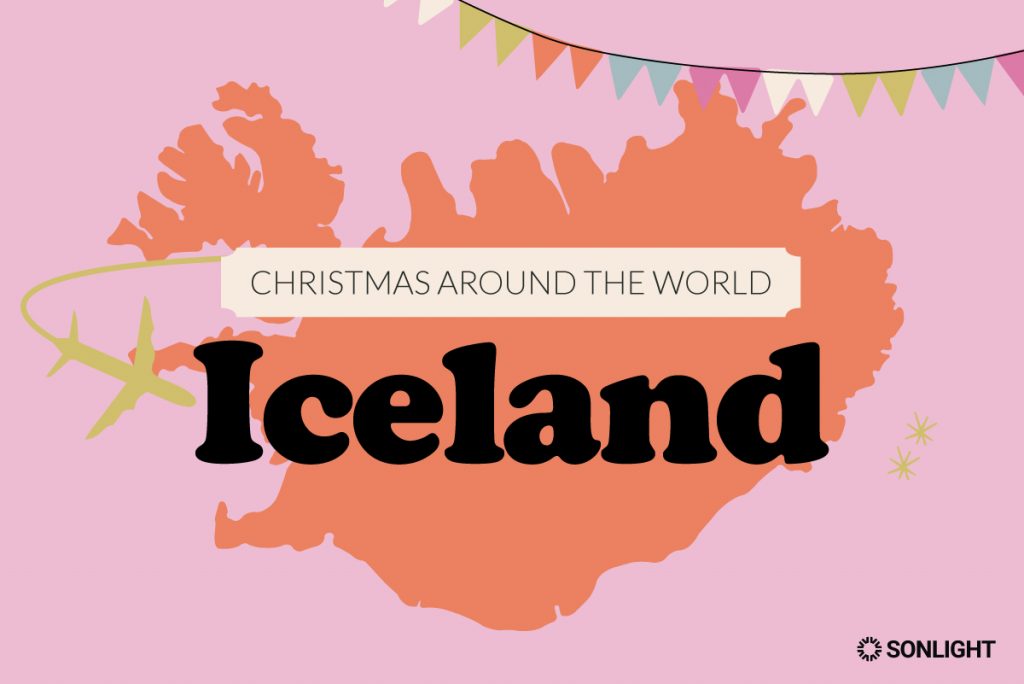 Christmas is one of the most beloved and widely celebrated holidays worldwide. It is a special time that brings joy and sparkle to our lives with feasting and special rituals, colorful decorations, and the exchanging of gifts. Traditions have developed around this holiday celebrating the birth of Jesus and
they have changed as they have crossed borders into other countries and over time.
Dive into Christmas Traditions in Iceland below. Download Sonlight's Christmas Around the World ebook to explore Christmas traditions from 19 different countries around the world, including 6 of the 7 continents!
Explore Christmas Traditions in the Iceland while listening to this episode of the InquisiKids podcast.
Christmas Traditions in Iceland
The Yule Lads (Jólasveinar) are 13 mischievous characters thought to be the sons of two mythical trolls. Each figure has his own distinct personality and habits. Beginning on December 12th, children place a shoe in the window and each night a different Yule Lad arrives to leave small gifts or play pranks.
Because it is so dark at this time of year, light plays a big part in the Christmas season. Advent candles are lit, Christmas trees, homes, and streets are decorated with lights. Neighborhoods and towns decorate their streets, buildings, and trees with colorful lights, especially the capital city, Reykjavik. This practice is called Jólaljós (Christmas Lights). On December 23rd, Icelanders light bonfires (Jólasbrenna) across the country, to symbolize the victory of light over the darkness—a tradition that dates back to ancient times.
Another delightful tradition is Jólabókaflóð (Christmas Book Flood) where people exchange books as gifts on Christmas Eve and spend the evening reading in a cozy atmosphere complete with hot chocolate and candlelight. Because of this tradition, many authors release their latest works at this time of year and many books are published in the weeks that lead up to Christmas. The Christmas season is a time for reading, storytelling, and sharing stories of folklore and myths, both ancient and modern.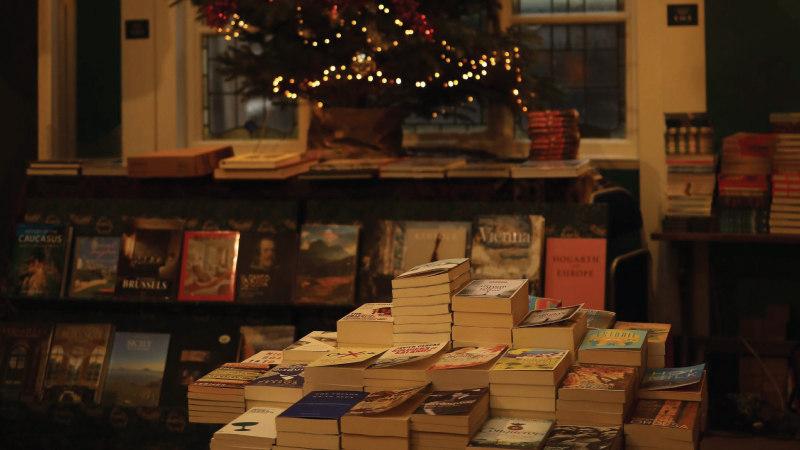 Christmas Eve (Jóladagur) is the primary day of celebration in Iceland. Families gather for a festive meal that often includes traditional dishes such as hangikjöt (smoked lamb), fermented shark (hákarl), and a variety of sweet treats. After dinner, many people attend Midnight Mass or participate in church services.

Christmas Crafts in Iceland
As you can imagine from the name of the country itself, Iceland receives quite a bit of snow and ice from late October to late January. To represent all these snowflakes, try making your own out of salt, Epsom salt, or borax.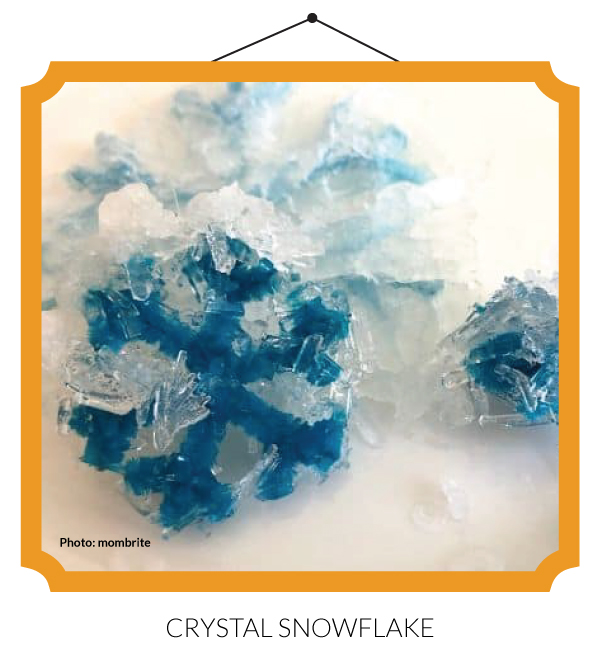 Crystal Snowflake
Add some homemade charm to your Christmas tree with this DIY Crystal snowflake craft! You can use food coloring to dye the water and make different colored snowflakes, or just use different colored pipe cleaners. Click here for instructions. For an older child you might want to try this one. Can't get enough snowflake crafts? Try this one with marshmallows and toothpicks!
Christmas Recipes in Iceland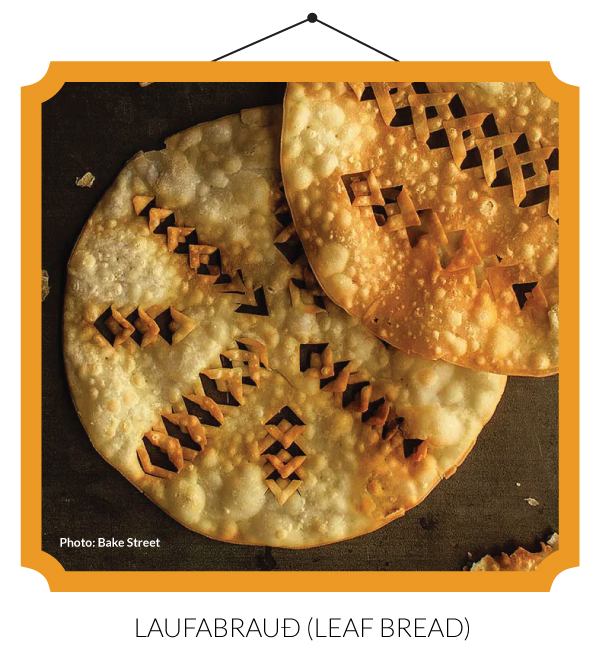 Christmas Eve dinner in Iceland is a cherished and elaborate affair that traditionally features a main course of Hangikjöt (smoked lamb), often served with a béchamel sauce. Another holiday favorite is Hamborgarhryggur, a spiced ham. These meat dishes are accompanied by a variety of side dishes like pickled red cabbage, peas, and potatoes.
Families also gather around the festive table to enjoy laufabrauð, or "leaf bread," which is a thin, crispy flatbread, deep-fried and often decorated with intricate patterns. Christmas Eve dinner is a joyful celebration that emphasizes the spirit of togetherness and the joy of sharing in Icelandic homes.
Download a Christmas Playlist
Christmas music in Iceland is a cherished part of the holiday season, blending traditional and contemporary elements. The country's rich musical heritage comes to life during the Yuletide celebrations, with classic carols like Dásamleg jól (Wonderful Christmas), Heyr Himna smiður (Hear My Supplication), and Jólin eru að koma (Christmas Is Coming), Ég hlakka svo til (I'm So Excited) filling the air with festive cheer. Check out Sonlight's Christmas Around the World Spotify playlist here to download Christmas music from Iceland around the world.
What is your favorite tradition to celebrate with your family around Christmastime?
From traditional festivities to unique customs, we hope these Icelandic traditions add a rich diversity to your family celebrations during this joyous holiday. Download the complete Christmas Around the World ebook to infuse your holiday traditions with Christmas customs, recipes, and crafts from 19 countries around the world.
We'd love to hear more about the traditions you celebrate in your own home! Share your stories on your favorite social media outlet using #sonlightstories or comment below. Have a tradition you'd like to see added to this post? Let us know, by emailing us at main@sonlight.com.