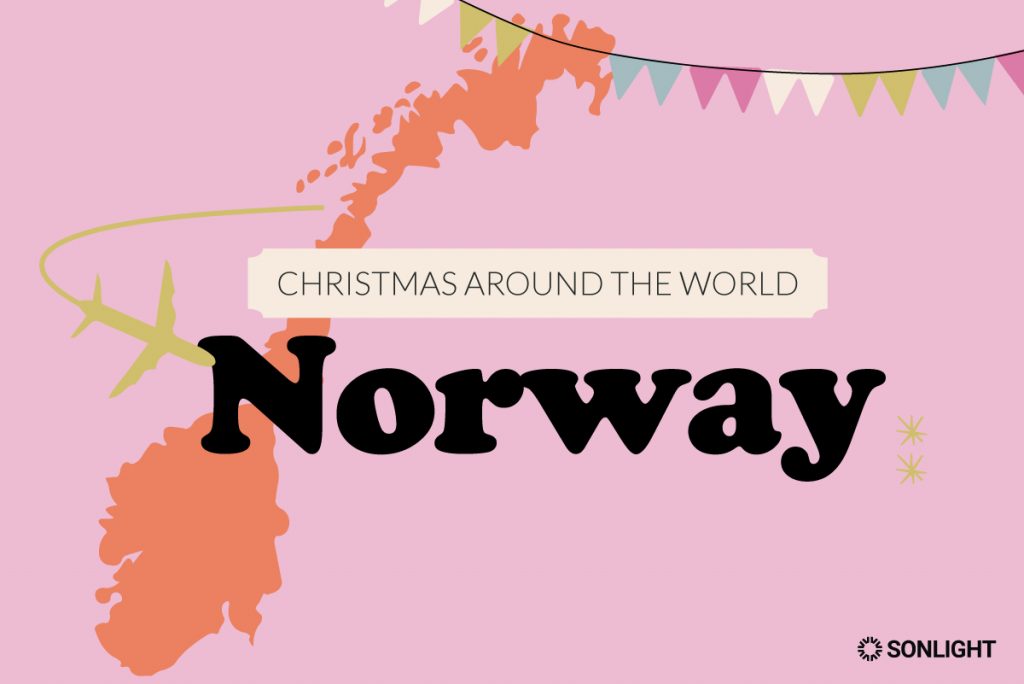 Christmas is one of the most beloved and widely celebrated holidays worldwide. It is a special time that brings joy and sparkle to our lives with feasting and special rituals, colorful decorations, and the exchanging of gifts. Traditions have developed around this holiday celebrating the birth of Jesus and
they have changed as they have crossed borders into other countries and over time.
Dive into Christmas Traditions in Norway below. Download Sonlight's Christmas Around the World ebook to explore Christmas traditions from 19 different countries around the world, including 6 of the 7 continents!
Explore Christmas Traditions in the Norway while listening to this episode of the InquisiKids podcast.
Christmas Traditions in Norway
Norway is another country in Scandinavia and shares similar traditions with its neighbors.
Julebukk is a centuries-old Scandinavian tradition that takes place between Christmas and New Year's Day. It's a Christmas-themed version of trick-or-treating. In Julebukk, people dress up in costumes and go door-to-door to sing and perform for friends, neighbors, and family. They often disguise their voices to make it harder for people to guess who is behind the mask. In exchange for their performances, they receive food, drinks, or candy.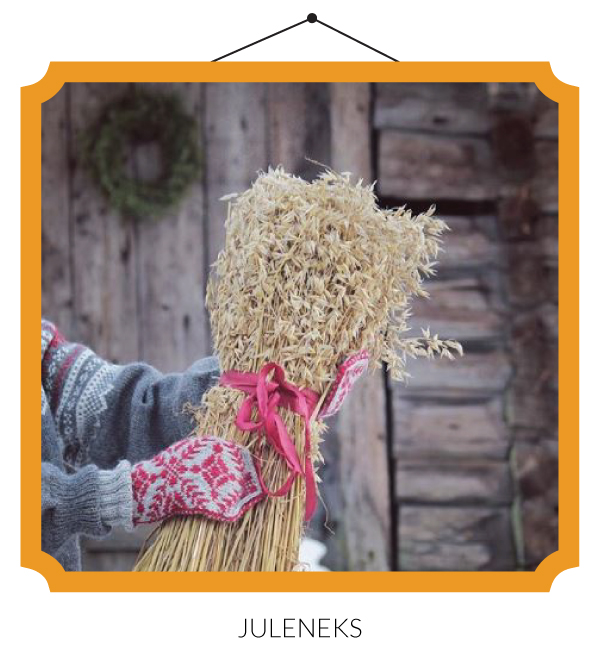 Norwegians also celebrate St. Lucia Day (December 13) but rather than straw, they decorate their homes with Juleneks, which are sheaves of grain decorated with a red bow. It is tied to a post or hung on a door to feed the birds on Christmas morning.
Little Christmas Eve or Lille julaften is celebrated on December 23rd as a prelude to the Christmas festivities. On this day families decorate their Christmas trees, but it can also be a day of cleaning and tidying so that everything is spotless and ready for the following two days.

Christmas Crafts in Norway
Norwegians have their own version of Santa Claus, called Julenissen. This gnome-like creature with a long white beard and a red cap brings gifts to children on Christmas Eve. Click the photo or link below for instructions to make your own Christmas Gnome Ornament.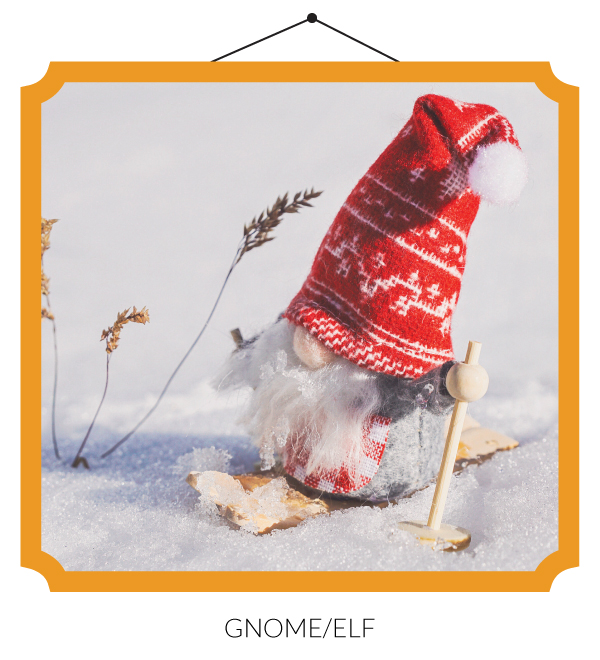 Tomte the Christmas Gnome Ornament
This Scandinavian-inspired Tomte pinecone ornament carries a sense of whimsy and tradition, symbolizing the spirit of a Nordic Christmas. Click here for instructions to create your own Tomte made from a pinecone!
Norway also receives quite a bit of snow and ice during the Christmas season. To represent all these snowflakes, try making your own out of salt, Epsom salt, or borax.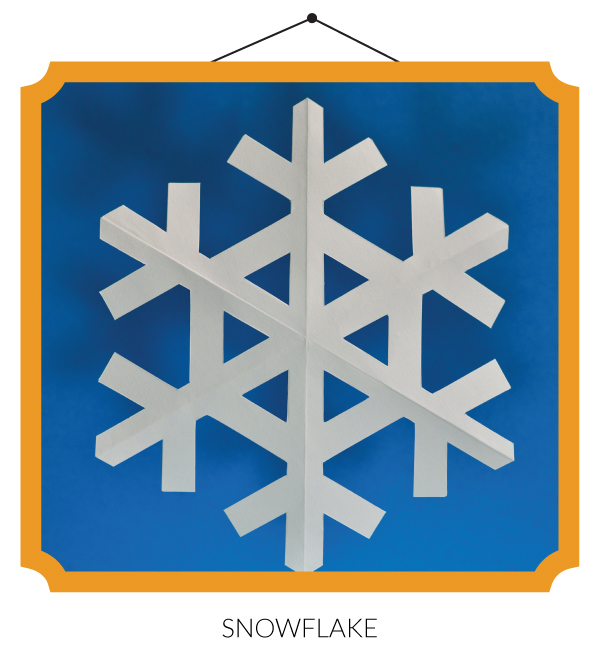 Crystal Snowflake
Add some homemade charm to your Christmas tree with this DIY Crystal snowflake craft! You can use food coloring to dye the water and make different colored snowflakes, or just use different colored pipe cleaners. Click here for instructions. For an older child, you might want to try this one. Can't get enough snowflake crafts? Try this one with marshmallows and toothpicks!
Christmas Recipes in Norway
Christmas dinner julemiddag boasts dishes like ribbe (pork ribs), pinnekjøtt (dried and salted lamb ribs), lutefisk (dried fish), medisterkaker (sausage patties), an assortment of vegetables and lefse (thin potato flatbread), followed by rice pudding with a hidden almond for dessert. The person who finds the almond will have good luck in the coming year. Norwegians also enjoy Pepparkakor, a Swedish ginger
cookie, like gingersnaps. Add a new treat to your Christmas festivities by making this popular Christmas Cookie—get the recipe below!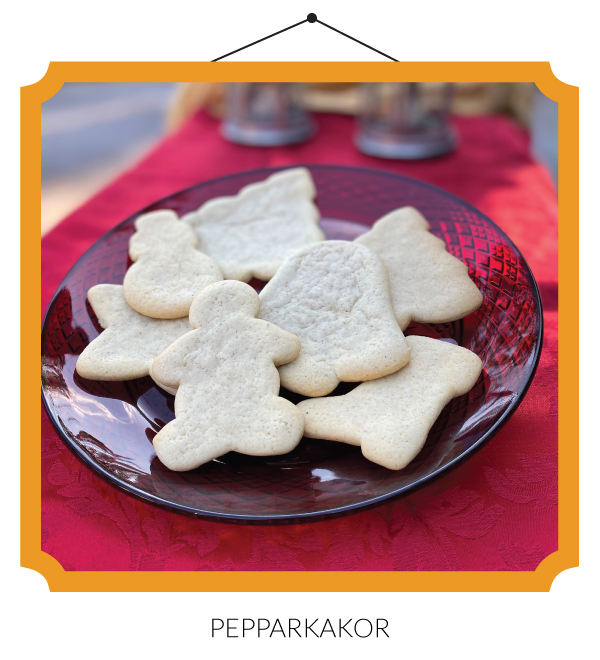 Download a Christmas Playlist
Despite Christmas Day being the time when most other countries have their main celebrations, Norwegians choose to celebrate on Christmas Eve instead, which is known as Julaften. This is when families get together and eat a traditional Norwegian Christmas meal, which is usually followed by holding hands and dancing around the Christmas tree to various carols, including Så går vi rundt om en enebærbusk (Then We Go 'Round 'Bout a Juniperbush), En stjerne skinner i natt (A Star Shines in the Night), and Glade jul (Happy Christmas). Check out Sonlight's Christmas Around the World Spotify playlist here to download Christmas music from Norway and around the world.
What is your favorite tradition to celebrate with your family around Christmastime?
From traditional festivities to unique customs, we hope these Norwegian traditions add a rich diversity to your family celebrations during this joyous holiday. Download the complete Christmas Around the World ebook to infuse your holiday traditions with Christmas customs, recipes, and crafts from 19 countries around the world.
We'd love to hear more about the traditions you celebrate in your own home! Share your stories on your favorite social media outlet using #sonlightstories or comment below. Have a tradition you'd like to see added to this post? Let us know, by emailing us at main@sonlight.com.