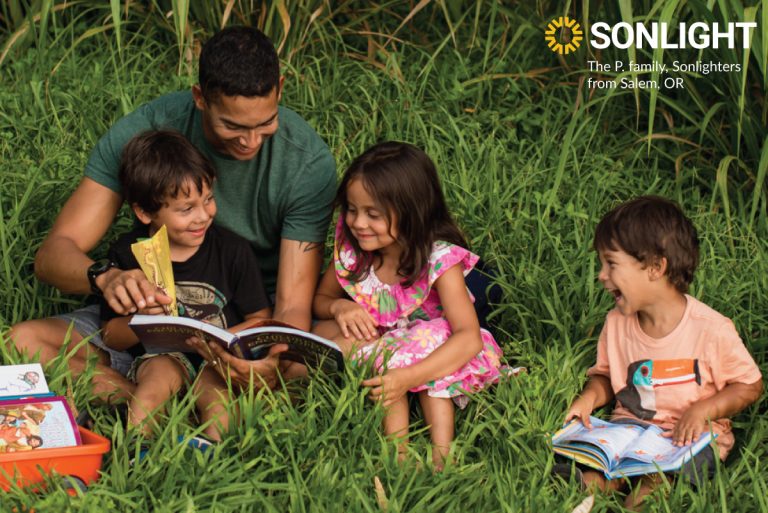 I'm sure you have heard of a productivity strategy that splits a to-do list into the urgent and the important. The Eisenhower Matrix, as it is commonly known, says items which are both urgent and important must be dealt with now. Family meals might be an example.
The unimportant and non-urgent are to be avoided as distractions: day-time television, perhaps.
It is the important but non-urgent tasks that are often overlooked. The morning meeting is an example.
There always seems to be something more pressing than a morning meeting. Holding one, however, in which I encourage my children, discuss the schedule with them, and remind them of the reason we study, has been our method for re-habituating some of the most important things in life.
1. To Celebrate the Good
"I finished my handwriting page, Daddy," effused my six-year-old daughter one morning.

"Okay, it's time for your Reader now," I returned.

"I'm so looking forward to pizza..." she started.

"Daddy..." squeaks the four-year-old.

"We're not having pizza toda..." I remind them.

"Daddy, look at this LEGO machine," interrupts the four-year-old.

"I need to finish this washing. Could you please not do that in the kitchen?"

"Daddy, can I go outside?" tries the six-year-old, desperately.

"Didn't I say it was time for your Reader?"
It's the kind of interaction I blush to record. She invites me to acknowledge her handwriting; I ignore it. She expresses positive emotion; I sidestep it. My son asks me to praise him; I tell him not to annoy me.
With a tight ship to run, celebrating the good is far from urgent, so I tend to ignore or defer it. Urgent: maybe not, but importance is another thing entirely. There is no better way to kill a child's motivation for learning than to show a perpetual disinterest in the good. My children don't learn so Daddy can keep the ship running. They learn because they see something worth knowing—something good.
It's a tall order for a child to set their mind on whatever is right (Philippians 3:8) when Daddy seems occupied enough with the wrong. When the right recedes out of view, learning withers with it.
The first thing on the agenda, therefore, is to sing a praise song. This sets the tone for the celebration of the Good. Next, I review the previous day and give an encouragement and a challenge for each child to consider. This ensures that I am pointing out his beautiful handwriting in Handwriting Without Tears 1 or her excellent self-control when her brother was arguing with her.
It also gives me an opportunity to confine any criticism that is not urgent to the challenges in the morning meeting. Unsurprisingly, many of my capricious reproaches don't end up seeing the light of morning.
2. To Memorise Without Strain
Spending a mere ten minutes devoted to memorization takes enormous mental fortitude, even for an adult. For a five-year-old, ten concentrated minutes will feel long-drawn beyond toleration. Unless it is seamlessly integrated into real life, memorization is best taken in short bursts.
We took the first line of 1 Peter, and repeated it six times every weekday morning. After a couple of weeks, I started working on the second line with my eldest and focused again on the first line with my younger two.
Recently I have also started recapping the Sing the Word verses. It still only takes three minutes per morning, but they may be the mightiest three in the day.
Redeem the time. Start with these three minutes.
3. To Collaborate on the Schedule
It's not easy to schedule in a way that takes seriously both the demands of freedom and discipline. I must stay sensitive on the one hand to the structure that promotes my vision for their education and on the other hand to their own goals. We must be vulnerable to making changes to the structure in order to protect both.
For us, the morning meeting has become the interface for those changes. We look over the Sonlight Instructor's Guide. I tell them my scheduling ideas, I listen to their thoughts, and we collaborate on a to-do list. It's an opportunity to remove an activity that's not working or to introduce one that hopefully will.
On the whiteboard, I write the broad structure of the day as well a to-do list for each child. My eldest copies her to-do list into her own journal, which she will refer to throughout the day.
I take note if we fail to tick off all the items, but I do not address it that day. I save it for tomorrow's morning meeting. It's a chance to modify tomorrow's list or even to examine an attitude problem.
When I want to clarify major changes, I will print off a detailed two-week plan. We'll bring it to the morning meeting. We'll notice, for example, that woodworking has been moved to a Tuesday afternoon, and we'll write our lists accordingly. Once the scheduling changes have become habitual, we'll go for two to six months without the printout.
4. To Remind Each Other Why We Learn
We use the meetings to help move education from something that just happens to something we do together. It's a chance to bring life out into the open, to take responsibility for it and to ask the whys.
We recently read through the Psalms and noticed the verse that says "The LORD's works are great, studied by all who delight in them," (Psalm 111:2). I found so much in that chapter on the whys and hows of education, that I used it to make a little catechism that we run through every morning.
Q: What are we learning about?

A: The words and works of the Lord.

Q: How must we learn?

A: Working truth and justice with Him.

Q: Why do we do it?

A: That all nations would sing His name
Start a morning meeting to bring your day out into the open, evaluate and modify it with your children. Redeem three minutes, celebrate the good, and ask why.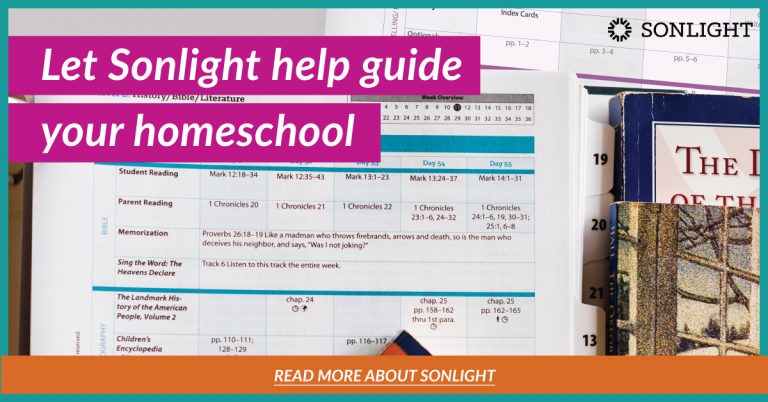 With Sonlight's Instructor's Guides, there is no need to write your own lesson plans. Everything is already scheduled for you.