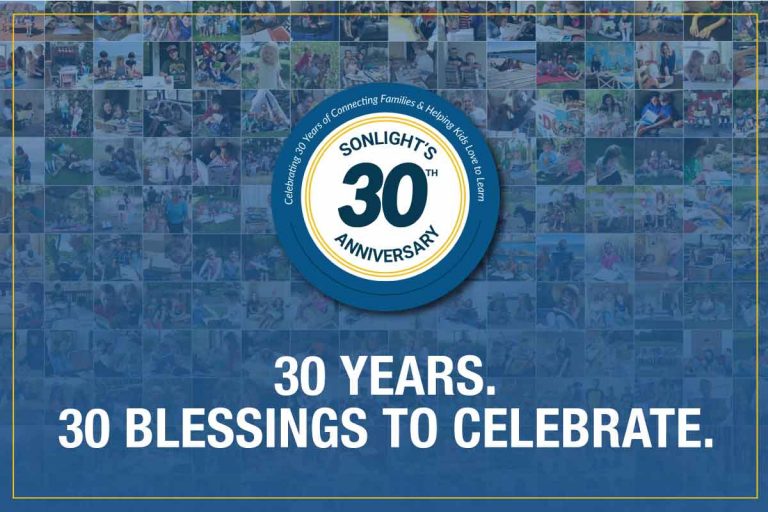 Sonlight officially sold our first piece of curriculum 30 years ago this month.
Back then, there were no complete curriculum programs available; parents had to assemble products piecemeal. After talking with our missionary friends, we learned that this problem was far worse overseas. This was such a problem that many missionaries were forced to leave the field of service because their children's education was suffering. I wanted to help those missionaries stay as long as they could. I started to gather, create, and compile the best-of-the-best educational materials for those overseas, and here in the States, too. See more of our story in the video below.
To celebrate Sonlight's 30th Anniversary, I wanted to share and celebrate thirty blessings God has allowed over the years. God is good!
Daily Prayer - Every morning we gather at Sonlight to pray. As a company, we pray for our customers, each other, for an unreached people group, and the world around us. I count this a strategic and huge blessing.
Sharing the Sonlight Secret - We believe children respond more positively to great literature than they do to textbooks. We love to come alongside so many families as they learn together using great literature.
Fundraising for Missions - From our inception, Sonlight Curriculum, Ltd. has donated a minimum of 10% of gross income to mission organizations, and since 2005 we have been able to increase our missions giving to more than 50% of company profits. We count this a huge privilege.
Fostering a Love of Learning - We hold helping families love to learn together as a great joy. I'm grateful that families who use Sonlight love learning and are equipped to continue learning throughout life.
Exceptional Employees - Sonlight is filled with fun, talented, skilled, and devoted people in every position, which makes our work environment friendly and enjoyable. We truly care about our customers and each other.
Raising Globally-Minded Children - One of our goals at Sonlight is to help raise children with God's heart for the world. We're grateful to provide children an education that helps them understand their role in what God is doing throughout the world.
Prepare Ambassadors for Christ - Children are being raised up to become effective ambassadors for Christ and the people and culture around them through Sonlight's history and Christian focus.
Meaningful Conversations - Sonlight has been able to help families facilitate meaningful conversations that equip parents to pass on values and worldview to their children.
Support Missionaries - We've been able to support missionaries all over the world continue their important work with the support of a full Christian education for their children.
Homeschool Conventions - We are blessed to attend conventions and help families on their homeschool journey by meeting them in person and sharing about Sonlight.
Excellent Professional Support - Over the years we've partnered with great professionals who continue to support and guide us in our business decisions.
Charitable Mission Support - Sonlight has given millions to reputable missions organizations like the Far East Broadcasting Company and the Seed Company over the years. When families buy Sonlight, each dollar helps fuel the gospel in the far ends of the earth.
Reading Books - Quick math tells us that over the years there have been billions of words, millions of pages, and hundreds of books read by families using Sonlight. What a blessing.
Customer Advocacy - Sonlight thrives and grows thanks to customers sharing their #sonlightstories with their friends and families. Over the years we've received thousands of testimonials and photos of happy, thriving children using Sonlight to help potential customers see that our approach works.
Sonlight Customer Support - We have the best customer support team in the business. Sonlight's Customer Service team truly cares about Sonlight's mission and the education of each student, and Sonlight Advisors are experienced homeschooling moms dedicated to helping you homeschool successfully.
Replaced Prayer Books - Over the years we've been able to replace 2 prayer books because unreached people of the world have been reached. Praise!
Sonlight Graduates - Sonlight graduates are remarkable and poised to make a difference in the world and eager to serve the Lord. They are competent and qualified graduates in a wide breadth of majors and fields.
Second Generation Sonlighters - As we enter our 30th year, we now have many second-generation Sonlighters. We are blessed to provide everything needed for two generations of children to have a life-long love of learning, a strong Christian foundation, and a solid academic base.
Sonlight Headquarters - When I started Sonlight in our garage thirty years ago, I never imagined we would be in the state-of-the-art facility we are in today.
The Sonlight Catalog - Our team works so hard on the catalog every year and it really shows. May you look back as fondly, as we do, at catalogs of the past and continue to send pictures and testimonials to fill future pages.
Equip Children to Fulfill God's Call - Sonlight has been able to provide a well-rounded education from which students can launch in any direction that God calls. We seek to help you nurture the hearts and minds of your children to live for Christ.
New Books - Occasionally, we have to replace a book in our curriculum. Maybe a book goes out of print or maybe a better book comes along. This is an exciting opportunity to keep providing new literature!
Sonlight.com - Can you believe that we used to only take paper orders? The website has allowed us to be nimble in our offerings, automated between our departments, and helps us provide you information about Sonlight and general homeschooling.
Sonlight Blog - The Sonlight blog gives us the opportunity to provide encouragement and advice on everything Sonlight homeschooling. Whether you are new to homeschooling or a veteran, the Sonlight blog is a resource for everyone.
Literature-Rich - As the original literature-based curriculum, we are in a unique position to be able to define what that means. As more and more companies continue to develop curriculum, our customers stand by the literature-rich model and help it thrive within the homeschool market.
Publishing Books - Sometimes, good books go out of print. Through our own publishing house, we are able to keep good books in print.
Launched Multiple Brands - Through the years, we've been blessed to launch multiple brands to help homeschoolers meet their individual needs. The most recent brand is Happy Cheetah Reading, a remedial reading option.
Employee Safety and Health - At any given time we have a number of Sonlight Curriculum Consultants and employees traveling to conventions, to work, and to important meetings. Praise the Lord that traveling has been conducted safely!
Sonlight Grad Working at Sonlight - That's right! We have our first Sonlight graduate now employed at Sonlight. She is just as you would expect, smart, articulate, and compassionate. It truly feels like we've come full circle.
Family - In some cases to acknowledge one's family on a list of blessings might be cliche but in the case of Sonlight, family is the most important - yours and mine. We're grateful for your families for supporting Sonlight over the last 30 years, and I'm grateful for mine for not only allowing me to provide you Sonlight but walking next to me. Sonlight's truly family-owned and operated.
At the heart of why I created Sonlight is to help you educate your unique children, develop their specific gifts, and nurture their hearts towards God's work in the world. I'm so joyful that Sonlight has been able to come alongside you to help you nurture and bless your children. So as God directs their lives, they are open and ready to continually follow.
Thank you for bringing us along on your homeschool journey for the last 30 years. I can't wait to see what the future brings.
---
Want more encouragement?
Sign up for Sonlight's bi-weekly e-newsletter
You'll be encouraged by the words of founder Sarita Holzmann, inspired by real-life stories from other homeschoolers, pick up practical tips for the journey and more.
---