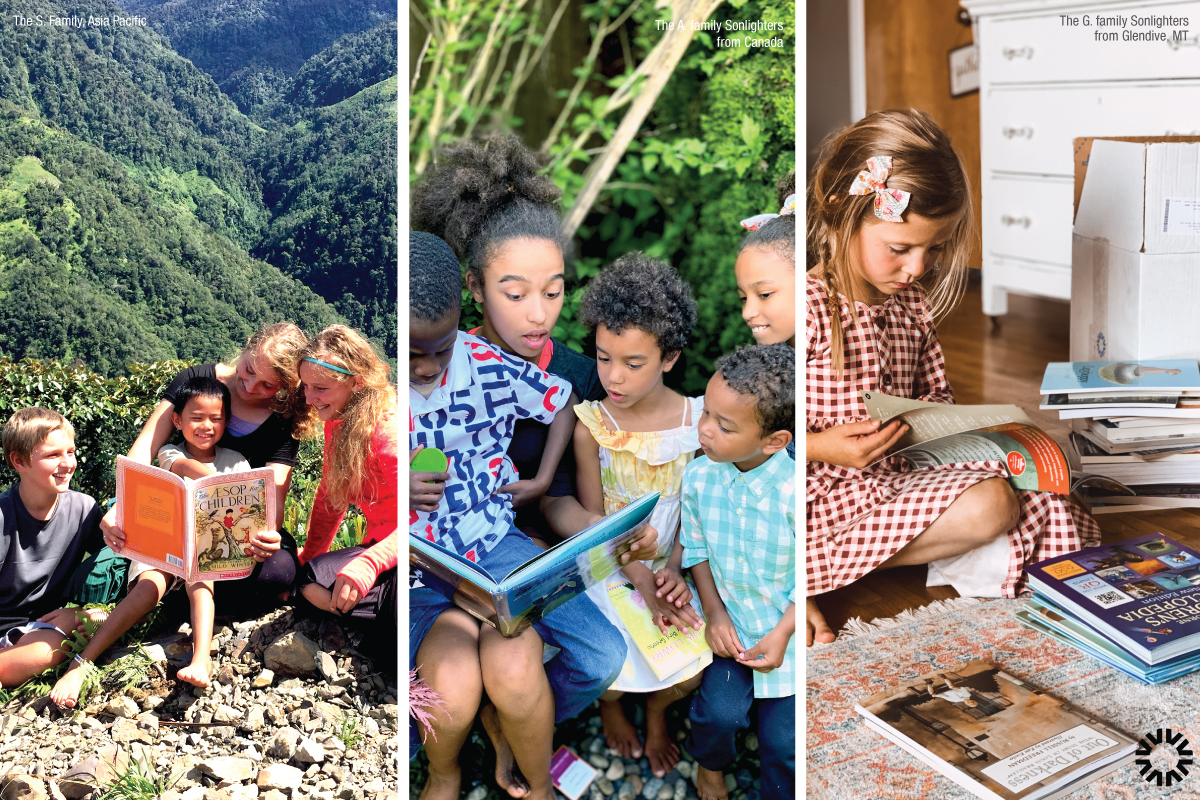 One of the things that we love about our catalog is that we get to feature real photos—and stories—of our customers. Thank you to all of the families who shared #sonlightstories for the 2020 catalog cover contest! And congratulations to the three winners featured below!
---
WINNER: S Family of Saint John, MI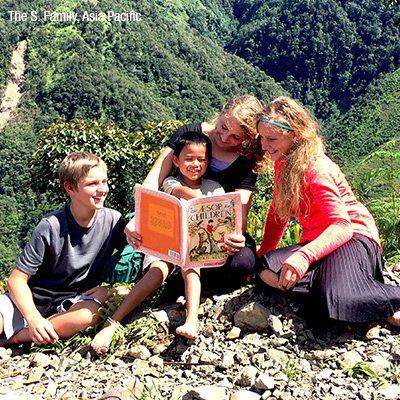 In this picture, J (14), K (13 ), H (11), and R (5) enjoy a Sonlight favorite on the edge of a drop off in Asia Pacific.
Our family are missionaries in Asia Pacific, and we are planting a church here. However, a few years after we taught the gospel, a cult group started to get angry at us. They started riots and tried to get the government to tell us to leave our home. They didn't want the gospel to be preached and hated us because we were teaching it. They threatened us and told us to leave. Around this time, we went out for our annual missions conference. While we were there, the cult made their move. When we came back to a nearby town, we found out that they had burnt our house down! We lost everything we owned, along with years of Sonlight books and curriculum. We wrote Sonlight about our situation, and they graciously replaced many years of books - free of cost! Because they were willing to do that, we have been able to continue our homeschooling experience with a curriculum we really enjoy! We have since rebuilt our house and have moved back to our original village. We are so thankful for Sonlight and all they were willing to do to help us in our time of need!

The S. Family of Saint John, MI
---
WINNER: A Family of Coquitlam, BC Canada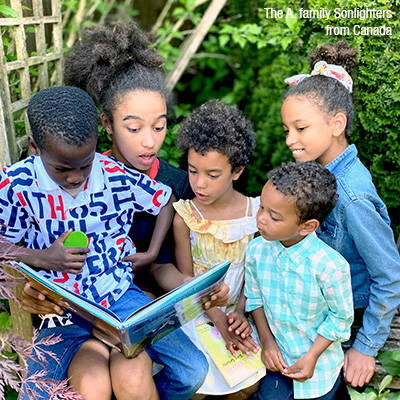 In this picture, Ezra (3), Nathan (6), Anaiya (5), Amani (11), Eva (12) read Animal Poetry together in our secret garden.
Sonlight has brought so many beautiful books into our lives. When my oldest daughter first became an avid reader, I spent so much time trying to find appropriate, in-print literature for her. I downloaded book lists, met with librarians, bought books about books. And then we found Sonlight. Sonlight sets the standard for what a good children's book should be. We know that we can expect something delightful from each one. Now, everybody gets very excited when it's time to open a Sonlight box. They can't wait to dig into all the new treasures.

The A Family, Sonlighters from Coquitlam, BC Canada
---
WINNER: G Family of Glendive, MT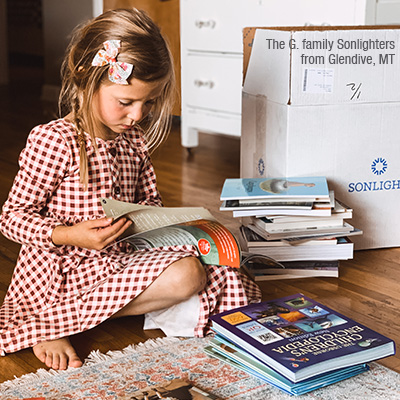 In this photo, Garnet (6) couldn't wait to dig into her very first Sonlight Box Day!
What a true joy to now share the very same curriculum I grew up loving with my own children. Teaching and reaching the hearts of our little ones through the hours spent reading quality Sonlight books together each day has been a dream come true. Many precious moments and conversations have been shared during our journey with Core A this year. In using Sonlight, we love that our children's hearts and minds are being fed, and that their eyes are being so gently and wonderfully opened to the world around them and the precious people in it.

The G Family, Sonlighters from Glendive, MT
---
Thanks again for making this year's contest a success. Keep sharing your #sonlightstories year-round! We love your Box Day photos, your day to day experiences, and the end-of-the-year #sonlightstack shots of all you've accomplished.
You can also log into your account on sonlight.com anytime to upload both images and testimonials. You never know when something you submitted may appear in a catalog, on our homepage, or on the Sonlight blog.