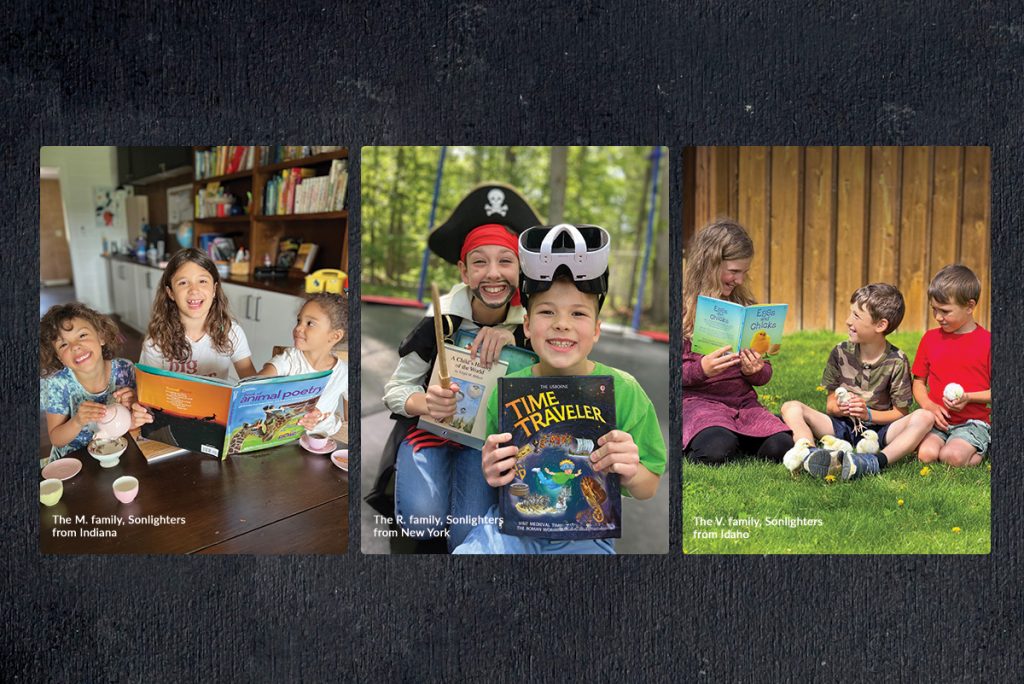 Did you know we only feature real photos and testimonials from our customers in our marketing? That's right! Every family you see on our website, in our catalog, in emails, on social media, in our blog posts, and more—are real Sonlight families!
Every year we host a photo competition to give Sonlighters a chance to share a compelling story and photo about their experience with Sonlight. Not only is it a chance to showcase your #sonlightstories, but all entrants to the competition earn a shot at being on the Sonlight catalog cover!
We love seeing how Sonlight shows up in your day-to-day life as you love learning with your kids, and we thank you to all of the families who participated in this year's photo contest. Congratulations to the three winners featured below!
---
WINNER: The V. Family, Sonlighters in Idaho

We had always planned to homeschool, but when the time came, I was overwhelmed by all the different options. I knew that with lots of little ones in our family, I needed a curriculum that was "open and go" and didn't require a lot of preparation from me. Sonlight was the perfect solution," admits Kirsten V. "That first year showed me how wonderful literature-based learning could be. I like to say "I came for the IGs and stayed for the books!" We have been using Sonlight for 9 years now, and it has been such a blessing for our family!" Pictured: Sophia (9), Brennan (7), and Levi (5) having fun playing with baby chicks while learning about them in their Science A program from several years ago! Not pictured: Sara (13, Level H), Daniel (12, Level E), Anna (10, Level E), Levi (4), Zoe (3), Brielle (2), and Joshua (8 mo). —The V. Family, Sonlighters in Idaho
WINNER: The R. Family, Sonlighters in New York

During our first year of homeschooling, I felt completely overwhelmed," admits Alicia R of New York. "However, Sonlight provided the structure we all needed to have a successful first year. We loved the curriculum, which offered beautiful books, intentional lessons, and tremendous opportunity for creativity. As we gained confidence, we found we were able to customize even further. Our homeschool thrives on Sonlight's hands-on, literature-based approach to education! History, Bible, and literature have especially become favorite subjects. I love watching my boys learn to love learning!" Pictured: For active boys, history really needs to come to life in order to keep their interest. Owen (10) and Leeland (8) enjoy acting out some of their favorite HBL C characters in one of their favorite locations—the trampoline! Henry (3) and Hudson (baby) will follow in their older brothers' footsteps starting next year with PreK." —The R. Family, Sonlighters in New York
WINNER: The M. Family, Sonlighters of Sheridan, IN

Sonlight has become the heartbeat of our family," recounts Emily M of Sheridan, IN. "From the deep, theological discussions we have had regarding the Bible and what Jesus means to us, to the tears we've shed while reading about George Müeller and his legacy, as well as the excitement of completing a successful science experiment, Sonlight has been central to our days. As their primary teacher who does not have an educational background, the thought of teaching multiple children at different levels intimidated me. However, because of the way Sonlight has curated the curriculum, I am confident that each child is getting exactly what she needs. I thank God every day that I found Sonlight, and that it is working so well for our family." Pictured: The M family's favorite time of the weeks is Poet-Tea where they read poetry and take turns fixing teas and snacks. They have loved the rich poems in the poetry book, and they have worked on hospitality and manners, all in one lesson!" —The M. Family, Sonlighters in Indiana
---
Thanks again for making this year's photo contest a success. Keep sharing your #sonlightstories year-round! We love your Box Day photos, your day-to-day experiences, and the end-of-the-year #sonlightstack shots of all you've accomplished.

Keep sharing your #sonlightstories
You don't need to wait for the annual photo contest to encourage other families with your everyday homeschool stories. You never know when something you submitted may appear in a catalog, on our homepage, or on the Sonlight blog.
We invite you to share your pictures directly on the Sonlight website or on your favorite social media platform all year long. If sharing on social media, tag us (@sonlightcurriculum and @sonlight) and be sure to include hashtags #sonlightstories, #sonlightstack, or #sonlightboxday.