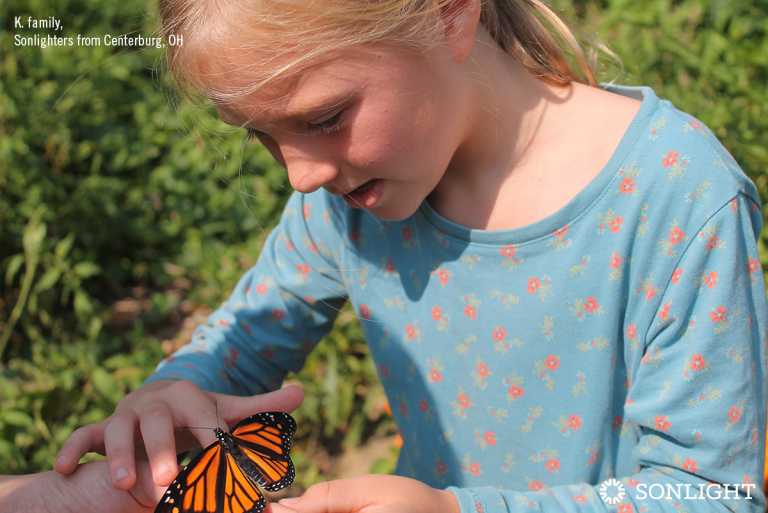 How do you homeschool accelerated learners? How do you keep pace as they zoom through books? How do you meet their thirst for knowledge? A homeschool mom emailed me recently to ask these questions. Though I don't know the particulars of her very bright daughter, based on my own years of experience, I can share a seven tips for homeschooling gifted students.
Tip #1: Use a Curriculum as Your Foundation
If you're of the unschooling persuasion, you'll probably disagree with me here, and that's okay. But I firmly believe that you can best help your children by using some sort of curriculum as the foundation of your homeschool.
My learning in school came in unrelated snippets. One week we studied the pilgrims. Then we moved to ancient China. Then we studied space. I never learned the big-picture of history and how the world works until I pieced it all together on my own and kept on learning as an adult.
Using a history-based curriculum (like Sonlight) gives your children the framework of knowledge they need. As you move through time you give them a cohesive map of knowledge they will build on their entire lives. As they learn new information, they can place that knowledge in the appropriate place in their mental map.
For example, if your child becomes fascinated with Ancient Egypt, that interest will pay off all the more because they'll be able to place what they learn within the general framework of history. They'll know when Egyptian kingdoms came onto the world scene and how they influenced the cultures around them.
Without a curriculum, students don't gain this mental map of knowledge. They learn in bits and pieces and only fit it all together if they're lucky (or if mom exhausts herself creating her own program to fit everything together).
A curriculum keeps you on track and makes sure your children learn the important things they need to. The big-picture doesn't get lost in their detailed curiosity about butterflies or the engineering principles of Egyptian pyramids.
But here's the catch:
The curriculum isn't the ending point. It's a jumping off point.
More about this point is in tip #3.
Tip #2: Use a Literature-based Curriculum as Your Foundation
In the past twenty plus years, I've seen Sonlight's literature-based programs work splendidly for learners across the spectrum.
Why? Because one piece of literature (unlike one textbook) can speak to children at a variety of levels. Little ones can listen in to understand the general ideas while more advanced students can appreciate the nuances of the text and find connections with other concepts they've learned.
Literature-based curriculum provides the flexibility to speed up and slow down as best suits your family. It naturally leads students into all sorts of self-led learning. As you read Charlotte's Web, you can easily slow down and detour into learning about spiders. As you read Johnny Tremain, you can dive further into the intricacies of the American Revolution.
Furthermore, as one mom wrote on the Forums, "Great literature is a hallmark of the truly educated mind." I agree. Literature provides the cultural literacy, vocabulary and global awareness children need. Even gifted kids need to learn empathy and develop emotional intelligence to interact with others (which reading can provide). Before they can learn to write, they need to learn the rhythm and flow of good writing by hearing good examples. They need to discover the joy of books as a lifelong source of new knowledge.
Even gifted children aren't born knowing all of this, but literature inherently teaches it.
Tip #3: Go Broad!
Do you have a genius in your fold? Enjoy your accelerated freedom and help them explore the world around them. You'll know you're hitting what you need to because of the curriculum you use as your foundation. So enjoy some tangents and enrich that foundation!
As Deanna in CO wrote on the forums, "Gifted kids are still kids, after all, and the world is an enormous place, with tons of different kinds of things to learn."* If your children fly through their programs, enrich their studies with a broad spectrum of other areas they may never think to explore.
For example, could you add any of these areas to your children's plate?
Consider that the educated class of past eras often learned many languages as children and teenagers. I've heard that J. R.R. Tolkien knew at least twelve!
Could you add Spanish, Russian, Mandarin, Arabic, Latin, Biblical Greek, Ancient Greek, Biblical Hebrew, sign language … or other languages that could prove useful?
b. computer programming
c. electrical engineering
d. music theory
e. mechanical engineering (from fixing cars to designing machines)
f. robotics
g. creative writing
Encourage your child to write stories, plays and poetry, or participate in the NaNoWriMo Young Writers Program to help your child write her first novel.
Tip #4: Use More Than one Program Per Subject when Homeschooling Gifted Students
Is your child flying through math? Deepen and broaden his understanding by using more than one math program at a time. I highly recommend Life of Fred for accelerated math students. It approaches math from a different perspective and helps students see the big picture. It's a great starting point or a fabulous addition to your current math regimen.
Enrich your Sonlight History / Bible / Literature (HBL) program with extra courses that go deeper into a particular subject. Check out The Teaching Company for lots of courses that examine particular eras or themes of history. (But please use discretion as you decide on courses; The Teaching Company courses are created for secular, adult learners.) Your HBL will keep you on track with the big-picture movement through history, and your extra courses will broaden your child's appreciation of specific ideas that catch their interest.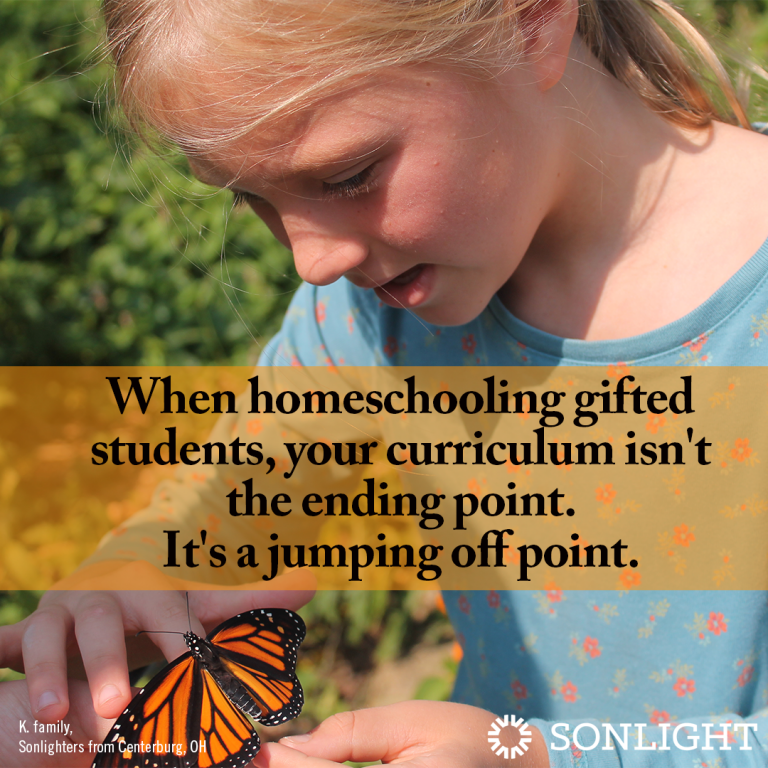 Tip #5: Remember that Education is More than Academics
With all students—including accelerated students—our role as parents is to guide them in much more than just academics. If your child is an accelerated learner, perhaps he can use some of that extra time to dive into projects that make a difference in your community or the world.
Is there a charitable project your child can participate in or even create and spearhead? Consider how you can help your child learn that life is more than knowledge and good grades! May all our children discover the joy of giving our time and talents to serve others.
And also, kids are kids. Help them enjoy the many other facets of life! Can they explore various sports, art forms, musical instruments, outdoor activities, entrepreneurship and more?
Tip #6: Consider a Gap Year for Gifted Students
Concerned that your child will finish high school early? Consider the benefits of a gap year before sending her off to college.
Just think of how much she could learn and serve during a year helping a missionary family overseas, serving with an international aid organization, or even volunteering in your home community. Many top colleges value the life experience such opportunities provide.
Tip #7: Find Community
I developed many of the ideas I shared in these two posts through 20+ years of working with homeschoolers. But the wise parents on the Accelerated Learners section of the (now defunct) Sonlight Forums helped me form more specific tips and advice.
To connect with other homeschool parents, join the Sonlight Connections Facebook group here. You'll find a community where you can discuss academics as well as other aspects of parenting a gifted child, including self image, sibling rivalry, burnout, and more.
---
Want more encouragement?
Sign up for Sonlight's bi-weekly e-newsletter
You'll be encouraged by the words of founder Sarita Holzmann, inspired by real-life stories from other homeschoolers, pick up practical tips for the journey and more.
---