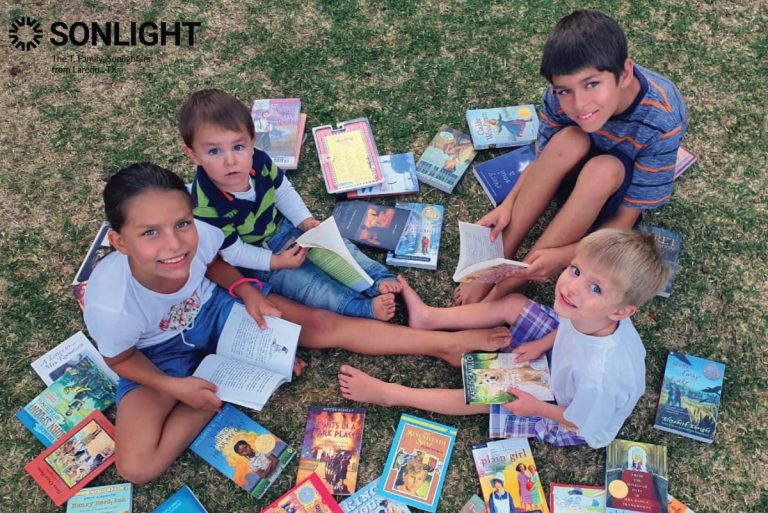 If you've homeschooled long, you've probably heard the comment: "Oh, I could never spend that much time with my kids. I don't know how you do it."
Well, here's a secret many parents have discovered:
Homeschooling can actually improve your relationship with your kids, forging a close-knit family.
Homeschooling can help sibling relationships, and it can help your family grow closer.
How could that possibly be? I can't speak for other curriculum companies, but family bonding is a core value in Sonlight. We designed the curriculum approach itself to help families grow more closely tight-knit.
We don't only want to help students succeed academically. We also want to help build families.
That's just one reason why the heart of Sonlight is reading together. Sure, I did math and science, handwriting and spelling with my children. But when I think about our homeschool, the main image I remember is cuddling on the couch to share a book.
So, how does Sonlight, with all its great books, build families?
1. Fills a Child's Love Tank
First, time shared reading together can help fill up children's love tanks — a concept from The Five Love Languages. When you share a book as a family, you're automatically satisfying two of the five love languages during school time – quality time and (if you are close together on the couch) physical touch!
2. Builds a Common Family Culture
Reading together also builds a common family culture.
You'll develop inside jokes about characters, and your kids might start referencing your shared stories in play and at the dinner table. You get to express emotion alongside your children, whether you shed a tear at the end of a poignant work, or you all cry because you're laughing so hard at a funny part.
3. Fosters Conversations
Reading together fosters conversation.
I remember lively discussions about our books during dinner and car trips. We talked about why a character made a particular choice and whether we agreed with it. As my children grew older, we found we enjoyed deep conversations more and more often. What a gift!
4. Allows for Shared Homeschooling
Literature-based homeschooling also gives the non-teaching spouse an easy way to get involved.
My husband John loved being able to participate in our homeschool through reading out loud. It gave him a wonderful opportunity to spend quality time with our kids on a regular basis. Many other dads have discovered the same in their own families.
Lest you think I'm exaggerating about how Sonlight helps families grow close, I wanted to share from others on this very issue.
"Sonlight gives me the opportunity to stop, slow down, and get lots of snuggle and one-on-one time with our blessings!" –Sara G. of New London, OH
"Some of our most cherished family memories are those in which we spend an evening listening to dad read some of our favorite Read-Alouds." –Kathy R. of Farmington, MI
"Homeschooling with Sonlight has allowed my husband and me to form a bond with our children that we were missing out on before." – Devaney L. of Silverhill, AL
"After homeschooling with Sonlight for eight years, my girls are officially best friends." -–Sue E. of La Crosse, WI
Homeschooling with Sonlight let my husband and me build the close-knit family culture we wanted. I will always be grateful for that.
Has homeschooling with literature-based Sonlight helped your family grow closer, too?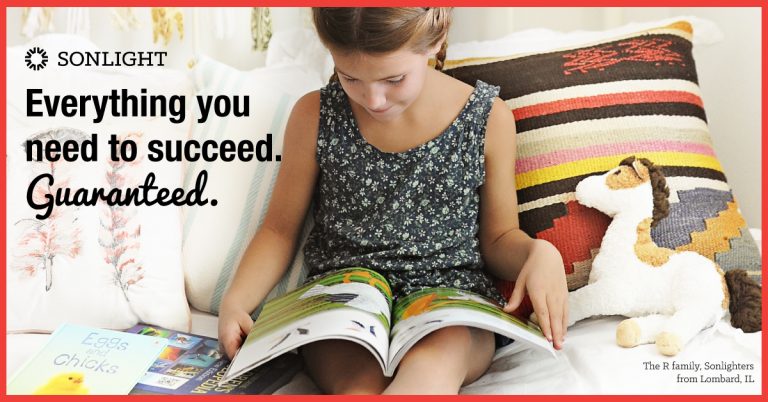 ---
Want more encouragement?
Sign up for Sonlight's bi-weekly e-newsletter
You'll be encouraged by the words of founder Sarita Holzmann, inspired by real-life stories from other homeschoolers, pick up practical tips for the journey and more.
---