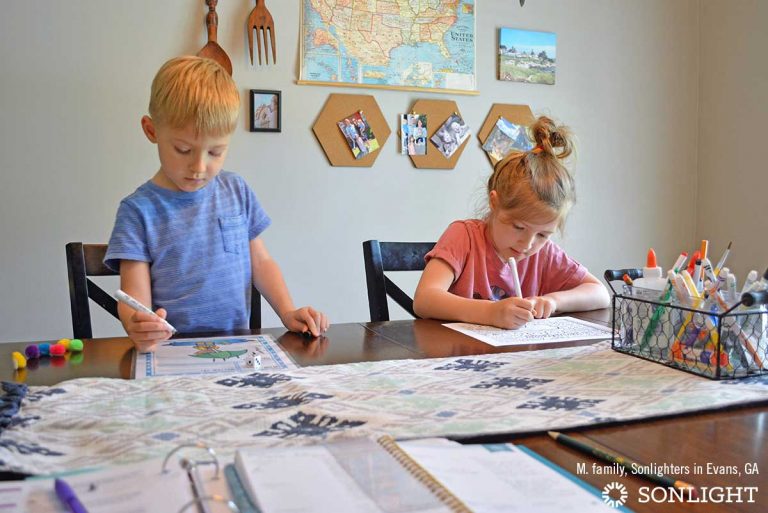 "You can do it all!" That's the mantra we hear from all directions. It's intended as an expression of encouragement, but it's not true. We can't do it all.
There are only so many hours in a day, and we all have limits to our physical and mental capacity. As homeschooling parents, it's all too common to take on the task of educating our kids without adjusting the rest of our responsibilities accordingly. When paid employment, volunteer work, ongoing medical appointments, or other outside commitments are also part of the picture, burnout is likely.
If we try to do it all, we're guaranteed to fail. We'll either do all the things poorly, or some things will be totally neglected. Either way, we'll be discouraged and stressed out.
When we're confident that homeschooling is the right choice for our family and that we're the adult primarily responsible for teaching, it's essential that we delegate some tasks to other people.
Delegating Around the Home
Household tasks are often the easiest ones to hand off to someone else. I think kids are the best workers to give those jobs to.
That being said, spouses, hired help, and other services can also help to lighten our load.
Assign meal prep, deep cleaning, and/or laundry tasks to your kids—at least occasionally if not regularly.
Ask your spouse which of your household responsibilities they could consistently help with or take over completely. Then let them do it in their own way.
Use a store's shopping service to save time walking the aisles yourself.
Hire a housekeeper to come as frequently as your budget allows.
Pay for a meal delivery service to cut back on shopping time and eliminate the need to plan menus.
With the time we save by not being in charge of those jobs, we can grade math, give a spelling test, or curl up on the couch to read a great Read-Aloud to our kids.
Delegating School Work
Even if the responsibility of homeschooling falls primarily on our shoulders, we don't have to do every single part of it ourselves. Sometimes the best option is to let someone else handle academics while we take care of other things.
Hire a tutor to help a kid who's struggling with a particular subject.
Play an audio version of some Read-Alouds.
Invest in a curriculum that requires minimal prep work for you.
See if your spouse is willing to help with whichever subject is causing you the most stress or that they're naturally better at.
Have siblings give each other spelling tests and help grade math assignments.
Enroll kids in a homeschool co-op or have them take a class or two at the local school
While a portion of homeschooling is handled by someone else, we can knock out some of the tasks on our family's to do list or relax for a while. Self-care and hobbies are a valid use of any time you gain by delegation!
Be Realistic
We can certainly educate our kids and manage our homes at the same time, but it's crucial that we know our own limits. Sometimes we'll have to lower our standards in one area of life in order to succeed in another area. Other times we'll have to drop something completely. Often, however, we'll discover that sharing the workload allows everything to be accomplished in a satisfactory way. We simply need to have realistic expectations, then act, and delegate, accordingly.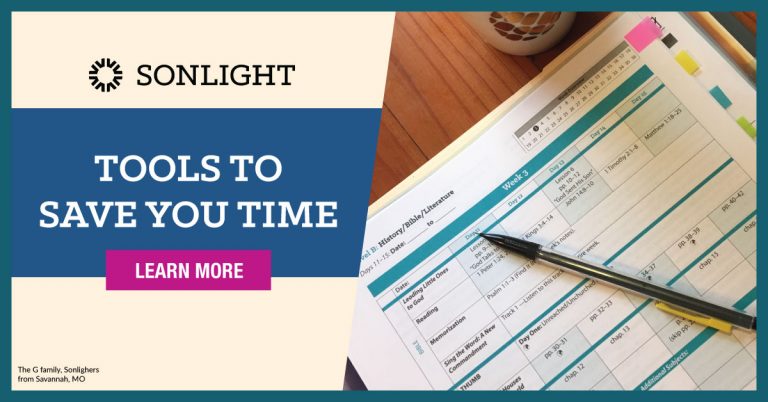 Investing in a well-planned curriculum is one of the best ways to delegate your homeschool tasks. Let Sonlight do the planning for you. LEARN MORE HERE.