Growing up in a home influenced by German roots, I looked forward to Christmas treats that spoke of that heritage. Lebkuchen ("leben" - favorite food, very sweet and "kuchen" - cake) is a soft and chewy cookie that is reminiscent of gingerbread. The combination of warm spices, honey, and sometimes nuts, makes it perfect for an after-meal treat, or an accompaniment to morning coffee.
Lebkuchen goes back to 14th century Germany where Catholic monks prepared the treat in monastery bakeries. The cookie was valued both for its symbolic religious meaning and its healing properties. Over the years many variations on this cookie recipe have emerged. Feel free to play with the flavors to find your favorite combination.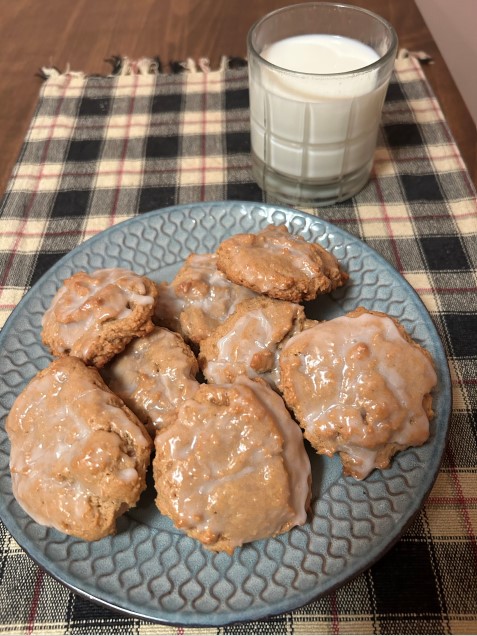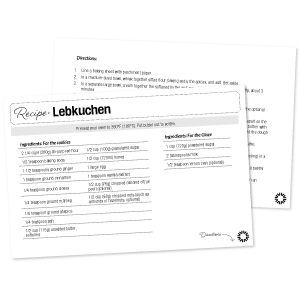 DOWNLOAD THIS RECIPE HERE!
This PDF file is formatted to print the same size as Sonlight's Recipe Cards so you can easily add it to your recipe collection!
Lebkuchen
Preheat your oven to 350°F (180°C). Put butter out to soften.
Ingredients:
For the Cookies
2 1/4 cups (280g) all-purpose flour
1/2 teaspoon baking soda
1 1/2 teaspoons ground ginger
1 teaspoon ground cinnamon
1/4 teaspoon ground cloves
1/4 teaspoon ground nutmeg
1/4 teaspoon ground allspice
1/4 teaspoon salt
1/2 cup (115g) unsalted butter, softened
1/2 cup (100g) granulated sugar
1/2 cup (120ml) honey
1 large egg
1 teaspoon vanilla extract
1/2 cup (75g) chopped candied citrus peel (optional)
1/2 cup (60g) chopped nuts (such as almonds or hazelnuts, optional)
For the Glaze
1 cup (120g) powdered sugar
2 tablespoons milk
1/2 teaspoon lemon zest (optional)
Instructions:
Line a baking sheet with parchment paper.
In a medium-sized bowl, whisk together sifted flour, baking soda, the spices, and salt. Set aside.
In a separate large bowl, cream together the softened butter and granulated sugar until light and fluffy, about 3 minutes.
Add in honey, egg, and vanilla extract, beating until well combined.
Gradually add the dry ingredients to the wet mixture, mixing until a soft dough forms. If you're using the optional candied citrus peel and nuts, fold them into the dough at this point.
Scoop dough by rounded tablespoonfuls and roll them into 1-inch balls, spacing them about 2 inches apart on the baking sheet. Flatten each ball slightly using the bottom of a glass or with your fingers. (Note - I didn't bother with rolling the dough into balls, I just dropped a tablespoon full at a time onto the cookie sheet and flattened the dough slightly with my fingers).
Bake for 10-12 minutes, or until they are just set and the edges start to turn golden brown. Don't overbake; lebkuchen should remain slightly soft.
While the cookies are baking, prepare the glaze by mixing the powdered sugar, milk, and lemon zest (if using) in a small bowl until smooth. Feel free to add additional milk to make the glaze "spreading" consistency.
Remove the cookies from the oven and let them cool on the baking sheet for a few minutes. Then, using a pastry brush or a small spoon, glaze the tops of the cookies with the icing while they are still warm.
Allow the glazed lebkuchen to cool completely on a wire rack. Once the glaze has hardened, store them in an airtight container. Flavors will continue to develop over the next couple days.
This recipe will yield approximately 2 dozen cookies.
Now is a great time to begin curating recipes to develop into your own Christmas traditions. Sonlight has some simple recipe cards where you can record your favorites and create your own Christmas Cookie Collection.