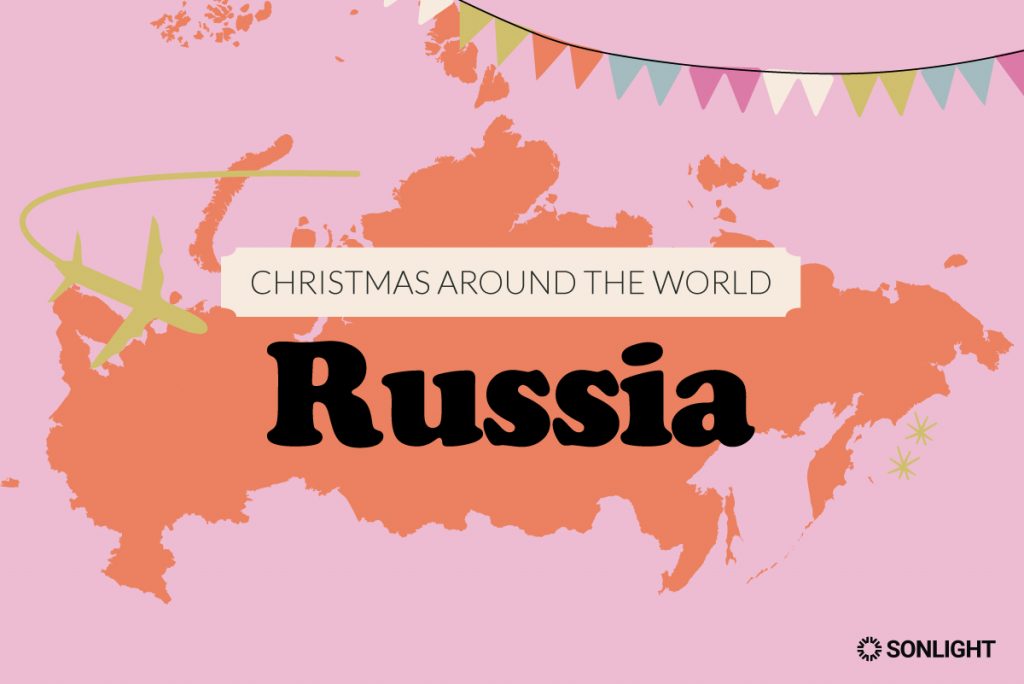 Christmas is one of the most beloved and widely celebrated holidays worldwide. It is a special time that brings joy and sparkle to our lives with feasting and special rituals, colorful decorations, and the exchanging of gifts. Traditions have developed around this holiday celebrating the birth of Jesus and
they have changed as they have crossed borders into other countries and over time.
Dive into Christmas Traditions in Russia below. Download Sonlight's Christmas Around the World ebook to explore Christmas traditions from 19 different countries around the world, including 6 of the 7 continents!
Explore Christmas Traditions in the Russia while listening to this episode of the InquisiKids podcast.

COMING SOON! Release date: December 18

Christmas Traditions in Russia
Because of the anti-religious policies of the Communist party, Christmas was practically eradicated in Russia for most of the 20th century. New Year's Eve and New Year's Day became the most important Russian holiday, although Christmas was reintroduced as a holiday in the 1990s following the dissolution of the USSR.
Adherents to the Russian Orthodox Church follow the Julian calendar rather than the Gregorian, so they celebrate Christmas on January 7th. The centerpiece of Russian Christmas celebrations is the attendance of the Midnight Mass or "Vigil" on the night of January 6th. The service includes special prayers, hymns, and the symbolic blessing of water. Following the service, families gather in homes to share a special Christmas Eve dinner known as the Holy Supper. This meal typically consists of 12 meatless dishes, symbolizing the 12 apostles. It includes items like mushrooms, pickled vegetables, dried fruits, and a special bread called kulich, served with honey.
Because the major winter holiday is related to New Year's Eve, there are two characters characters associated with Russian winter folklore: Ded Moroz (Father Frost) and Snegurochka (Snow Maiden). Ded brings gifts to children on New Year's Eve rather than Christmas. The arrival of the New Year is marked by fireworks, parties, and festive gatherings. For many Russians, New Year's is a time of family
togetherness and gift-giving.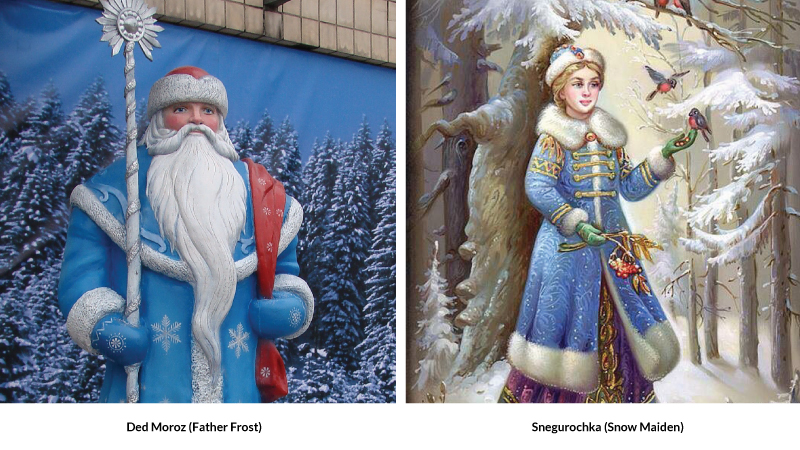 In a country as large as Russia, it's understandable that Christmas celebrations can vary significantly by region and individual preferences. In some rural areas and more traditional households, Christmas may be celebrated with a greater emphasis on religious observance, while in urban centers, it may be more secular and similar to Western-style Christmas celebrations.

Christmas Recipes in Russia
Popular Russian Christmas desserts are a delectable part of the holiday season, reflecting a blend of tradition and regional flavors.
Kutya (Kutia) is a quintessential Christmas dish, made from cooked wheat berries mixed with honey, poppy seeds, and dried fruits.
Another favorite is Pryaniki, gingerbread-like cookies or cakes, often decorated with intricate patterns and designs.
Sushki, small, ring-shaped pastries, are a common treat, both sweet and crunchy.
Kolyadki are Christmas cookies/pastries that are baked for a ceremony of the same name. They are made to treat all the people who come to sing carols.
Additionally, Medovik, a layered honey cake, Vatrushka, sweet cheese-filled buns, and Russian Teacakes, buttery, nut-filled cookies coated in powdered sugar, make appearances on festive tables.
Download a Christmas Playlist
Russian Christmas music is a captivating blend of rich traditions and heartfelt melodies. The holiday season is marked by a plethora of carols, or kolyadki, and hymns that resonate through churches, homes, and streets. These songs often tell the story of Christ's birth, and they are passionately sung by choirs, families, and carolers who go door-to-door. Alongside the classics, Russia's renowned composers have contributed timeless pieces, like Tchaikovsky's The Nutcracker Suite, which has become synonymous with Christmas around the world. To watch a full performance of the Russian State Ballet and Opera House click here. Check out Sonlight's Christmas Around the World Spotify playlist here to download Christmas music from Russia and around the world.
What is your favorite tradition to celebrate with your family around Christmastime?
From traditional festivities to unique customs, we hope these Russian traditions add a rich diversity to your family celebrations during this joyous holiday. Download the complete Christmas Around the World ebook to infuse your holiday traditions with Christmas customs, recipes, and crafts from 19 countries around the world.
We'd love to hear more about the traditions you celebrate in your own home! Share your stories on your favorite social media outlet using #sonlightstories or comment below. Have a tradition you'd like to see added to this post? Let us know, by emailing us at main@sonlight.com.