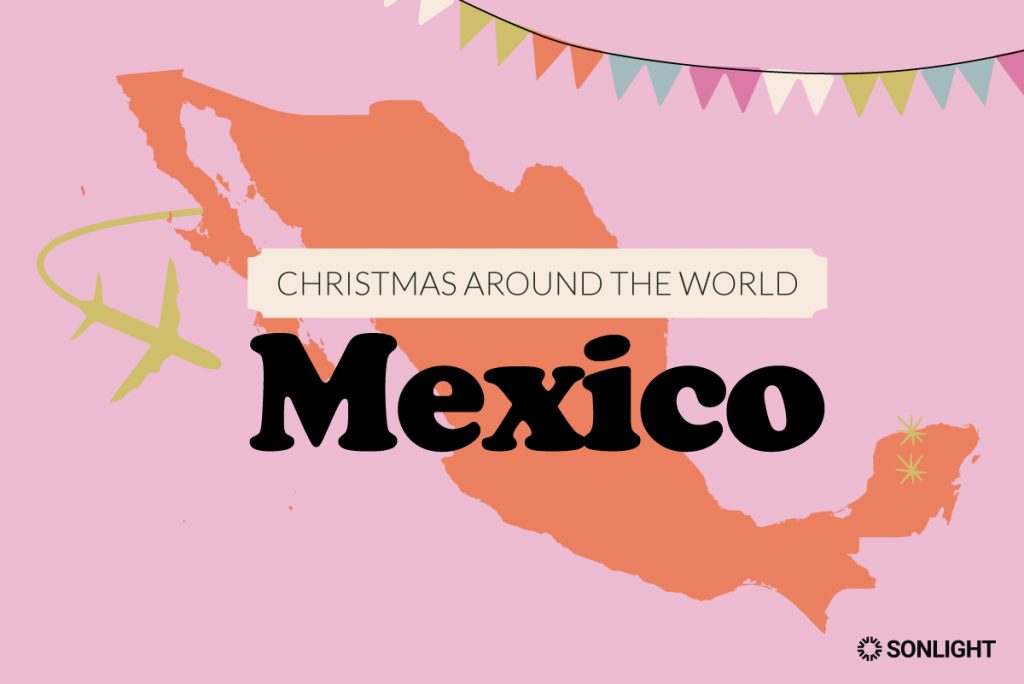 Christmas is one of the most beloved and widely celebrated holidays worldwide. It is a special time that brings joy and sparkle to our lives with feasting and special rituals, colorful decorations, and the exchanging of gifts. Traditions have developed around this holiday celebrating the birth of Jesus and
they have changed as they have crossed borders into other countries and over time.
Dive into Christmas Traditions in Mexico below. Download Sonlight's Christmas Around the World ebook to explore Christmas traditions from 19 different countries around the world, including 6 of the 7 continents!
Explore Christmas Traditions in the Mexico while listening to this episode of the InquisiKids podcast.

COMING SOON! Release date: December 12

Christmas Traditions in Mexico
In Mexico, the main celebration is called Las Posadas. This celebration that lasts 9 nights begins on December 16th and culminates on the 24th. Posada is the word for "inn," and it reenacts Mary and Joseph's search for a place of lodging in Bethlehem. Each night, friends gather for a procession. A man plays the part of Joseph, and a woman plays the part of Mary. The procession stops at someone's house where they ask if there is room for them. They ask by singing traditional songs known as villancicos. The people in the homes play the role of innkeepers, denying them shelter until finally allowing them in. They celebrate the evening with food. At the last house, on Christmas Eve, Joseph is told there is only room in the stable where a nativity is set up. Traditional food such as tamales, buñuelos, and hot ponche (a warm fruit punch) are served.
Piñatas are a popular part of Mexican Christmas traditions, especially during Las Posadas as well as at other holiday celebrations. Children take turns trying to break open the colorful piñatas filled with candy and small toys.
Like other countries, Mexican families display nacimientos (nativity scenes), count down using an Advent Calendar, and celebrate Nochebuena (Christmas Eve) with a festive meal. They also attend la Misa de Gallo (Midnight Mass). They decorate Christmas trees and go caroling (villancicos).
In the town of Oaxaca, there is a unique tradition called la Noche de Rábanos (Night of the Radishes) on December 23rd. Residents carve figures out of radishes and other vegetables, creating elaborate scenes and displays that attract visitors from all over. Learn more about this tradition on the InquisiKids podcast at the beginning of this post.

Christmas Crafts in Mexico
The poinsettia, known as the Flor de Nochebuena in Mexico, holds significant cultural and symbolic importance during the holiday season. These Christmas flowers originated in southern Mexico and are named for Joel Poinsett, the first US Ambassador to Mexico. The plant reminds Mexicans of the story of a poor boy who was going to church to visit baby Jesus. He had nothing to bring as a gift, but on the way, he saw some plants on the side of the road. When he picked them something special happened: the top leaves changed to bright red. Add a touch of this enduring tradition to your holiday celebration by making this poinsettia pin craft.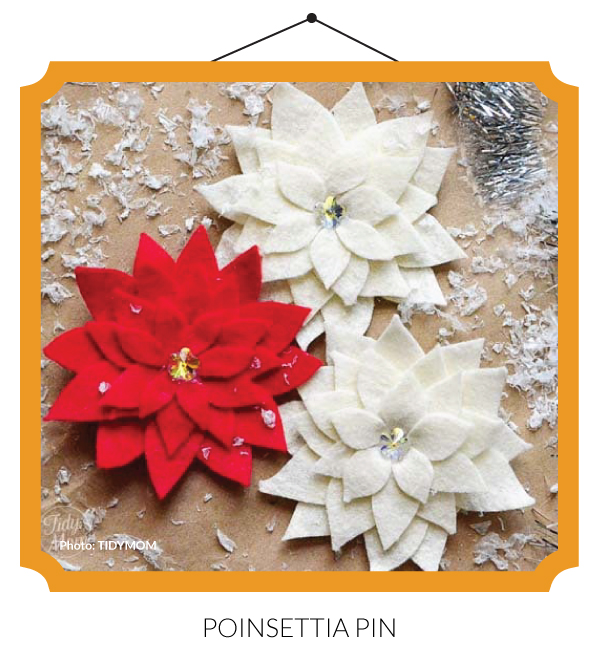 Poinsettia Pin
These pins make a simple sweater look festive. You can also make it into a refrigerator magnet or a tree ornament with a few tweaks. Or make several and give them as gifts! Click here for instructions.
Christmas Recipes in Mexico
Christmas food in Mexico is a delightful fusion of traditional and festive flavors. The diverse and mouthwatering Christmas cuisine in Mexico is a reflection of the country's vibrant traditions and the joyous spirit of the season. Add one of these popular recipes to your celebrations this season.
Download a Christmas Playlist
Christmas music in Mexico is a vibrant and cherished part of the holiday season. Traditional tunes like Los Peces en el Río (The Fish in the River) and Noche de Paz (Silent Night) are often sung with great enthusiasm during posadas. Villancicos (Spanish Christmas carols) are a beloved part of the musical landscape, often performed in communities and homes. These songs, combined with the lively atmosphere of fiestas and colorful decorations, create a spirited and culturally rich Christmas music tradition that reflects the warmth and joy of the season in Mexico. Check out Sonlight's Christmas Around the World Spotify playlist here to download Christmas music from Mexico and around the world.
What is your favorite tradition to celebrate with your family around Christmastime?
From traditional festivities to unique customs, we hope these Mexican traditions add a rich diversity to your family celebrations during this joyous holiday. Download the complete Christmas Around the World ebook to infuse your holiday traditions with Christmas customs, recipes, and crafts from 19 countries around the world.
We'd love to hear more about the traditions you celebrate in your own home! Share your stories on your favorite social media outlet using #sonlightstories or comment below. Have a tradition you'd like to see added to this post? Let us know, by emailing us at main@sonlight.com.