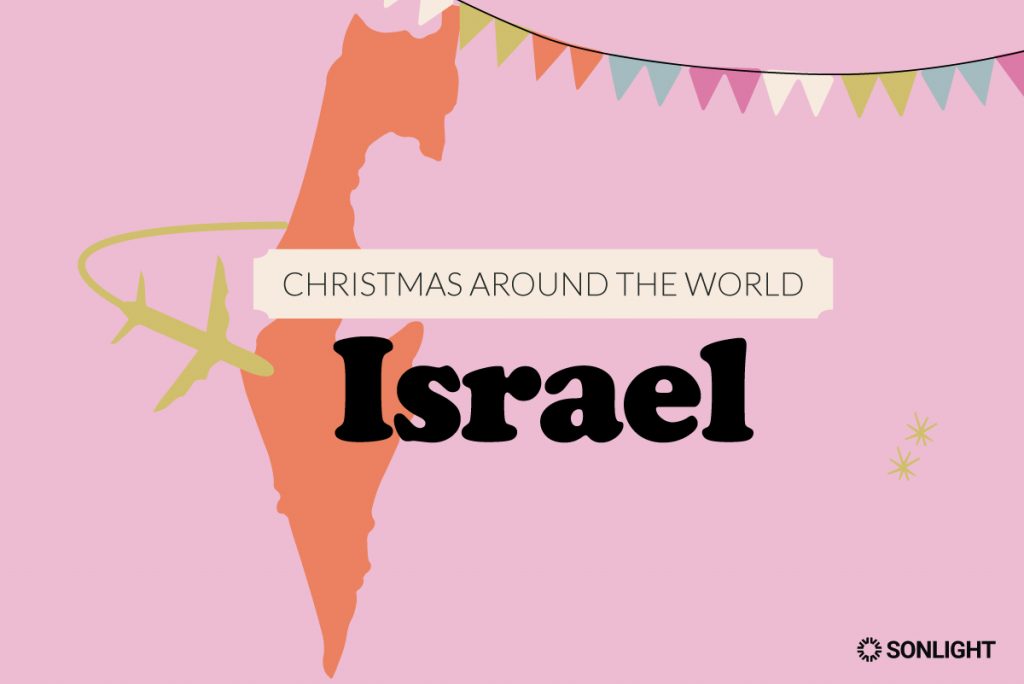 Christmas is one of the most beloved and widely celebrated holidays worldwide. It is a special time that brings joy and sparkle to our lives with feasting and special rituals, colorful decorations, and the exchanging of gifts. Traditions have developed around this holiday celebrating the birth of Jesus and
they have changed as they have crossed borders into other countries and over time.
Dive into Christmas Traditions in Israel below. Download Sonlight's Christmas Around the World ebook to explore Christmas traditions from 19 different countries around the world, including 6 of the 7 continents!
Explore Christmas Traditions in the Israel while listening to this episode of the InquisiKids podcast. COMING SOON! Release date: December 14

Christmas Traditions in Israel
Because the major religions in Israel are Judaism and Islam, Christmas is celebrated by a small percentage of the population. The Christian community, which is made up of predominantly Arab Christians, is roughly about 2% of the country's population. Although Christmas is not a public holiday in Israel, some Christmas traditions are observed by Christians as well as some secular Israelis.
Many Christians in Israel attend Christmas Eve and Christmas Day church services to celebrate the birth of
Jesus. Two of the best-known churches for Christmas celebrations include the Church of the Nativity in Bethlehem and the Church of the Holy Sepulcher in Jerusalem. (Search YouTube for some fascinating virtual tours! See one below.)
While Santa Claus (Baba Noël) is known and recognized, the emphasis of Christmas tends to be more on religious observances, including attending church services and participating in nativity scenes. Gift-giving on Christmas is not as widespread as in some other countries, but it can still occur in some Christian households.
Since Bethlehem is the birthplace of Jesus, many Christians come from around the world to participate in the festivities and visit the Church of the Nativity. The town is crowded with processions by a variety of different denominations, including Greek Orthodox, Armenian, Catholic, Protestant, and Ethiopian, that pass through Manger Square or the Shephard's Fields. Some of these denominations do not
celebrate Christmas on December 24 or 25. Rather, they observe the day on January 6 or 7.
Nazareth also comes alive during this time with processions and parades, a Christmas market, lighting of the Christmas tree, and services in the Basilica of the Annunciation.

Christmas Recipes in Israel
In Israel, Christmas recipes reflect the diversity of its population, with various traditions and flavors coming together. While not a public holiday, Christmas is celebrated by the Christian minority, and special dishes are prepared. One of the most iconic is Maqluba, a flavorful layered dish with rice, meat (typically chicken or lamb), and an assortment of vegetables seasoned with aromatic spices. Traditional sweets like Kahk (Egyptian Eid Cookies) and Tamriyeh (date-filled pastries) are also popular during the holiday season. These recipes combine elements of Middle Eastern and Mediterranean cuisines, creating a unique blend that adds a flavorful touch to Christmas celebrations in Israel.
Sufganiyot are round, deep-fried jelly doughnuts that are eaten during the Jewish holiday of Hanukkah. They are a cross between a beignet and a jelly donut. The doughnuts are injected with jam or custard and topped with powdered sugar.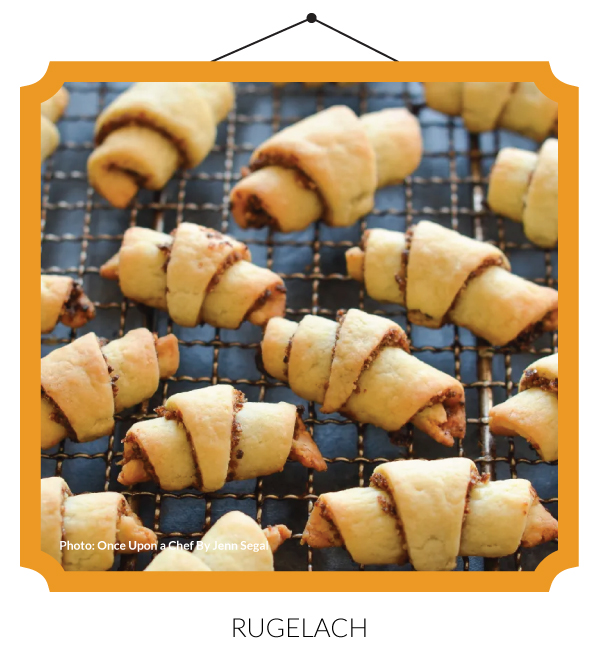 Rugelach, a delectable Jewish pastry filled with ingredients like chocolate, nuts, and jam, is a beloved treat enjoyed alongside traditional Christmas festivities in Israel, showcasing the country's multicultural culinary tapestry. Try your hand at making this recipe here.
Download a Christmas Playlist
While not a dominant feature of Israeli culture, Christmas music does have its place, especially in Christian communities that celebrate the holiday. Check out Sonlight's Christmas Around the World Spotify playlist here to download Christmas music from Israel and around the world.
What is your favorite tradition to celebrate with your family around Christmastime?
From traditional festivities to unique customs, we hope these Israeli traditions add a rich diversity to your family celebrations during this joyous holiday. Download the complete Christmas Around the World ebook to infuse your holiday traditions with Christmas customs, recipes, and crafts from 19 countries around the world.
We'd love to hear more about the traditions you celebrate in your own home! Share your stories on your favorite social media outlet using #sonlightstories or comment below. Have a tradition you'd like to see added to this post? Let us know, by emailing us at main@sonlight.com.