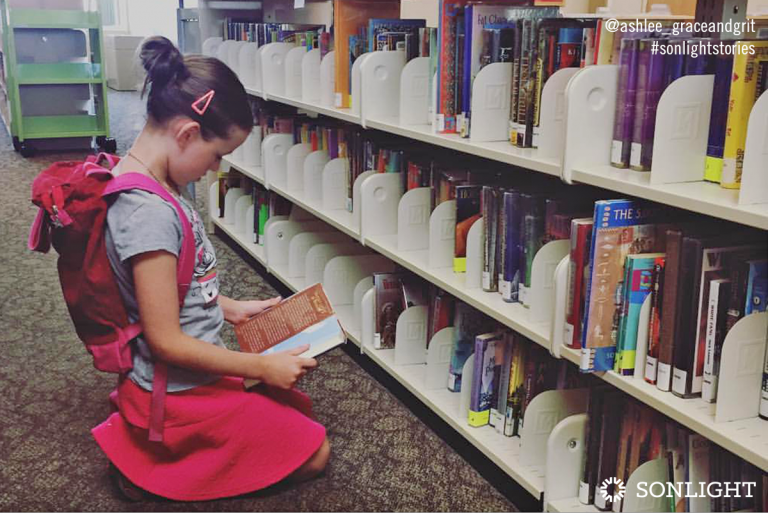 As we approached the end of our homeschool year, I did what all homeschooling moms do—I considered which curriculum to select for the next school year.
In my household the end of the school year is a time of reflection to evaluate what is working well on an individual basis for all four of my kids, thinking about the areas that need improvement for each one. It is a time to implement new methods, add subjects, or subtract activities. I love the end of the school year because it is like a fresh slate, but it can also be rather stressful to wade through.
We had a great school year with Sonlight, so why change things?
We loved having Sonlight as the foundation of our homeschool this year. My youngest two kids listened in on the readers they found interesting while they played with LEGO nearby. It worked out well.
This situation, though, was one thing I wanted to change for the upcoming year. I didn't want my youngest two always tagging along with their older siblings' literature. I wanted them to have history and geography books that spoke to them—books that had colorful pictures and wonderful meanings. At the same time I wanted my older two to be challenged by more advanced storylines and to dig deeper into history.
How could I chose one program that would meet the needs of all four of my children, meeting them each precisely at their own level?
Overwhelmed with Options
I asked my fellow homeschooling friends who were in similar situations, and their advice lead me down a curriculum rabbit hole. Any other mother out there who has fallen down this rabbit hole knows just how overwhelming it can be. There are so many choices. They can all look appealing.
My children were born within a four-year time span, and I was on the hunt for a single, core curriculum that would capture the attention of all of them at once. I was looking for something challenging enough for my fifth grader that wasn't going to be over the head of my Kindergartner.
Leaving Sonlight
After hours of research, I finally found my solution, and while I was sad to leave Sonlight, I truly thought this new curriculum was the answer.
I placed my order with the other company, received my package, and was not happy. I realized quickly that I was going to have to spend a ton of time fleshing out the program I had purchased:
developing projects for my older kids to achieve the depth I hoped for

hunting down booklists and reading dozens of novels and biographies in advance to verify the content

turning our weekly library runs into work instead of fun outings with my kids
I was going to have to spend a lot of time doing this, time that would reduce my freedom to go where the wind takes us. I did not want that. After I sent it back, I knew that my heart was still with Sonlight and I needed to return to what worked so wonderfully this past year—the curriculum that offered us structure with freedom.
Because if it isn't broken, why fix it?
Ordering Sonlight Again
But could I really find the time to do two programs with my four kids? That's a lot of reading! Ultimately, yes, I resolved myself to doing two different History / Bible / Literature (HBL) programs from Sonlight:
Level D, Intro to American History, Year 1 of 2 for my older two
Level A, Intro to the World: Cultures

for my younger two
I thought about creative ways to incorporate my older kids into the Read-Alouds for the younger kids. I also decided to reserve a few readers as a bedtime reading for the whole family. I finally felt like I could make this work; I was getting excited!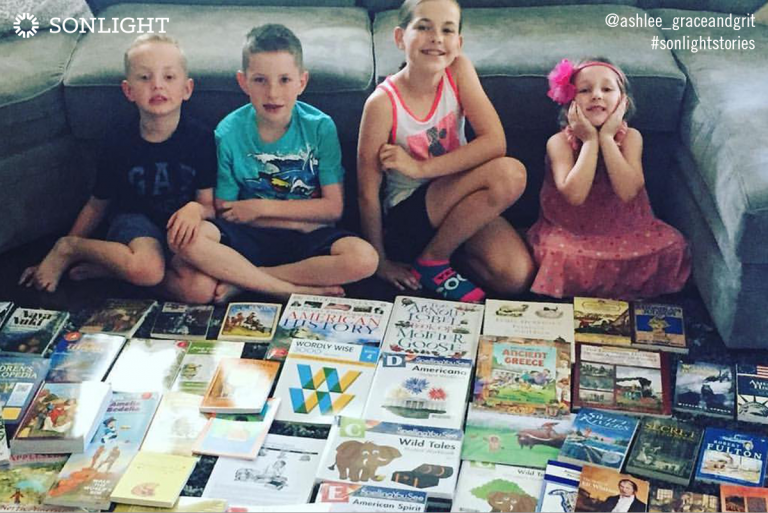 Why I Came Back to Sonlight
The big reasons I came back to Sonlight are simple but very significant. In a nutshell, Sonlight helps me maximize my time and be the very best teacher I can be for my kids.
I appreciate all these assurances even more after momentarily leaving Sonlight:
having every single book I will need for the entire school year in one place

having a road map to follow in my Instructor's Guides

knowing ahead of time every book they read is going to be safe and age appropriate

knowing that all of the readers correlate to the history lessons each week

knowing that God's character is reflected in everything we read

knowing they will be fascinated by history

knowing they love to read

knowing I will be less stressed with planning lessons

knowing I won't have to spend time scouring for resources
We are heading into our next school year more excited than ever. Our books have arrived and are waiting for us on our shelves! I am so thankful I came back to what I know works. Actually, Sonlight not only works, it provides us with more time in our homeschool days to experience the freedom we desire! There is no denying we will be reading a lot, but we cannot wait!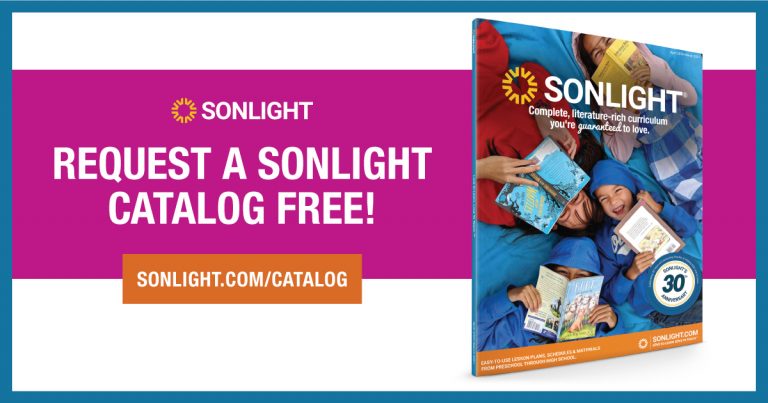 We welcome you to come back to Sonlight just like Ashlee did. Find your freedom with a fully planned curriculum, based on high quality literature. Get our latest catalog here.