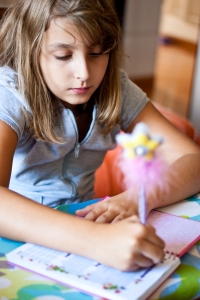 It's back-to-school time for those of us following the traditional school-year calendar. When I was growing up I always looked forward to going back to school in the fall, and as a homeschool mom/teacher I still look forward to it.
Over the past few weeks I have been assisting scores of Sonlight customers choose their curriculum for the upcoming year. It's a hectic time for the Advisor team, believe me! But we consider it a blessing to be able to share our experience and knowledge with other homeschool moms. It's so exciting to help families decide on the best educational plan for their children.
I love to reassure moms that with the Sonlight Instructor's Guides the work really is done for you. I always spend a few hours during the late summer poring over my new I.G. familiarizing myself with what we will be studying in the upcoming school year. I like to plan in hands-on activities and special field trips, for enrichment. I get our books organized, and stock up on school supplies. Beyond that, I honestly never pick up my I.G. again until it's time to do school.
Every year about this time I enjoy browsing the school supplies aisles in the stores. I revel in the fact that I don't have to follow a supplies list for a certain school. I can get whatever I want my kids to have! In addition to the standard supply of paper and pencils we stock up on each summer, I also like to add in a few little fun things like colored pens or decorative notebooks. I figure I can splurge a bit on supplies because I don't have to worry about school clothes! ;-)
I know many of you have already started school. My family will be starting next week. What do you do to get ready for the first day of school?
Enjoying the adventure,
~Karla Cook
Lifelong Learner