This post is part of the Where Are They Now series in which we hear the stories of long-time Sonlight users who are now thriving young adults.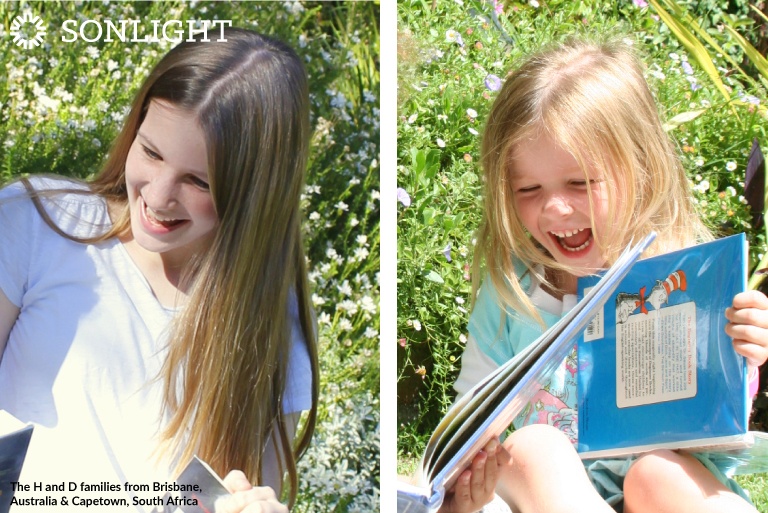 Kiera-Lee is the eldest of our four children and the first Sonlighter in the Hayes family, originally from Cape Town, South Africa but recently relocated to Brisbane, Australia.
When Kiera's Sonlight catalog photo was taken, she was a 4-year-old preschooler who loved each and every book in her curriculum, with a few firm favourites that she still speaks of with great fondness. Now, at 15, she continues to delight in finding new treasures in the Sonlight curriculum, and her love of literature and history is evident in her own writing and ability to communicate well.
From a very young age, Kiera dived deeply into each and every new passion that came her way, often working hard to achieve dreams that her parents had mistakenly discouraged, thinking they were unreachable! Her outward achievements include gymnastics, theater, dance, singing, guitar, piano, ukulele, and writing. A number of her short stories have been published nationally in South Africa, helping her earn enough money to buy her first computer at the age of 12.
Kiera has tackled the upheaval and change involved in their family move from South Africa to Australia with the same tenacity she has shown in other areas of her life. Within a couple of months, she was playing ukulele in the youth church band and participating in a number of stage productions, including taking a lead role as the narrator for a Christmas show. She has developed deep and meaningful friendships and finds time to invest in other people's lives, all while keeping up her self-imposed, heavy academic workload.
Currently, she is working on a number of different courses alongside Sonlight 200: Church History with the view to complete two academic grades in one year. Her hope is that she will be able to spend the next two years exploring interests with the view to gain greater clarity for her future work—something, she suspects, will include her passion for writing and communication.
Kiera's parents are obviously proud of her work ethic, her achievements, and most of all her character. Through their years of homeschooling, the family has had many discussions about how choices impact character. Kiera's mom Taryn says, "Since they were little, my prayer has been that they grow to be people of godly character because of— and especially in spite of— our (often flawed) parenting.
"Over the years, we've watched Kiera grapple with many heart truths that were difficult to understand or own. So many long, hard conversations and discussions track the path of our parent-child relationship: many of which were prompted through the excellent stories Sonlight brought into our lives! Now, in these teen years, we've been greatly encouraged by how she has taken ownership over so many areas of her life: from the little things like responsibilities at home, to the bigger things like facing temptations outside of the home.
"This past year, she has spent many hours of independent study in and around the Word of God as she tackles big theological questions. It is a delight to us to watch her walk this road to greater independence in her faith, choosing to read apologetics, doctrinal works,  and many other theological tomes outside of her assigned reading from 200. Recently, she organised a theological discussion group with her Christian friends so they could share their different views.
"She's eager to learn and eager to be someone of integrity. I'm grateful for God's hand in her life—not least of which was the way He led us into homeschooling with Sonlight. I cannot begin to express the gratitude I have for the many character-building opportunities that were born out of Sonlight moments, helping to shape the hearts and minds of our children. These 11 years of homeschooling with Kiera have been so rewarding; I look forward to seeing how God uses her for His glory in the years to come."
Do you have a story about your grown Sonlighter? We love catching up with long-time Sonlight users who are now thriving young adults. Email your story and photos to stories@sonlight.com.