This post is part of the Where Are They Now series in which we hear the stories of long-time Sonlight users who are now thriving young adults.
When you are in the trenches of homeschooling, it's easy to lose perspective and feel that the struggles with multiplication and the messes from science experiments make you a failure as a homeschool parent. You may question if—even with an excellent curriculum—you are equipped to educate your kids and if you are ruining them by teaching them at home.
You are equipped. And you are not ruining them. But reading that on a blog post is probably not enough to convince you.
This place of self-doubt is precisely where we need stories from those who are farther down the path ahead of us. Moms of graduates and the graduates themselves can reassure us that homeschooling works. Sonlight works! Here is a sampling of just four of the thousands of Sonlight graduates who confirm the wisdom of homeschooling. We hope their stories will encourage you in the trenches today as you hold fast to a vision of God's calling in the lives of your children.
The four young adults below were all winners of a Sonlight Scholarship. Learn more about how to apply for this scholarship here.
We asked these young adults to share how they believe homeschooling with Sonlight positively benefited them and what their parents did well regarding their education.
Luke Macfarlan
Where He is Now
Luke graduated from John Brown University summa cum laude with a double major in mechanical engineering and chemistry. After receiving a graduate fellowship from the National Science Foundation, he is currently pursuing a Ph.D. in chemical engineering at the University of Texas at Austin. He is also happily married to his wife Emilee.
Luke's Insights
One of the greatest blessings of homeschooling was the ability to learn independently. I learned to grapple with difficult concepts on my own, a skill which is continuing to pay dividends. The spiritual training my parents provided continues to influence my life, shaping my priorities and life goals. Additionally, homeschooling allowed my parents to tailor my education to my interests and pursuits, combining various subjects (English, history, speech, etc.) in creative ways while not compromising depth in any of them.
Victoria Tuszynski
Where She is Now
Victoria graduated as valedictorian with a bachelor of science in contemporary music and a minor in psychology. She was also a 2016 Who's Who recipient and was named Contemporary Musician of the Year. Shortly after graduation, she married her best friend, Andrew. Victoria's band, Conquer the Pacific, has released three amateur EPs over the last three years.
Victoria's Insights
Homeschooling with Sonlight not only allowed me to be educated through my preferred learning style  of reading, but also gave me the scheduling flexibility to pursue music. Sonlight is a challenging curriculum, and I was certainly never bored. 

The greatest help towards my success is when I put my perfectionism to sleep. It was easy for me in high school and college to focus on getting an A, but getting As on assignments did not guarantee that I was learning. Especially in college, I just happened to be good at testing and writing papers. The times where I sat with materials, asked good questions, really listened to understand, and reflected honestly were the times where I really learned. Those are the skills that I take into adulthood and into my music career.

There are no grades in real life. Perfection doesn't exist, so don't pressure yourself to be flawless in anything. However, becoming a better version of yourself and adding value to the people around you is a real life possibility, if you go after it. You will be happier for it.
Sam Sinquefield
Where He is Now
Sam graduated from Louisiana State University with an A average in kinesiology, focusing on human movement science. He is currently halfway through an internship with Reformed University Fellowship at Wake Forest University. He looks forward to continuing his education as he works towards a doctorate of physical therapy.
Sam's Insights
I believe that the variety of things I got to do as a homeschooler attributed to my success in life. Since I was homeschooled, I had the chance to take private classical piano lessons, practice during the day, and also play on a basketball team throughout high school (as well as being involved at church and with my friends). I know if I had gone to school, I wouldn't have been able to pursue all of my passions and still done well academically.

Learning to study on my own was a huge factor in making my transition to college smooth. I am also so grateful for how I learned to have a Christian worldview through all the subjects I studied growing up. My mom is an absolute rock star for spending so much time and effort pouring into me while I grew up (even when I was a grumpy adolescent). For that, I will always be grateful.
Sarah Leichty Dos Santos
Where She is Now
After graduating summa cum laude, Sarah taught at an international school in China for two years. She married a Brazilian missionary, Leandro, and moved to Thailand with him where they have started a language school which will equip missionaries from Mongolia, Brazil, and Thailand.  
Sarah's Insights
I greatly value my education with Sonlight, and I know that it prepared me well for all that followed high school—English and literature university studies, teaching, cross-cultural living, missions, dating and marriage, and beyond. Especially as a woman in a cross-cultural marriage serving in an intercultural context, I value the Kingdom-minded worldview that Sonlight ingrained in me and the tools that it gave me for serving in that Kingdom. It fostered in me an awareness of my own culture and the cultures of other people and places--something that I will never lose.
The Sonlight Curriculum Foundation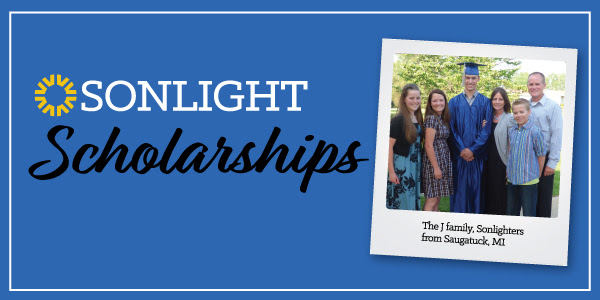 Sonlight offers scholarships based on two different sets of criteria—Green or Blue.
1. Green
Up to four scholarships
Two $2,500/year and two $1,000/year four-year scholarships
Creativity, mission mindedness, acts of kindness, and other factors count more highly than academics
2. Blue
Up to nine scholarships
One $5,000/year, two $2,500/year, and six $1,000/year four-year scholarships
Academics are the most important criteria
Click here or the image above to see full details and exactly how to apply for a Sonlight Scholarship.