Yes...you can homeschool through high school! Meet this year's bright, accomplished, servant-hearted Sonlight Scholarship winners. These exceptional Sonlight-educated students are poised to make a difference in the world. As the winners of our annual Sonlight scholarship competition, they have each been awarded $20,000, $10,000, or $4,000 for college.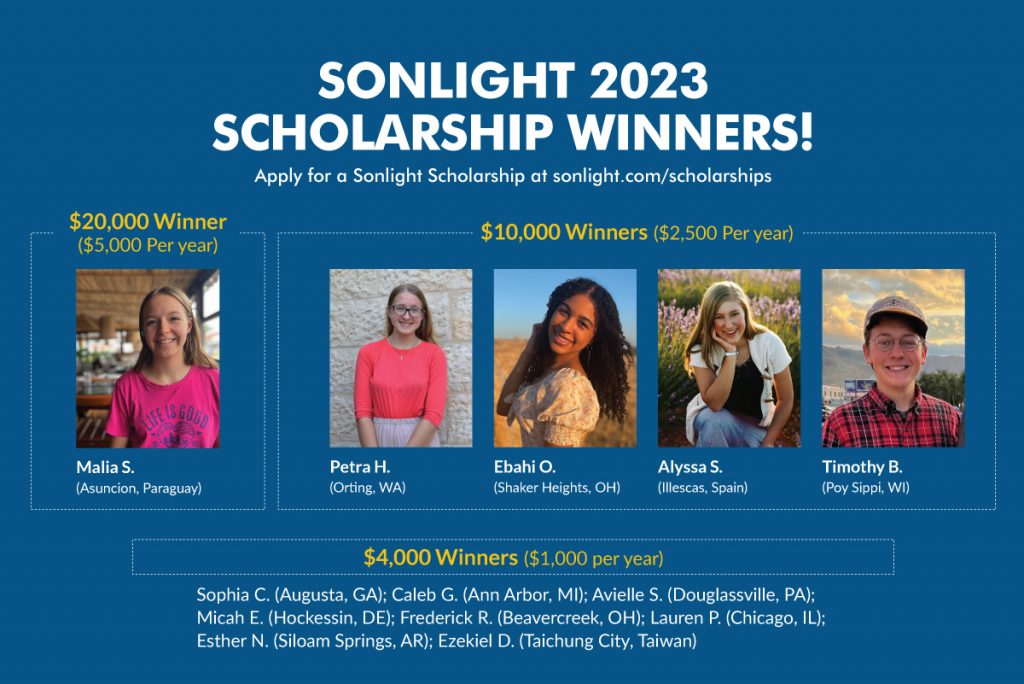 Many of these students have used Sonlight since they were young. They're headed into promising careers in engineering, arts, medicine, missionary work, music, and more. Most are headed to their college of choice, and many have superb SAT or ACT scores.
But they are also kind, big-hearted young adults. Through ministry and volunteerism, they live life with Jesus in their hearts and long to share God's kingdom with the world.
$20,000 Scholarship Winner: Malia S. of Asuncion, Paraguay
Awarded $5,000 Per Year
Malia is a high school senior, born in the United States. For the past decade, she has lived in South America: first, in Bogotá, Colombia; and currently in Asunción, Paraguay. She speaks English and Spanish at home and is pleased to be picking up some Guarani. Malia plays the oboe, swims competitively, volunteers at church, enjoys jiu-jitsu and kickboxing, and regularly experiments with cookie recipes.
At an early age, Malia bought into Sonlight's educational philosophy "hook, line, and sinker." Her love for literature fueled her schooling. Her library is replete with hundreds of tattered covers, most of which came in eagerly-awaited, yearly Sonlight mailings. Aside from her family and close circle, her mentors and friends through the years have included Eloise McGraw, E.L. Konigsburg, Louisa May Alcott, Jules Verne, J.R.R Tolkien, C.S. Lewis, Jane Austen, Charles Dickens, Alexandre Dumas, Agatha Christie, and Leo Tolstoy.
After arriving in Paraguay, Malia developed a strong interest in tropical disease and community health. The flexibility of homeschooling allowed her to work with recently discovered tribes in Paraguay's Chaco region, disadvantaged communities in Asunción, and those suffering from lymphatic filariasis (elephantiasis) and Hansen's disease (leprosy).
In 2021, Malia created Project Willing to help resource a leper colony in Sapucai, Paraguay. Project Willing gets its name from Luke 5: The leper said to Jesus, "Lord, if you are willing, you can make me clean;" and the Lord said, "I am willing." Project Willing currently supplies all non-prescription medical supplies for the colony's 60 residents and is investing in long-term sustainability projects. Malia's continued, close contact with the residents has been life-changing. Please visit www.ruwilling.org for more information.
In college, Malia plans to pursue a course of study focused on psychology and community health to effect more positive, multi-disciplinary solutions to health challenges in disadvantaged communities at home and abroad. Malia plans on taking a gap year to continue her in-country management of Project Willing and current study of tropical disease in Paraguay.
$10,000 Scholarship Winners: Petra H., Ebahi O., Alyssa S., and Timothy B.
Awarded $2,500 Per Year
Petra H., of Orting, WA, is determined to follow God wherever He leads. Inspired by many of the stories she read while using Sonlight curriculum from K-12, she feels that God is calling her to serve in the Middle East. In preparation to follow this calling, she spent her high school years teaching herself Arabic. She has always enjoyed the freedom that homeschooling has given her to pursue her interests and has used that time to lead her own children's Bible club, sew her own historically inspired clothes, participate in a speech and debate club, and spend her extra time studying anatomy and physiology. During high school, she developed a love for chemistry, biology, and medicine, which helped to lead her in the direction of nursing. To confirm both her calling to nursing and her calling to the Middle East, after graduating in May of 2022, she decided to take a gap year. For the first five months, she worked with an organization in Israel that helps Arab children born with heart defects receive life-saving surgery in Israeli hospitals. During this time, she feels that God truly confirmed her calling to nursing. After spending Christmas with her parents and four younger brothers, she returned to the Middle East and is now working to improve her Arabic and study the culture while helping to homeschool the children of Christian workers there. She is looking forward to attending nursing school at Dordt University this fall. She trusts that God will lead her in His will, and she prays that He will grant her the strength to follow Him wherever He leads.
"The steadfast love of the LORD never ceases; his mercies never come to an end; they are new every morning; great is your faithfulness. 'The Lord is my portion,' says my soul, 'therefore I will hope in him.'"
Lamentations 3:22-24
Ebahi O. was born into a missionary family and has traveled internationally her whole childhood. She grew up watching and then working alongside her parents as they served in several countries, including Benin, Nigeria, and Romania. As she grew and fell in love with the Lord, she developed one main life goal that dictates all her choices: to glorify God. She was blessed to have the opportunity to serve in medical missions in Benin, help care for orphans, teach English in Romania, and so much more as she tried to serve in any way she could. She also loved participating in her youth group and later becoming a mentor to younger girls and other homeschool students.
Ebahi was taught with Sonlight her entire education. Sonlight provided the rigorous but flexible curriculum that her family's travels required. She took 10 AP Courses and enjoyed challenging herself academically. She also had the freedom to thoroughly pursue her other interests such as pottery, dog training, animal rescues, and helping homeschool her younger siblings. Whenever stateside, she enjoyed dancing and was part of a performance group. Homeschooling allowed her to experience real life much earlier than her peers, as well as have some incredible adventures (such as being chased by an elephant). It also allowed her time and opportunity to develop a deep and personal relationship with Jesus Christ. She cannot wait to teach, the Sonlight way, to her own children one day.
Ebahi has many ambitions and ideas. The Lord has guided her into her next step; she will be attending the University of Notre Dame, where she will study Civil engineering. She personally experienced the daily hardships many people face their whole lives due to terrible living conditions in the developing countries where she lived. As a result, she would love to use her degree in developing countries where infrastructure is severely lacking, or train and support missionaries. Wherever The Lord leads, she hopes to always be a light and serve others selflessly as Jesus did.
Alyssa S. was born to Global Workers Mark and Kim S. in Armenia in 2005. At the age of 5, she started homeschooling. A year later, the S. family discovered Sonlight and fell in love with homeschooling. They never looked back. They continued to homeschool with Sonlight with Alyssa's two younger siblings, Maddy and Caleb, and during their move to Spain.
Alyssa is proud to have homeschooled all through school. She is thankful for the flexibility and tailored learning that homeschool allows, the love of learning she acquired, the international perspective, and how homeschool grew her relationship with Jesus. In all their travels, the S. family read Sonlight books in 10+ countries. Through school projects, Alyssa felt the Lord calling her to study nursing and serve women in developing countries. In Grade 10, she began training as a doula, and has been able to serve in that capacity on three continents.
Alyssa has also been privileged to co-lead her youth group's missions team, a pioneer ministry dedicated to raising missionary awareness and engagement among Spanish youth and sharing the love of Jesus in Spain and across the world.
In Grade 12, she began teaching ESL classes to two homeschool families. As homeschooling is very rare in Spain, this was a unique and special connection for her.
Alyssa graduated high school in Spain in 2022. She is thrilled to begin studying nursing and looks forward to building on what she learned with Sonlight and stepping into the adventure the Lord has for her.
Timothy B. has been a missionary kid for his whole life—first in Kazakhstan, and now in Hovd, Mongolia. When reflecting on his past eighteen years, he describes them as "everything but what I expected them to be", and between countless international flights, twelve unexpected moves, and frequent thousand-mile road trips in sub-zero temperatures, it's clear he means it. Despite this, and maybe since he doesn't know any better, he thoroughly enjoys his life, having learned never to be apprehensive about the future, since he is convinced that God knows what He's doing. However, he has also learned to always be prepared, and has picked up lots of useful skills like puppet-making, graphic design, carpentry, building huge Lego dioramas, playing the violin, and writing.
His education has been a jumble of local Kazakh-language schools, online classes, homeschool co-ops, and 12 Sonlight cores—which have given him an inquiring mind and a love for learning. Now, as Timothy finishes high school, he plans to further his education at Concordia University, Nebraska, where he will study music. He says it "will be yet another big corner-rounding in my life. I am about as daunted by it as by the prospect of spending thirty-six hours in a busy airport terminal: it may alarm me slightly, but I am more excited than anything else."
Whatever new, unexpected adventures await Timothy at college, he knows that "wherever you are there are people who need Jesus; and you can be a missionary anywhere, whether or not you are called to a certain group of people, or to a certain church—and even if you are, that does not limit who you can share the Gospel with!" Timothy doesn't know yet exactly what kind of future is in store for him, but he is confident that God does.
$4,000 Scholarship Winners: Sophia C., Caleb G., Avielle S., Micah E., Frederick R., Lauren P., Esther N., and Ezekiel D.
Awarded $1,000 Per Year
Sophia C. of Augusta, Georgia, has been homeschooled since kindergarten and has used Sonlight materials throughout her educational journey. The youngest of six children, she is the fifth child who has applied and been selected to receive the Sonlight scholarship, for which she is extremely grateful. Wanting to become a physician assistant, she will use the scholarship at a Christian college beginning this fall.
Sophia is a strong leader as evidenced by her role in Science Olympiad. As project leader and top scorer for the team, she has won 12 regional awards in fields as diverse as cryptanalysis, rocketry, forensic science, and ornithology. A member of the varsity math team and two honor societies, she is also dual-enrolled at a local university.
Sophia has sung with the church choir and the chorus of a local school since her elementary years. She has performed with four different theatre companies and has performed in 17 different productions, 14 of them musicals. In February, she appears in a community theatre production of Joseph and the Amazing Technicolor Dreamcoat, and in April, she is Maria in The Sound of Music at a local high school. In addition to acting, singing, and dancing, she has built sets and dabbled in choreography.
Particularly meaningful to Sophia has been the weekly Bible study group with other high school girls as well as a two-week intensive apologetics course with Summit Ministries this past summer in Colorado. She also traveled with her grandfather, a retired seminary professor, to India and enjoyed delightful fellowship with Indian believers. Beloved "Aunt Fifi" to five nieces and nephews, Sophia loves her family and does not bat an eyelash at reading Good Dog Carl one more time. In her spare time, she likes to crochet, dabbles in songwriting, and relaxes by playing the piano.
Caleb G., currently living in Ann Arbor, Michigan, has loved reading and stories since he was three years old. That love of books lead to his love of Sonlight since 1st grade. While, at least according to family and friends, Caleb is a smart, thoughtful peacemaker, he readily admits that "I often struggle with indecisiveness, anxiety, and selfishness." Though, considering his National Merit Commended Scholar status, CLT score of 117, and his numerous synchronous volunteer positions, his family and friends are probably closer to the truth.
Caleb grew up in China and had a close friend group of other international students there. One of his favorite memories is the time his friends freely volunteered, with no hesitation, to help his family through a difficult move. In 2020, Caleb moved back to the states in a futile attempt to escape the coronavirus pandemic. Since then, the boost from his friends led him to volunteer through the ZTA homeschool honor society and Roots and Shoots Youth farm. He has also been able to try new, American experiences since joining a local homeschool co-op, including co-captaining a soccer team and a quiz bowl team. In his free time, Caleb enjoys playing strategy board games such as Power Grid and Dominion.
Caleb's favorite verse is Jeremiah 29:11, overused and abused as it is. "'For I know the plans I have for you' – this is the LORD's declaration – 'plans for your well-being, not for disaster, to give you a future and a hope.'" This is fortunate, because as of yet Caleb has no knowledge of the details in much of His plan. What he does know is that he plans to pursue his love of books and study God's spectacular creation in college. Caleb also hopes to study abroad and attend an honors program, but most importantly, will represent Christ and serve others wherever he goes.
Avielle S. lives in Douglassville, PA, and has used Sonlight for her entire education. She is a National Merit Commended student. Avielle has been playing the piano since age five and the violin since age nine, and she feels called to serve God through music. She has participated in many orchestras, including at the district and regional level. Avielle plays keyboard on the worship team at her church, an experience which allows her to use her skills to glorify God. She has also volunteered in the church nursery over the years and loves helping out at Vacation Bible School every summer. Avielle has gone on several mission's trips to Costa Rica with a team from her church, where she was able to minister to kids. Last summer, she had an equally impactful experience on a mission's trip to Kentucky with her youth group. Avielle has been accepted into the Honors Program at Liberty University and plans on majoring in music performance. Besides playing in professional orchestras, she would love to teach private piano and violin lessons in the future. However, regardless of her future career, Avielle will follow 1 Corinthians 10:31, "…whatever you do, do all to the glory of God."
Micah E. of Hockessin, Delaware opened her first Sonlight book in kindergarten and has rarely been without one since! In addition to exploring the world through good literature, she has spent the last 12 years of her education expanding her view and gaining rich experiences through a variety of extracurricular activities and volunteer opportunities. Her history and education through Sonlight has allowed her to confidently pursue roles of leadership in her community, church ministries, and youth groups.
Supported by the strong backbone of Sonlight, Micah has tailored her education to match her unique interests and skills. She maintained a 4.0 GPA while pursuing honors and dual enrollment courses and developing a love of calculus, physics, English, and chemistry. She has played varsity soccer and swam throughout her high school career and can often be found doing MMA and CrossFit-style workouts.
Much of her joy, however, is found in the arts. Whether she is watching the Prix de Lausanne, studying music theory, harmonizing with a Sondheim musical, leading worship for two youth groups, or simply enjoying classic literature, this is where Micah prefers to spend her time. She has been involved in speech and debate classes and won Best Witness in the Delaware High School Mock Trial Competition, which she competed in for two years.
Additionally, Micah has been an avid baker since age 3 and started her own baking business during the fall of her junior year. She gets great satisfaction from experimenting in the kitchen and creating delicious treats for her family and community.
Above all, Micah's faith reigns supreme in her life. Though she is currently undecided as to what she will be studying over the next four years, she trusts that God will guide her to an area that will make use of her analytical and creative mind and that He will use her to impact both her local community and God's kingdom.
Frederick "Eric" R. of Beavercreek, OH, has used Sonlight's gospel-oriented curriculum since 3rd grade. Eric loves music. He has studied piano for 10 years and participated in the National Piano Playing Auditions for 7 years. He also plays French Horn in the Springfield Youth Symphony, and was hand-picked from the symphony members to play in both a brass and woodwind quintet. As the symphony's former operations director can attest, "Eric is undeniably talented, but what makes him so special and vital to our program is his discipline and preparation for every rehearsal."
Eric also has a love for God and a passion for His church. In the words of his father, "[Eric] genuinely wants to serve the Lord in everything he does…" He has been blessed to serve his church as an AV technician, working in a two-man team to run audio mixing, slides, and the live stream. He is also greatly involved with his church's yearly VBS program. Because of his love for God and his heart of service, he was chosen to be part of the Youth Council, helping to lead the youth group and foster a spirit of discipleship.
When not reffing or playing recreational soccer, or working in a neighborhood mowing business, Eric spends his remaining free time teaching himself multiple computer coding languages and working on his own engineering hobby projects. To aid in the completion of these projects, he has also taught himself basic linear algebra, 3D printing, and custom circuit board design, among many other things. Eric dives into new projects without being intimidated by the work required. Because of his passion for solving engineering problems, Eric is planning on attending Cedarville University or Grove City College to study Electrical Engineering. While he doesn't know what the Lord has in store for him, he trusts that God will use his education to be a blessing to those both inside and outside the church. Eric desires that his life would exemplify 2 Timothy 4:7-8 and that all he does would be to the glory of his Savior.
Lauren P. of Chicago, IL has homeschooled since 3rd grade, and has used Sonlight throughout. Homeschooling has given her the flexibility to lead government and ministry organizations in her community, training up future leaders, and serving disadvantaged children. She plans to major in political science to further this passion.
One way to seek change is to get involved with the government process. Since the start of homeschooling, Lauren has participated in TeenPact Leadership schools, a weeklong program in every state where youth learn about government, civic engagement, and servant leadership. For the past three years, she held a position as staff, first in her home state, and then in multiple states, running a week-long program for her peers. This year, she had another opportunity to get involved with politics first-hand, serving as a legislative intern for a delegate in state government.
Lauren also has a passion for caring for children in need. Growing up in Chicago, she has been surrounded by the brokenness of families, and the crumbling ruins of a foster care system where less than half the children who enter it ever see their parents again. Several years ago she became involved with a solution to that problem -- Safe Families, an organization that cares for children in crisis before they have to enter the foster care system. Desiring to find a way to serve these children and families, Lauren formed a support arm of Safe Families at her church to come alongside hosting families taking in children in crisis with a supply closet to provide basic supplies to alleviate any financial burden. She has promoted Safe Families across the 11 locations of her church and Chicago to further spread the word, and now serves as a ministry lead for Safe Families for Chicago and leads a team of youth who oversee this branch.
TeenPact and Safe Families are two large parts of Lauren's story, as are her families' two international adoptions of three children. But she is first and foremost a follower of Christ with a passion for children in need.
Esther N. of Siloam Springs, AR, has always wanted to be a missionary. Sonlight's missionary stories reinforced those she heard from global partners who visited her home and church. Sonlight Curriculum, which she used pre-K through high school, introduced her to great books and helped her develop God's heart for the world.
Esther desires to build relationships with people from different backgrounds and share God's love with them, so she joined the volleyball and track teams at her local public high school. She's interacted with non-believers daily and had a positive impact on her teams. Her volleyball coach says, "Esther recently shared her testimony at an FCA special event. Her boldness to tell others what God has done for her was inspirational and showed me her heart for the Great Commission." Esther has developed her athletic abilities and been a light for Christ as she has participated in public school sports, earning all-conference honors in track and recognition from her teammates for "…being willing to step up and run at a moment's notice, being competitive and hard-working, and showing integrity and dedication."
Esther is passionate about little kids. She is an in-demand babysitter. She's volunteered at an after-school tutoring program and helps at a non-profit that works with children with disabilities and their siblings. She teaches Sunday School and has worked as a summer camp counselor for elementary girls. Her associate pastor writes, "Esther is uniquely gifted in working with children. Not only can she instruct them well, but she is aware of the greater needs that they may have in life. Esther also transitions very easily with children, from talking about life and school to talking about Christ."
In her free time, Esther enjoys baking, sharing her delicious cupcakes, scones, and cookies with her teammates, family, and friends. She loves to read.
Esther plans to attend John Brown University where she hopes to grow academically and spiritually and develop skills she can use working with children and in the mission field at home or overseas by studying elementary education, intercultural studies, or family and human services.
Ezekiel D. of Taichung, Taiwan has used Sonlight since kindergarten. After his family moved to Taiwan to become missionaries when he was six, he attended a missionary school for two years, but the benefits of a homeschool lifestyle were undeniable and he returned to homeschooling, giving him time to explore the beauty of Taiwan and its culture. Living in Taiwan, he has been involved with ministry from a young age and enjoys working in ministry alongside his family. He has helped with multiple week-long evangelistic Bible camps for Taiwanese high school students, has helped host multiple trips to teach special needs students, and is part of a group of seniors traveling to Malaysia this spring to do outreach with local students. He is an active member of the Taiwanese house church that meets in his home and a leader of the student-led youth group at the local missionary school. One of his favorite parts of ministry is showing off his adopted homeland to Americans who come to Taiwan to help staff summer camps.
Ezekiel has been blessed by a continuing homeschool partnership with the missionary school, allowing him to participate in numerous extracurricular activities, including track, cross country, and soccer, where relaxed Covid restrictions finally allowed his team to travel to an international tournament hosted in Thailand his senior year. He has also played trombone in the band and a small brass ensemble since his freshman year and acted in plays and musicals throughout middle and high school, including The Mousetrap by Agatha Christie and two Broadway musicals, most notably playing Laurie in the Broadway version of Little Women.
Ezekiel's plans for the future are to attend Bible college in the Midwest and he is undecided about his future plans, but growing up overseas has given him a love for foreign cultures and languages, so he is looking for opportunities to serve in ministry anywhere God sends him.
Could Your Young Learner Win a Sonlight Scholarship?
From preschool through high school graduation, Sonlight prepares your students. We have the big picture in mind, and we help you raise students prepared to launch into any career God calls them to. We share your desire to help your children succeed, and we'll walk alongside to help you create the long-term educational experience you envision.
Did you know we've awarded more than $1.8 million to Sonlight graduates to date?
Each year, our charitable foundation offers a number of college scholarships, ranging from $4,000 to $20,000, spread over four years. Each year, the Sonlight Foundation offers the following scholarships:
$5,000 per year
$2,500 per year
$1,000 per year
We offer scholarships on two tracks: one emphasizes academics, and the other creativity, mission-mindedness, and service. Got a perfect score on the SAT? Got average test scores, but served overseas during summer vacation for the last three years? In either case, you may qualify.
The Sonlight Foundation recognizes that academic giftedness is only one type of giftedness. If your student is gifted in academics, service, music, art, or has a heart for missions, we encourage you to submit an application.