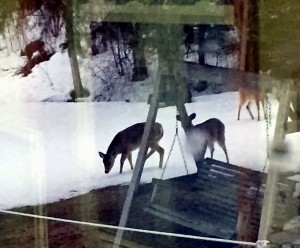 The snow is finally beginning to melt here in upstate NY. It has been a long, hard winter. Outside my window this week, just off the back porch, I watched deer looking for fresh food through the melted snow. I snapped a bunch of pictures on my phone, trying to eliminate the reflection in the window glass ... but to no avail.
I was reminded of the window reflections a couple days later as I was reading through some devotional thoughts about Easter. The author of the book I was reading mentioned looking at life through the "window of the resurrection". He offered some very practical thoughts about how viewing circumstances in light of the resurrection should impact how I handle the everyday experiences of life.
One point in particular came to mind again yesterday as I was enjoying lunch with a young friend who is considering homeschooling in the future. She was worried about many things ... how her stopping work to homeschool would impact their finances, how she would accomplish educating their children, how she would handle balancing marriage, parenting and homeschooling. I was able to encourage her that looking at life through the window of the resurrection means that "The resurrection promises you all the grace you need between Jesus's resurrection and yours. Future grace always carries with it the promise of present grace." ("New Morning Mercies" - Paul D. Tripp)
Just like the reflections in my back window affected how I viewed the deer in my yard, so should the resurrection we're planning to celebrate this weekend affect how I (and my friend) view all the rest of life. Do the reflections of God's grace impact your concerns about homeschooling, parenting, marriage, and life in general? I hope as you celebrate the miracle of new life this Sunday, you will take a moment to commit to viewing your days through the window of the resurrection.
We know that he who raised the Lord Jesus will raise us also ... (2 Corinthians 4:13)
Still on the journey ...
~Judy Wnuk
PS ... Looking for some creative ways to celebrate the resurrection with your family? Check out the Sonlight Easter Pinterest page! Karla has found some adorable ideas to share with your kids.