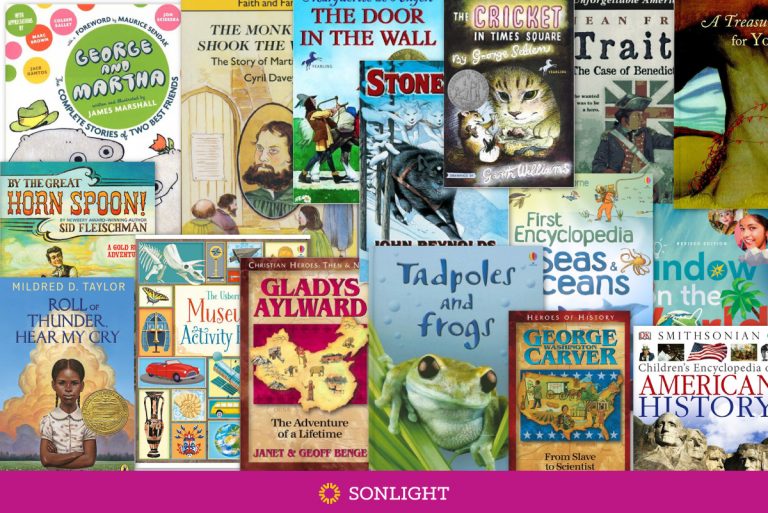 Sonlight is all about great books—biographies, novels, non-fiction, poetry anthologies, picture books, and reference volumes. Each book is carefully chosen and has to pass Sarita's Seven-Part Test:
Real/realistic characters
Solid character development
Content that adds to the reader's cultural literacy.
Intriguing, multi-dimensional plot
Emotionally compelling
Verbally beautiful
Re-readable
So you can be assured that each title in a Sonlight curriculum package is high quality, both in terms of academics and moral quality.
So it's a nearly impossible task to select the best Sonlight books.
They are all the best. Truly.
But every book in Sonlight has special qualities that make it a superlative in its own right. Here is a list of 161 unique superlatives (plus a few extra) taken from the Sonlight catalog of homeschool curriculum.
Best picture book about the glory of reading: The Bee Tree
Best picture book about friendship: George and Martha
Best party book of all time: Go, Dog. Go!
Best bind-up of classic picture books: Harper Collins Treasury of Picture Book Classics
Best picture book on faithfulness: Horton Hatches the Egg
Most highly decorated bind-up: Make Way for McCloskey
Best picture book to gently explain death: Nana Upstairs and Nana Downstairs
Best animal conservation picture book: Noah's Ark
Best illustrated Mother Goose: Mother Goose
Best preschool picture book for search and find (no longer in the Preschool Package): Cars and Trucks and Things That Go
Most detailed and creative look at human diversity: People
Easiest way to gently teach about giving: Stories from Africa
Best large-format art book: A Child's Book of Art
Most cheery art collection: Eric Carle's Animals Animals
Best way to easily check a student's learning readiness: Developing the Early Learner
Best science book of all time: The Berenstain Bears' Big Book of Science and Nature
Best introduction to machines: How Do You Lift a Lion?
Most creative geology book: How to Dig a Hole to the Other Side of the World
Best introduction to the size of the universe: Is a Blue Whale the Biggest Thing There Is?
Best early elementary introduction to subatomic particles: What's Smaller Than a Pygmy Shrew?
Best look at seasonal changes in the northern United States: The Year at Maple Hill Farm
Best subversive stories told by enslaved people (no longer in the Pre-K Package): The Classic Tales of Brer Rabbit
Most perennially popular Victorian stories and illustrations (no longer in the Pre-K Package): The Complete Adventures of Peter Rabbit
Best book on small home living: The Boxcar Children
Best book on the magic of math: A Grain of Rice
Catchiest music to memorize and hide God's Word in young hearts: Sing the Word! Teach Me Your Paths CD
Most unexpected use of chewing gum and a toothbrush: My Father's Dragon
Most charming book on manners: Richard Scarry's Please and Thank You Book
Most delightful book about friendship, courage, and community: Heartwood Hotel: A True Home
Best introduction to maps and map reading: Maps and Globes
Most fascinating book chronicling the celebration trip at the opening of the Erie Canal: The Amazing Impossible Erie Canal
Most comprehensive and interesting children's Bible: Egermeier's Bible Story Book
Best time travel graphic novel: Game On in Ancient Greece
Best story of a tragic accident redeemed: Out of Darkness
Best elementary book that will make you both laugh-out-loud and weep: Adventures with Waffles
Best book on thoughtless bullying and the power of forgiveness: The Hundred Dresses
Best stories about good-hearted BFFs who always end up in trouble: In Grandma's Attic
Best book about life on a lighthouse: The Light at Tern Rock
Sweetest introduction to World War II: Twenty and Ten
Most astonishing story of God's provision: George Muller
Most simple and memorable introduction to King Tut: Tut's Mummy: Lost and Found
Best overview of the archaeological process: Archaeologists Dig for Clues
Best book for the future architect or contractor: Wonderful Houses Around the World
Best story of unexpected friendship: Charlotte's Web
Best tutorial on good story-telling: Gooney Bird Greene [not sure if Sonlight is for you? Get this one free!]
Best story of a boy and his dog: Henry Huggins
Best story of a boy and his skunk: Homer Price
The poetry book that will make your children ask for more: National Geographic Book of Animal Poetry
Funniest stories of predators as pets: Owls in the Family
Best example of empathy gone too far: Understood Betsy
Most practical science fair experiment: The Year of the Baby
Most wise shepherd and most heroic sheep: Mountain Born
The way we all wish we could teach (no longer in HBL B): The Year of Miss Agnes
Catchiest, stick-in-your-mind songs to learn geography: Audio Memory Geography Songs
The most unqualified missionary who went on to do astonishing things: Gladys Aylward
Best updated prayer guide: Window on the World
Best story of using your skills and gifts, even if they don't seem that amazing: About Average
Largest collection of stories over two millennia old: The Aesop for Children
The best celebration of opera and insects: The Cricket in Times Square
An astonishing opportunity to see a person in the face of the enemy: The Little Riders
Best summer vacation story: The Penderwicks
Best story of Italy, an island, and a discovery: Red Sails to Capri
Best book about publishing a book: The School Story
Best book about retirement gone wrong: The Twenty-One Balloons
Astonishing story of cultural transformation: And the Word Came with Power
Best poetry book: 104 Poems of Whimsy and Wisdom to Delight Children of All Ages
Best American history books from an unusual angle: Landmark History of the American People, Vols. 1 and 2
Best book about how mathematics can change the world: Carry On, Mr. Bowditch
Outstanding historical fiction about the Boston Tea Party and the American Revolution: Johnny Tremain
Best horse-racing book from early America: Justin Morgan Had a Horse
Best first-person account of the burning of the White House in 1814: The White House is Burning
Most thought-provoking book on the nature of slavery and freedom: Walk the World's Rim
Best book to ask, "Just what was so bad about the Quakers?": The Witch of Blackbird Pond
For all who yearn to make their living space just a little prettier: The Journeyman
Best look into of the most iconic structures in the United States: Alamo All-Stars
Most exciting story of the thwarting of an assassination attempt: Phoebe the Spy
Best book on wishing for rain: Sarah, Plain and Tall
Most astonishing story about prophetic dreams: Sarah Whitcher's Story
Most fascinating book on early American transportation: Timmy O'Dowd and the Big Ditch
Best cameo appearance of a famous American: The Cabin Faced West
Most moving ending of a simple book: Stone Fox
Most fascinating story of uniting the Iroquois people: Peacemaker
Best story of the lumber trade down the Mississippi (no longer in HBL D): Swift Rivers
Most inspirational story of abolition across the pond: One Voice
Best collection of well-known songs from American history: Songs About America
Outstanding age-appropriate overview of two cataclysmic events: The World Wars
Gorgeous look at Bible translation and the resulting transformation: In Search of the Source
Best overview of the Civil War, including the western theater: Across Five Aprils
Most delightful settler story: Caddie Woodlawn
Most outrageous cattle drive: The Great Turkey Walk
Astonishing story of a large-scale and temporary public works project: The Great Wheel
Best view of immigration, integration, and baseball: In the Year of the Boar and Jackie Robinson
Fantastic story of the boy who moves west and breaks ten toes: Little Britches
How making maple syrup dispels depression: Miracles on Maple Hill
Most inspirational story of how to live in the midst of broken racial relations: Roll of Thunder, Hear My Cry
Best book to make you want to see an eclipse: Every Soul a Star
Most gutsy move by a 19-year-old old: Bruchko
Most rollicking adventures during the Gold Rush: By the Great Horn Spoon
Best story set in an art museum: From the Mixed-Up Files of Mrs. Basil E. Frankweiler
Best scientific inquiry into a common allergen: George Washington Carver
Most triumphant story from an unlikely hero: Helen Keller
Most lucky breaks for two young entrepreneurs: Henry Reed, Inc.
Best story for budding epidemiologists: Hero Over Here
Most interesting coming-of-age story using good business: The Seventeenth Swap
Biggest breakthrough for two bicycle repairmen: The Wright Brothers
Best overview of 100 strategic cities you've mostly never heard of: 100 Gateway Cities
Most moving introduction to the art of paper folding: Sadako and the Thousand Paper Cranes
Most unexpected looks at everyday objects: All the Small Poems
Best book to make you thankful to live where you do: Breaking Stalin's Nose
Best book with interwoven plot points: The Horse and His Boy
Most unexpected book from the country that once built the largest empire the world has ever seen: I Rode a Horse of Milk White Jade
Most moving memoir of a Vietnamese boyhood: The Land I Lost
Hardest example of a moment of inattention gone wrong, and the redemption afterwards: Rickshaw Girl
Most outstanding Cinderella story set in Arabia: Seven Daughters and Seven Sons
Best revision of a classic story: Shadow Spinner
Most outstanding book that captures a slice of life in a specific time: Young Fu of the Upper Yangtze
Best single-minded purpose through an exotic locale: Daughter of the Mountains
Most delightful mix of Chinese folk tales, beautiful illustrations, and a successful quest: Where the Mountain Meets the Moon
Most dramatic story of falconry: Ali and the Golden Eagle
Best book to practice a wide range of accents: Around the World in Eighty Days
Most resilient survival story of a life under siege: Burying the Sun
Best book for thoroughbred lovers: King of the Wind
Most intense pursuit of the perfection of paper, sticks, and wind: The Kite Fighters
Best look at the difficulty of growing rice: Li Lun, Lad of Courage
Longest delay of absolution (but it comes in the end): A Beautiful Lie
Most amazing expansion of a single line from the Bible to a complete and compelling story: God King
Most dramatic triumph over an evil relative: The Golden Goblet
Best adventure story: The Great and Terrible Quest
Most creative look at the reason behind the world's most famous painting: The Second Mrs. Giaconda
Best introduction to a country-specific ceramic art: A Single Shard [not sure if Sonlight is for you? Get this one free!]
Most fascinating look at an unexpected warfare innovation: Black Horses for the King
Best single source to get a wider perspective on biblical times: The Bronze Bow
Best spy story: Mara, Daughter of the Nile
Most unexpected use of Medieval Catholic belief in the afterlife: A Proud Taste for Scarlet and Miniver
Fascinating look at a sport most likely to have PETA protestors: Shadow of a Bull
Most insightful look at why not all roads lead to God: But Don't All Religions Lead to God?
The challenges of being female in a male-dominated world: The Breadwinner
Best detective work to stop contamination: The Great Trouble
Most delightful story ever set in a choir: A Murder for Her Majesty
Most charismatic protagonist of all time: The Sherwood Ring
Best story to make you want to climb a mountain: Banner in the Sky
Funniest Christmas story that will also make you think: The Best Christmas Pageant Ever
Best book about art conservation, both in times of war and afterwards: Under the Egg
Most dramatic look at the aftermath of the Battle of Dunkirk: The War That Saved My Life
Most moving story of surviving the genocide before the Nazis: The Endless Steppe
Best book to never take potatoes for granted again: Nory Ryan's Song
The greatest escape of gold bullion: Snow Treasure
Most unexpected look at how people fared when God spoke clearly to them: Disappointment with God
Most exciting look at the unmatchable gift of God: What's So Amazing About Grace?
Best real life sabotage story: Bomb
Best explanation of why Darwin's work doesn't hold together: Evolution 2.0
Most reluctant missionary: Ida Scudder
Best description of eating chocolate: Stuff Matters
Best secret code in wartime: Code Talkers
Most interconnected story about a harmonica: Echo
Best book about life with dyslexia: Fish in a Tree
Most gorgeous story of a musician in training: The Mozart Season
Best book of nature poems with photos to match: National Geographic Book of Nature Poetry
Best Shakespeare revisionist history: Shakespeare's Secret
Most classic ghost story: A Christmas Carol
Best look at varying levels of technology: Enchantress from the Stars
Most interesting look at how painting a door can change your life: The Gammage Cup
Most memorable stories about dandruff, snakes, and fighting for Greece in WWII: Going Solo
Best Maid Marian: The Outlaws of Sherwood
Best trickster tale: The Thief
Best book for pun-lovers: The Westing Game
Sonlight doesn't shy away from hard topics. Nor does it whitewash the shameful parts of history. Instead, it presents difficult themes through age-appropriate books—the best books. Combined with the notes in your Instructor's Guide and your own parental guidance, Sonlight books teach your child the ugliness and the beauty of our world.
A thread of redemption runs throughout Sonlight because it is a Christ-centered curriculum. So while evil is not erased from our lessons, it is always offset with the much greater force of good.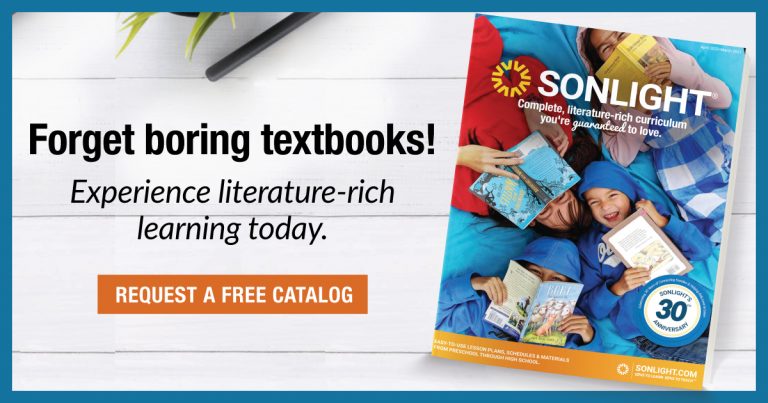 If you're ready to move to a twaddle-free curriculum based on quality literature, switch to Sonlight.