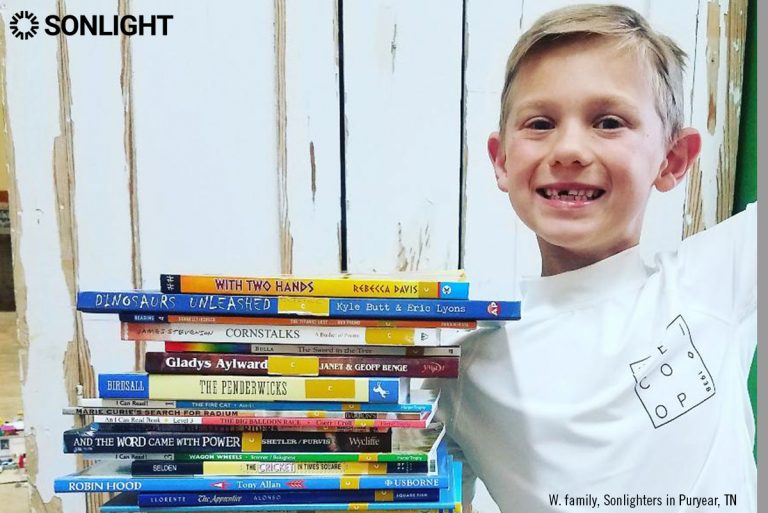 Does your child inhale books? Do you get them a big stack of books just to turn around to them telling you that they've just finished….all of them? I understand this completely! If you are anything like me, it's both exciting and frustrating.
I love that my children love to read, but fueling a voracious reader with enough books is a challenge, even after we've read through all of our Sonlight curriculum material!
While libraries are shuttered due to the pandemic, it's even more of a challenge to keep your family supplied with good books. Here's how to keep reading even when the library is closed.
1. Use Libraries
Wait... the library is closed. How can I use the library?
Most libraries offer ebooks, audiobooks, and video content as well as physical books. Now is the time to figure out how that system works and start taking advantage of it. Yes, you'll probably have to jump through a few hoops with new log ins and installing an app. But it will be worth it!
Many libraries are offering storyhour via live streaming avenues and recorded video. Having an event to look forward to is good for kids. Put the schedule on your refrigerator and let the kids tune in live.
For live broadcasts, think outside of your own local area. Head straight to the teen or children parts of each website for the most relevant content. Here are a few of the nation's best libraries to get you started:
Not sure about what to read next? Your library's website probably has booklists of What to Read Next and More by This Author. Dig in to the website and find out what treasures await you there.
2. Subscribe to Magazines
Signing up for subscriptions has been a lifesaver for us! For a fairly low cost, you can order a whole year's worth of periodically new reading material for your child. It's also so fun to get something in the mail!
In the past, we have subscribed to these loved magazines:
Ranger Rick
Sports Illustrated Kids
Jack & Jill
ZooBooks
All of these were great investments, and it seemed to bridge the gap to our next library or bookstore trip when our kids had finished all their books.
Some of these sites will also sell back issues so you can stock up and binge read without waiting for a new issue.
3. Shop the Sonlight Catalog
I have always loved how I can trust Sonlight to choose amazing books. If you already use the curriculum, you will want to look for books from Science and History / Bible / Literature programs you missed or will skip.
If you don't use Sonlight homeschool curriculum, you can buy book sets without the schooling extras like Activity Sheets and Instructor's Guides.
These sets are a safe bet. You know the books will be age-appropriate, wholesome, and high-quality. It saves you hours of hunting books and reading reviews.
There are also Summer Reader sets of recreational reading to fuel your voracious reader while libraries are closed.
4. Instead of Toys, Buy Books
Our kids know that one way that we show our love for them is to buy them books. We give a lot of thought to what our kids would enjoy reading, and we will sometimes order them a new book and leave it on their bed for them to find. It's a small way to say, "I was thinking about you."
The novelty of a new toy typically lasts for a day, and then the kids forget it. My husband and I learned a while back that books are a much better investment than toys for holidays and birthdays. So instead of buying a small, cheap toy, we allow our kids to choose a book or surprise them with one we select.
5. Reread a Favorite
If you're running low on new books, revisit an old favorite. Your kids may be new to rereading a book, but this may be a good season to try it.
When you reread a book, you already know how it turns out, so you are reading for different objectives that merely seeing how the plot unfolds. On a second reading, you can immerse yourself in the way the author writes the dialogue, the way the characters are portrayed, the use of figurative language, and more.
High quality living books will provide new insights every time you read them.
6. Slow Down with Family Read-Alouds
Reading aloud takes longer than reading silently. So slow down the pace with family reading sessions.
You can read aloud to the kids.
Kids and teens can read aloud to each other and to you.
This method means you can slow the consumption of books and intersperse the reading with leisurely discussions:
Why did the character do that?
What would you do?
What do you think will happen next?
Having a voracious reader is a good problem. It just requires a little creativity. We've been able to build a pretty extensive home library without spending a fortune, and you can too. What are your favorite ways to keep your child reading?