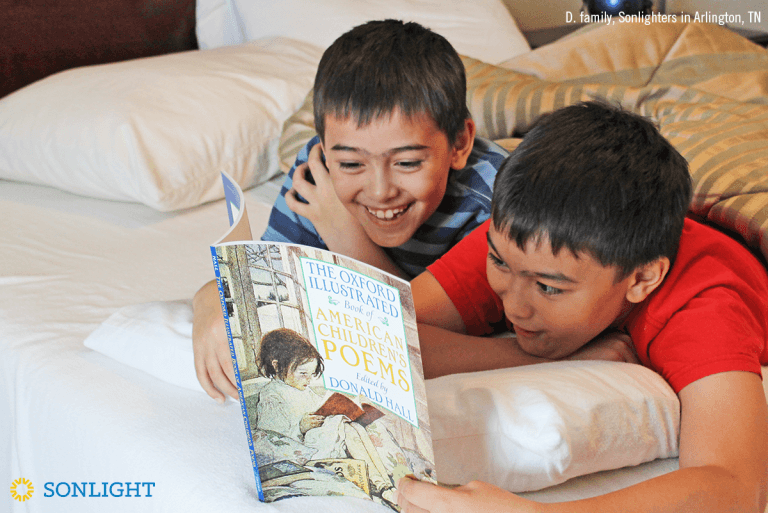 Did you know that I reread the Chronicles of Narnia, and especially my favorite, The Horse and His Boy, annually?
One of the marks of a good book is that it grows along with you. It bears repeated readings and opens up new insights and pleasures each time. But besides insights and pleasures, there are other reasons to reread books. Here are my top four.
1. Greater Understanding and Memory
American adults usually have a fairly good understanding of, say, Abraham Lincoln. Without knowing all the controversial aspects of his policies, most know that he was born in a log cabin, delivered the Gettysburg Address, issued the Emancipation Proclamation, and was assassinated shortly after the Civil War.
When children are just getting started learning, though, almost every one of those concepts is new.
What's a log cabin?
What was Gettysburg, and why did it need an address?
What does emancipation even mean? Or assassination?
For a child to cover the same—or similar!—material more than once makes good sense. Just like you probably find it easier to cook a recipe the second time through, and maybe think of some shortcuts, this is true for your children, too.
2. Better Brain Highways
Repeated exposure grows better highways in the brain. So if your preschooler wants you to read Go, Dog. Go! fifty times, then read it gladly. Young children enjoy the process of repeated readings, and you're building brain highways that will serve them well for the rest of their lives.
If your young readers want to jump ahead with their Readers, let them go for it! And then repeat the Readers on schedule. Your children will be that much stronger a reader as a result of repeated exposure.
3. Subtler Appreciation
Was it C.S. Lewis who said that the first reading of a book was for plot, and the second reading for delight?
It's true—the first time through, there's an irresistible desire to know what happened. It's only on repeated readings that you can enjoy the hints of foreshadowing that the author drops along the way, savor the carefully crafted descriptions, or notice all the tiny historical details woven into the story.
4. Friendliness of Familiarity
Rereading books provides the multi-layered pleasure of the act of present reading combined with the memories of all the readings before. If you are fortunate enough to read By the Great Horn Spoon! in Sonlight E for a second, third, or fourth time, you'll find that you remember most of what happened, but the exact turn of phrase, or the details of the plot, are again new and fresh. And funny!
Which is all to say: if you find that your children are a bit bored, or if they want to read and reread, or if they tend to race through books and you're always looking for more—pull out Adventures with Waffles, Red Sails to Capri, or The Sherwood Ring again and settle in for a delightful time.

Ready to start building your home library? Look at Sonlight's collections to discover great books you'll want to read over and over.
---
Want more encouragement?
Sign up for Sonlight's bi-weekly e-newsletter
You'll be encouraged by the words of founder Sarita Holzmann, inspired by real-life stories from other homeschoolers, pick up practical tips for the journey and more.
---