Amy Carmichael folded her chubby three-year-old hands and pleaded with God for blue eyes. When she woke the next morning and checked the mirror to find them still brown, she ran to her mother in distress to ask why God hadn't answered her prayer. Her mother taught her that sometimes God says yes and sometimes He says no, but it seemed God had given her brown eyes for a reason.
Years later as Amy served as a missionary in India, she discovered the horrible practices forced upon young girls in the Hindu temples. She began a quest to rescue young girls dedicated for temple service, but the practices were so hidden from public view that she needed to put on a sari, stain her skin and enter the temple as an Indian. Blue eyes would have been an easy giveaway! It was as she went about this mission to help rescue girls out of physical and spiritual danger that she was so powerfully reminded that God works everything for His purposes, even brown eyes.
Though I've only met her though stories, Amy Carmichael is one of a host of faithful witnesses who spurs me on in the mission to live a life of love and faithfulness. My parents introduced me to this godly hero when I was eight. They could have told me a thousand times that what God gives us, He uses for His glory (and they did), but her story burns in my mind to this day.
My encouragement today to you is simply this: Give your children godly heroes.
One of the most effective ways we can do this is to read missionary biographies to our children.
I don't want to give you a spoiler for a book in a Sonlight History / Bible / Literature package, but you and your children can discover inspiring real life characters in missionary biographies like those of Hudson Taylor and Gladys Aylward. You can see the power of prayer in the life of George Muller and see sacrifice personified in Adoniram Judson.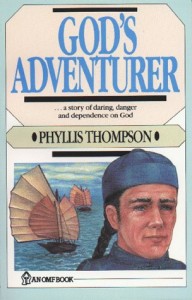 We want to fill our children with inspiration and let them stand in awe at the great work God has done.
Introducing our children to people of character and faithfulness throughout history helps them learn lessons in how to boldly follow a vision, how to suffer well, and how to give rather than to get. They can see the beauty of a life poured out for others.
They will see how God uses ordinary people to do extraordinary things.
And they will remember these stories as they encounter their own difficulties and temptations that they might also stand strong for Jesus whatever the cost.

Not only are you filling your children with inspiration, you are helping them rally a team of encouragers from throughout the ages that will inspire them to run the race "Hebrews 12:1-2 style," laying aside every weight with eyes fixed on Jesus.

If you're afraid these saintly tales might bore your children, have no fear. These stories draw your children into the adventure. They also show the humanity of these heroes in colorful ways. (I think of Amy Carmichael's childhood escapades, such as hiding a frozen mouse in her pocket, only to have the hidden rodent revive in the middle of dinner to the terror of the household, or later, her harrowing moments of being sought for arrest as a missionary for her work in human rights.)
I love that Sonlight schedules missionary biographies like these into weekly reading assignments so that you don't have to put "find quality missionary biographies" on your to-do list, but can simply do your assigned reading and know you are giving your children a treasure.
(Of course, if you and your children are passionate about these stories, you'll likely all be on the lookout for many more books like these beyond those assigned, so get ready to hunt anyway!)
The world will offer your children cartoon characters and Disney princesses, caped crusaders, and sports stars—and I'm not saying there's anything wrong with your kids enjoying those—but before you stands a chance to give them a gift that lasts a  lifetime. Give them the gift of godly heroes.
I'll leave you with this letter we received from Jill O, a missionary for 30 years to Japan. She's homeschooled with Sonlight for 22 years and wrote to tell about her experience. In case you think these stories are just for your children's benefit, here's a piece of what she has to say:
"One unexpected benefit I have personally grown to appreciate about Sonlight is that the books you chose have greatly helped me to develop and maintain an attitude of perseverance and gratefulness while facing my own trials and heartaches here in a foreign land!
The understanding that this rich heritage that we share as Christians was purchased at such high price, has become deeply etched on my heart as I have read aloud the stories of the pioneers of the Oregon Trail, of David Livingstone in Africa, of Corrie Ten Boom during WW2, or of Brother Andrew as 'God's Smuggler.'
Considering these individuals and groups who endured and overcame such hardships, and others who actually laid down their very lives in the process of fighting for their nation or for their Christian beliefs, has put my own life into a more realistic perspective—made my struggles seem more surmountable.
These heroes of the Faith have helped me to keep my own faith strong as we, too, have faced trials, loneliness, and losses of our own.  These stories have helped me to know that we, by God's grace, can finish strong! So, thank you, Sonlight friends, for choosing books that have continued to inspire and strengthen us, and that have helped to create and reinforce strong moral and godly values for our children."
What are your favorite inspiring biographies and why?
Enjoying the adventure,
Laura Lee