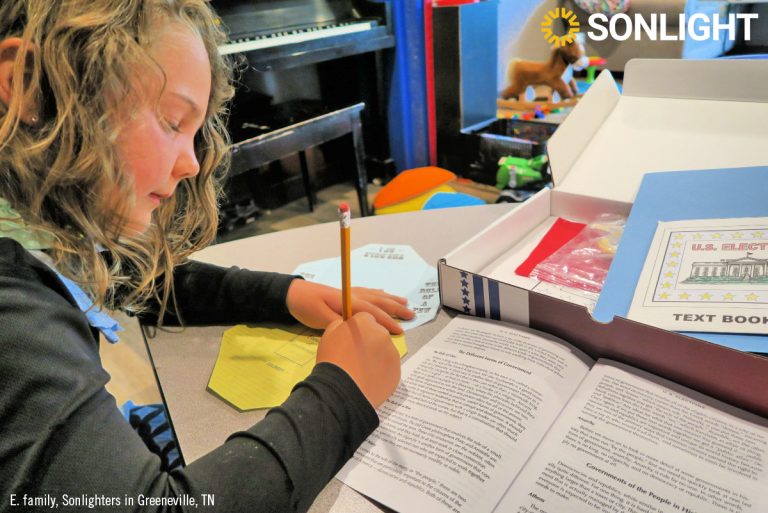 As a homeschool mom, the idea of sticking one more item on the to-do list is daunting. While the upcoming election is worth a top spot in your homeschool, there is so much information to be covered. Elections, campaigns, political parties — it's a lot to comprehend even before you add on things like the Electoral College.
Fortunately, Sonlight's US Election Lap Book Kit is perfect for hands-on kids who are interested in learning more about the American process of electing a president (and elections in general). This lap book gets the job done without lost sleep or never-ending Pinterest searches! Everything you need comes in a box and most of the 21 included projects can be completed within 20-30 minute increments.
Why Use a Lap Book to Learn about Elections?
Lap books break large, nebulous topics into digestible pieces. The small projects keep the information fresh and fun to learn. Here are a few more great reasons to use a lap book:
Keep kids' hands busy and minds focused.
Encourage reflection on the many aspects of presidential elections.
Provide opportunity for creative expression while learning.
Prompt review of covered material through assembly of the lap book.
Create a reference for continued future study.
How Do You Use the US Election Lap Book from Sonlight?
Each activity is paired with a short reading that explains the history or laws behind some aspect of elections.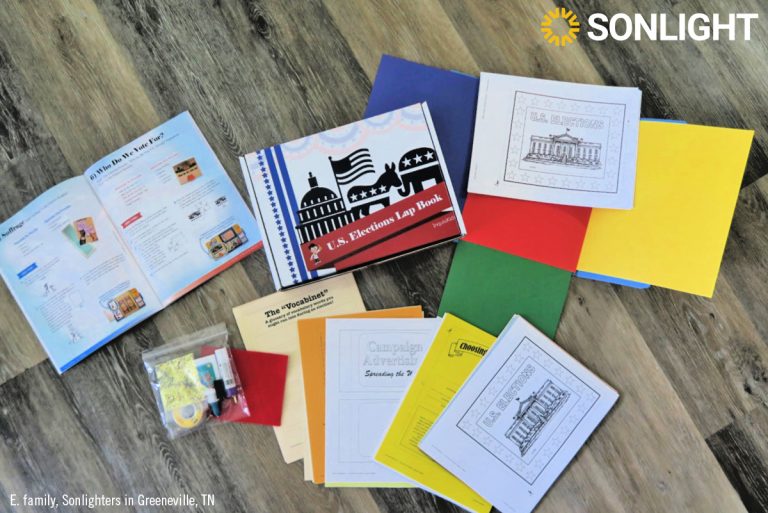 Initial Assembly
The lap book file folder base has already been assembled!
You and/or your child create a pocket for the booklet containing the daily readings.
The templates are all pre-printed, labeled, in consecutive order, and ready to go.
Everything can be stored in the box; including projects that are in process.
Daily Projects
Each day or time you start a project you and/or your child will complete the same steps.
Read the selection for the day.
Cut out any moving parts or templates.
Color, design, or create as directed.
Attach the completed activity to the lap book base.
Final Day
After completing all the activities, there is a velcro closure provided to secure and close the lap book for future reference. The completed lap book fits on a bookshelf or back in the box.
What Are the Projects?
The 21 projects start simply with definitions before moving onto history critical to understanding the elections. The bulk of the activities review the process through which a candidate is chosen for United States president.
The final project offers a vocabulary review, which my kids turned into games. One used it to make a matching game and the other created a trivia game similar to Jeopardy.
3 Ways to Win with the Sonlight US Election Lap Book
This US Election Lap Book is fun! This is a perfect choice for families with hands-on learners and those looking to find a comprehensive but low-prep way to gear up for Election Day 2020.
1. Cool Movable & Interactive Parts
Every project results in a movable and interactive reminder about the reading for the day. Tabs, slides, brads, wheels, and flip cards make for a fun and engaging experience!
2. Room for Creativity
Space is provided for location-specific information such as your state seal and your state's number of electoral votes.
Students are given the opportunity to create. For instance, they can construct presidential campaigns and design I Voted buttons. Templates are provided for those feeling less creative.
3. Novel Hands-On Approach
We found that this hands-on crafting technique spiced up our typical homeschool routines and methods. Each project was different enough to inspire continued interest and generate enthusiasm.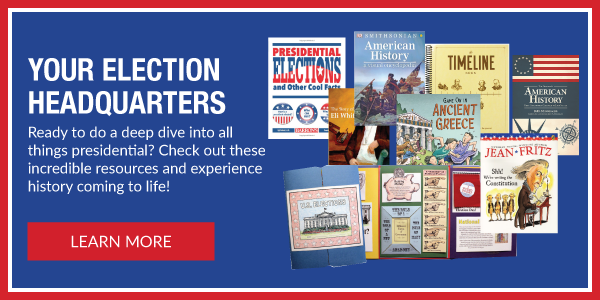 Add novelty to your homeschool and get your family excited about November's presidential election! Visit Sonlight's Election Headquarters for this Lap Book Kit and more.