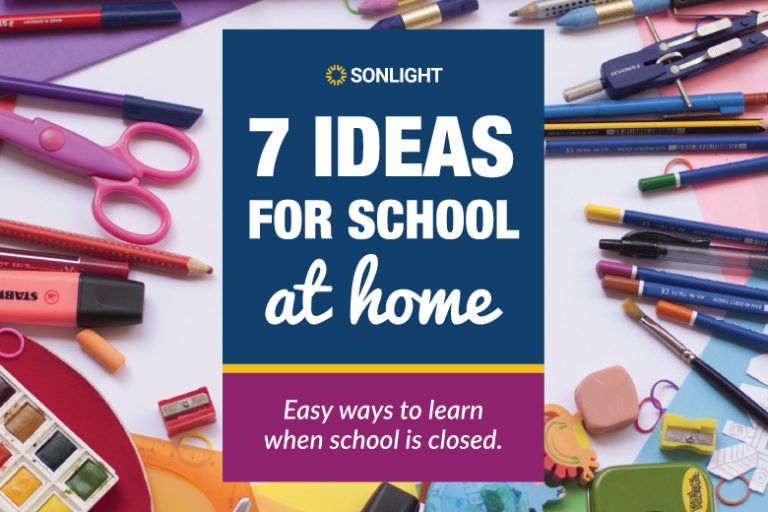 With the grocery stockpiling and the enthusiastic handwashing comes another unexpected symptom of COVID-19– the need for an emergency lesson plan.
Schools across the country are closing to slow the spread of the virus, and many families are finding themselves with an unexpected amount of family bonding time. Sonlight has some experience (30 years in fact) with school at home, so we've compiled a list of emergency educational resources for those temporarily bringing school to their living rooms and kitchen tables.
While a schedule disruption may cause stress, look for moments of enjoyment in the extra time with your children. A tricky situation can also be a unique opportunity. Use these tools to keep up with academics—and chase away the cabin fever. You might build some surprising family memories along the way.
1. School at Home with Book Lists
With limited opportunities to explore outside of the home, take advantage of the chance to travel around the world through books. The books that you choose to read with your children matter. Stay away from fluff, and opt for titles that are rich, engaging, and spark thoughtful conversations.
We've compiled book lists of some of our favorites over the years, so that you don't have to waste time sifting through library shelves for books that your children will love to read. Check out our book packages, carefully curated by age range, or reference some of the book lists below; you just might find a new family favorite that makes them beg for one more chapter …and helps the hours fly by.
2. School at Home Lesson Plans
If your school-at-home situation is temporary and you don't want to spend money on curriculum, Sonlight offers 3-weeks of free lesson plans to get you started.
Sonlight Instructor's Guides are packed with notes and discussion questions, along with assignments for each day. If you're looking for a no-prep way to facilitate History, Literature, Language Arts, Science, or Bible in your home, a Sonlight Instructor's Guide sample is a good start.
3. School at Home with Hands-On Activities
Your kids can learn and keep their hands busy at the same time with hands-on learning projects.
If you don't want to worry about gathering craft supplies, Sonlight offers hands-on learning kits with all of the supplies included.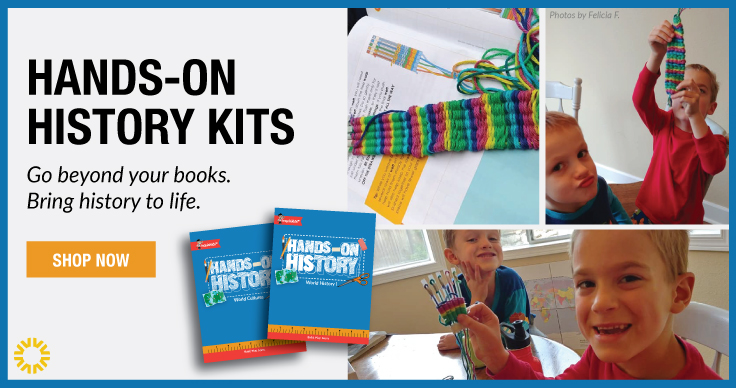 Or, try some outside-of-the-box learning activities that take little to no supplies. Got a toddler in the house? We have ideas for that, too.
4. School at Home with Art Enrichment
Add some art enrichment to your day, and you might find yourself wanting to keep the habit going as an afterschooling activity even when your kids are back in school. Experiment with different ways to get your creativity flowing…like recreating art from a favorite artist, following an online doodling tutorial, or drawing things you see in the backyard. You can also set up a student-led art station for your kids to explore on their own…while mom takes a break.
Art is an area that your children may not get to explore everyday in their typical school schedule, so enjoy the opportunity to add a new kind of creative outlet to your day. If you're looking for a more formal art program, Sonlight has art appreciation books and curriculum available.
5. School at Home with Physical Activity
Staying in the house can make everyone antsy. It's important to stay active to keep grumpiness at bay, and there are ways to do that even if the weather outside is chilly.
Use these 10 Tips for Self-Care Through Exercise and Movement as a starting point. Finding an exercise video online or doing stretches in the living room might be just what you need to shake away feelings of anxiety.
6. School at Home with Games
Games are a fun way to pass the time while learning. See our top picks here.
You probably already have some of our favorites sitting around in your house, and this is a perfect time to dig them out of the closet. Reference our list of Top 10 Educational Games for Families that will get your brains working and some lighthearted competition flowing.
7. School at Home with Current Events
With the 2020 U.S. election season coming up, what better time for a crash course in government and civics? Check out these 6 Ways to Teach Civics at Home, or better yet, enjoy Sonlight's free Guide to Elections unit study. This interactive unit study activities cover a range of grades and ages, and will help you dive into the history and current events surrounding elections in America.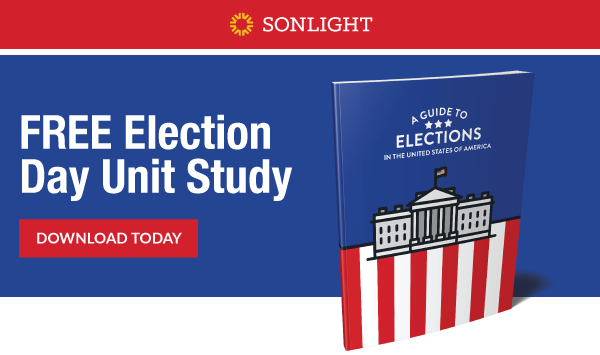 Looking for even more ideas? The Sonlight blog is packed with free tips, encouragement, and resources that are useful for families dealing with an unexpected change. Use these afterschooling ideas to add to the at-home curriculum provided by your school. We wish your family health and safety during this season – and little moments of surprising joy!