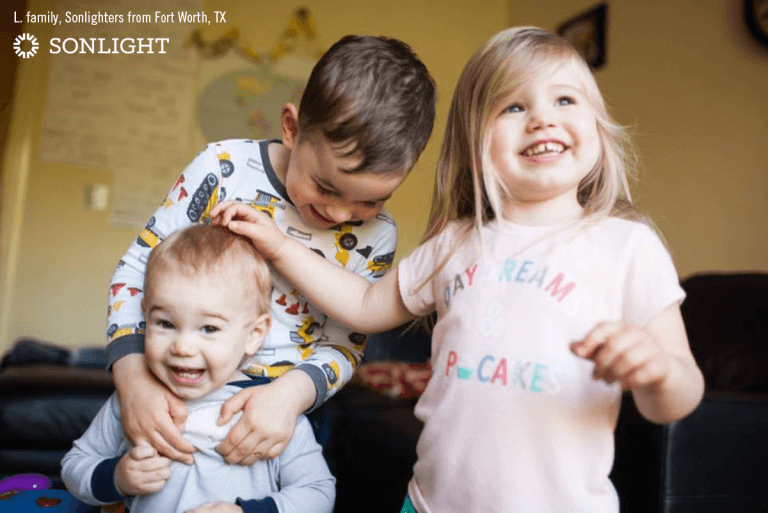 When you are starting out as a homeschooler or adding enrichment to a daycare or preschool program, which Sonlight early learning program will be the best fit for your family? All four of Sonlight's programs for young students—Preschool, Pre-K, K, and A—use dozens of beautiful books that you and your child will love. But because children ages 3 to 7 develop different skills at different rates, which of these programs is the best fit for your child today?
Here's help choosing.
The recommended age and grade ranges for all Sonlight programs are changing beginning April 1, 2020. The NEW Sonlight scope & sequence outlines these four levels as such:
Let's unpack this simple summary to find the best fit for your child.
Preschool is excellent for young children. 2-year-olds might enjoy some of the books, but most families enjoy this collection for children aged 3 or 4. That said, even children far past preschool age enjoy and revisit these books regularly. Many Sonlighters have come across their 6, 7, and even 8-year-olds looking at these books.
This is one of the best values of all the Sonlight programs, simply because of how much use these books offer a family.
The Pre-K program is an excellent program for either Pre-K or for Kindergarten.
The Sonlight K program works equally well for Kindergarten or 1st grade.
And Sonlight A was, for many years, Sonlight's kindergarten program. As of 2020, the easier Read-Alouds moved down to K, and Sonlight A kept the more challenging chapter books and added some new ones. Thus, the 2020 Sonlight A is more suited to a first and second grade audience. Ideally, you can start this program with a child aged 6 or 7.
If you're trying to pick between the four earliest Sonlight programs, here's a quick guide, based on the types of Read-Alouds included in each program.
Choosing Sonlight Preschool
If your children love picture books, then celebrate that love of beauty and rich stories told in few words with Sonlight Preschool, a program composed almost entirely picture books with very few words.
---
Choosing Sonlight Pre-K
Sonlight Pre-K starts to include chapter books with a single illustration per chapter, and picture books with more words per page. This program includes a series of workbooks that helps you gauge your children's academic readiness, and reading readiness exercises. Much of this would be considered traditional Kindergarten material, and some of our customers claim that Sonlight Pre-K is more robust than other company's Kindergarten programs.
---
Choosing History / Bible / Literature K
Sonlight K, new in 2020, introduces American history to a young audience. This program will be available on April 1, 2020.
The Sonlight exclusive history spine, Heroes and Happenings, includes 60 biographies of famous people and events from history. These are mostly less than 1000 words (about the length of this blog post), with multiple full-color illustrations per chapter. This program includes engaging and delightful Read-Alouds, mostly short chapter books, heavily illustrated.
---
Choosing History / Bible / Literature A
If when you read aloud a chapter book, your children wiggle like crazy, or you find yourself saying, "Pay attention!" then maybe wait a little longer before using Sonlight A. Choose Pre-K or K instead. Most of the books in A are chapter books. Enjoyable, entertaining, exciting . . . but chapter books. Not all 5 and 6-year-olds are ready for chapter books.
---
If You Still Aren't Sure
Still not sure if Sonlight Preschool, Pre-K, K, or A is best? Or are you trying to combine more than one child with one of these programs? Contact a Sonlight Homeschool Advisor to talk through the options. And if even if you need to exchange a program for a better fit, our guarantee allows for that.
Click here to connect with a homeschool consultant who can provide personalized help with choosing the right curriculum.