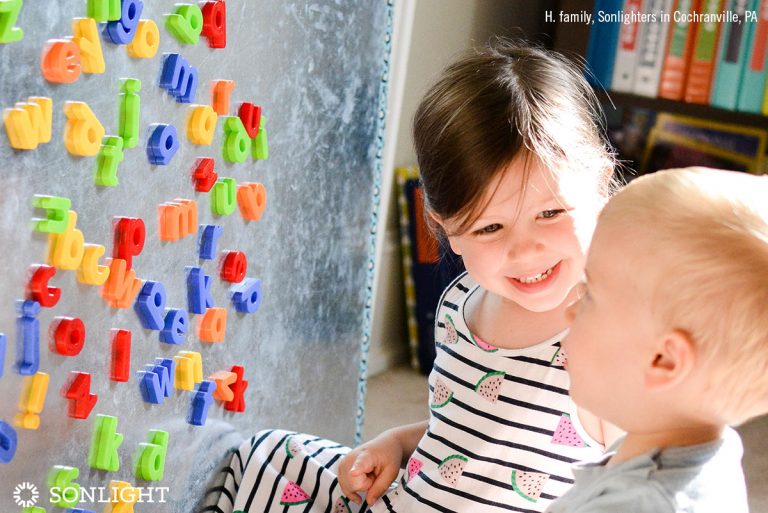 "Many people ask me what our younger kids do while I am working with our two older boys. Since the preschool 4/5 program can be done in short segments throughout the day, Lydia (4) enjoys the individual attention over shared books and then has naturally taken to teaching her younger brother, Joshua (1), while I am busy with the older boys. Now that she is more confidently identifying her letters, she enjoys pointing them out to her brother."

— Sarah H. of Cochranville, PA
---
You know you want to give homeschooling a shot, but when your children are barely out of toddler-hood, how do you get started building a family culture of home education? One suggestion is to invest in a great curriculm like Sonlight's Preschool Package. It's full of great literature for little ones, complete with an Instructor's Guide with suggested extension activities to enhance learning with play.
So once you have a great curriculum chosen, how can you build a peaceful homeschool routine with preschool-aged children? Here are five principles I've found helpful.
1. Aim to Balance Structured Activities with Unstructured Play
Unstructured, imaginative, and independent play is crucially important to children at this age. However, some structured activities, directed by the parent, are appropriate at this time, too. The preschool years are a prime time to begin setting the foundation for following instructions, respecting others, and listening to parents—skills that will help set your child up for a joyful career of learning as they grow.
At the earliest stage of homeschool, don't expect to spend a solid 1-3 hours working through various school tasks in the morning. Instead, it's more effective to sprinkle four or five intentional 10-20-minute sessions into a day filled with the normal toddler activities.
An example preschool day might include:
20 minutes of storytime after breakfast
Time for free play or helping a parent with household tasks
20 minutes of an extension activity related to one of the stories read during the morning
More time to play (perhaps at a toy station or sensory bin set up by the parent)
Lunch
20 minutes of sit-down learning activities: working on pre-writing or pre-math skills
Time for free play, housework, or family errands
20 minutes of a skill-building game or time outdoors
Time to help prepare for dinner
Dinner
20 minutes of storytime, woven into the bedtime routine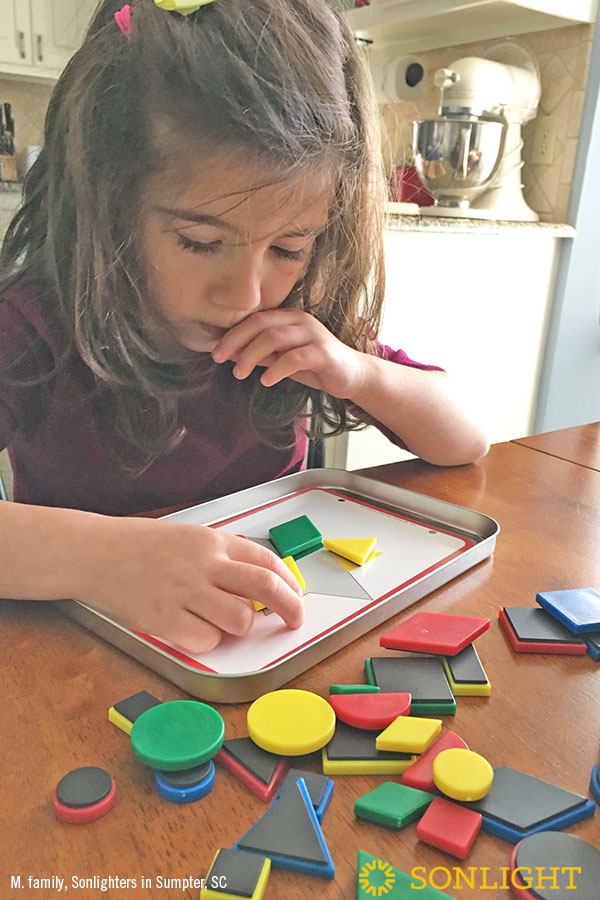 2. Don't Be Afraid to Introduce Books That Seem Too Hard
Parents unboxing their Sonlight Preschool Package for their three-year-old might at first think to themselves:
"All right, the Eloise Wilkin Stories are simple enough, and the George and Martha stories are totally doable...but Hans Christian Anderson's Fairy Tales? There are so many words on a page, and so many pages in a story!

How will my child ever sit through a story like this? Make Way for McCloskey? Same problem! Great stories, but with a lot of words that will be way above my child's head and far outside their experience."
I encourage you not to be hesitant to introduce challenging books. Balance easier stories that you can read repeatedly with the introduction of storybooks that are longer than they are used to, with words they don't yet understand, and with pictures that show a time and a place far from anything they have experienced.
Younger preschoolers, it is true, need time to develop the skills to sit through a longer picture book. Experiment with ways to begin introducing these books. Their ability to listen and learn will blossom!
My son is on the young side for preschool and we're starting slowly. For the longer, more advanced tales, I have found these kinds of times work well for reading aloud to him:
while he's still in his chair after finishing lunch
while he is sitting down with some play-dough
while he's on the floor with building blocks
while he's in the bathtub
For shorter stories, we cuddle on the couch together.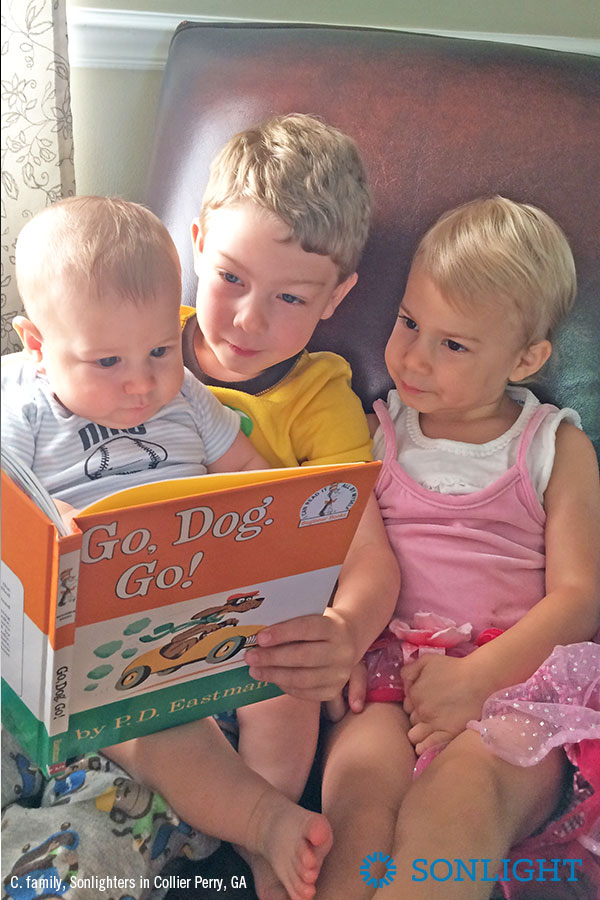 3. Take School Outdoors
There's so much to learn and do, and in our busy modern lives, that young children tend not to get as much time outside as is good for them. There are all sorts of learning activities for preschool that can be done outside—including storytime! So when the weather makes it possible, take your preschool outside! Count the trees in your yard, name the plants and animals you can see, dig in the dirt, and have fun building memories and skills as a family in your own backyard or at the neighborhood park.
4. Integrate Music Throughout Your Day
Music is a powerful learning tool, that plays an especially important role during the preschool developmental years. But if music education means that I needed to set aside a chunk of our day to sit down with a device that can play music and sing 5-10 songs together with my son, it would likely never happen. Instead, we find routines to integrate music throughout our day. This is what works for our homeschool family:
Dad plays quiet hymns as background music in the morning while the family is getting ready to start their day He has made a playlist of hymns in both English and Spanish because we are a bilingual family.
We keep the Wee Sing CD and other preschool-friendly song CDs in our car so we can listen and sing along while we're out, getting errands done.
At various points throughout the day, I sing various children's songs to my son and do the hand motions, without bothering to set up an audio accompaniment. Preschoolers aren't too picky about your vocal skills, so don't worry about singing a cappella even if it's not something you'd want to do around grown-ups.
A couple of times a week I pull out an inexpensive recorder and an electronic keyboard for interactive music playtime.
5. Use the Same Resources in Different Ways
Using one resource for multiple games and learning activities will save your budget and prevent your home from becoming constantly cluttered with the latest and greatest in educational resources. It will also foster problem-solving skills as your children imagine and experience the many different ways a single object can be used!
For example, the Teddy Mix & Match in Sonlight Preschool, has been the inspiration of all sorts of different games!
a memory-natching game, as the bears were originally intended
a version of Go Fish!, using the bears as cards
tracing the shapes of the bear cards and designing our own bears
a verbal description activity, describing what each bear looks like and where he might live (The chocolate bear lives in the refrigerator, we are pretty sure!)
imaginative play in which bears become dolls that play with and interact with each other
Homeschooling preschool need not be as intimidating as it sounds! Children just leaving toddler-hood behind are often feisty and imaginative; typically they are eager to learn! Enjoy these precious years with your child as you teach preschool at home.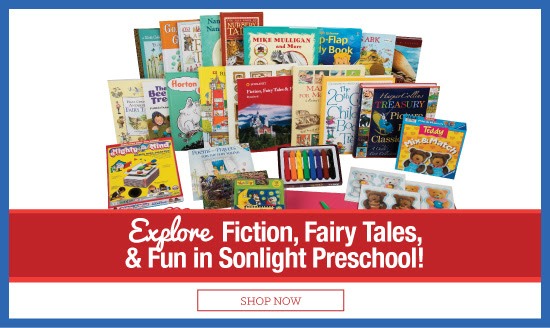 This complete preschool homeschool curriculum program is perfect to cultivate a love of books and learning.