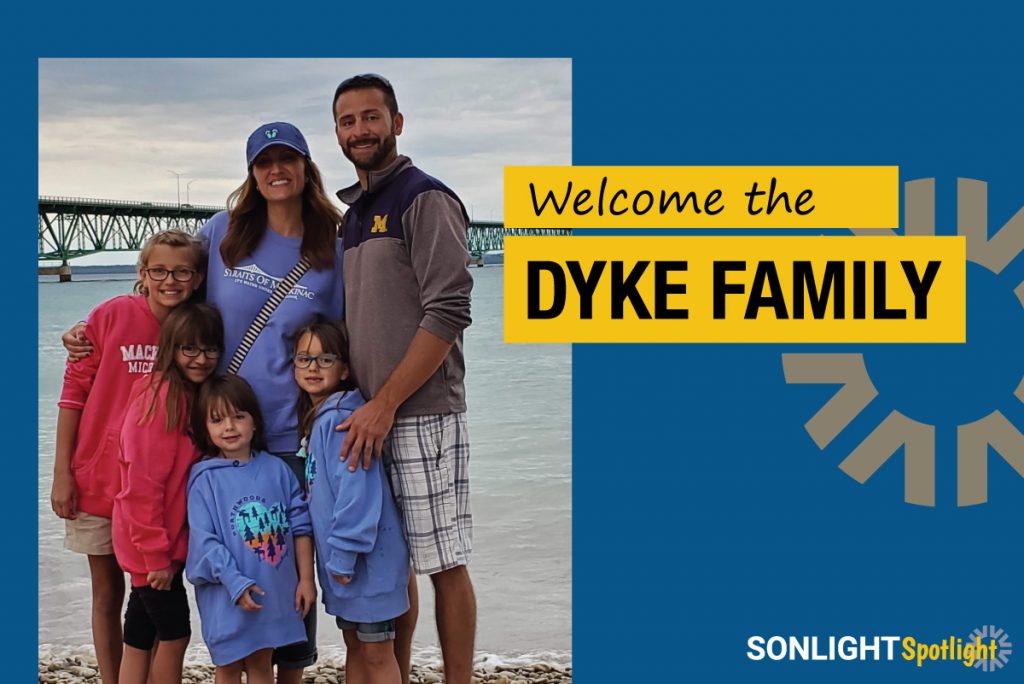 Each month the Sonlight team will choose a current family to highlight by sharing their #sonlightstories. If you'd like to shine a light on your family, apply here for a chance to be featured.
Meet the Dyke Family!
Brandi and Jon, with their four daughters, Emily (6), Morgan (8), Kylie (10), and Aubrey (13), homeschool on the road living in an RV full-time. About two years ago, they were strongly led by the Lord to sell their home, acreage, and chickens. As a family, they decided to follow that calling by sharing the Gospel and going where the Lord leads them. They have been working through Campers on Mission primarily and utilizing Sonlight for their curriculum. "We've been helping with hurricane relief, working at orphanages and youth camps, and we're just trying to be obedient to the Lord," tells Brandi.
During the Polar Vortex of 2019, schools were shut down for a month. The Dyke family took this time to trial homeschool curriculums while home from public school. It was during this time that their oldest accepted Christ. Through this, the Lord started planting the seeds of homeschooling and mission work.
Brandi's co-worker used Sonlight for her homeschool and raved about the curriculum. After trying three different homeschool curriculums, Sonlight became the clear winner for their family. The Dyke girls are avid readers, so literature-based was the way to go.
"One thing that Sonlight does really well is including the true stories of missionaries in the field. When we heard how whole villages were changed by receiving the Gospel, the Lord paved our hearts for mission work. Our entire family was changed by that and developed a passion for ministry." ~ Brandi Dyke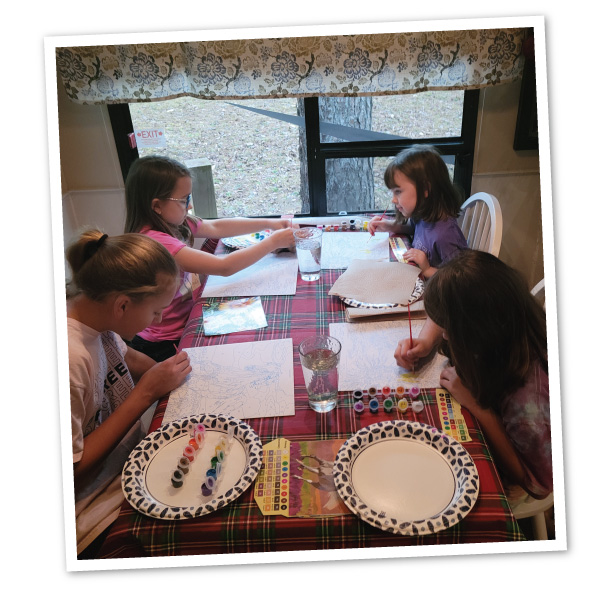 Change and Grace
The Dyke family experienced a lot of change like most families do when they begin homeschooling. They also added a layer of change by going on the road full-time with mission work while Jon continued to work full-time and Brandi was finishing her college degree. In all the changes, Brandi's best tip is to prepare, prepare, prepare, and be organized while remaining flexible. Sometimes you have to find another way, but the Lord always makes a way.
The Dyke family stays on a public school schedule to keep themselves accountable. To make combining their girls into the same History, Bible, Literature, and Science easier, they have created two classes. The butterfly class consists of the two older girls, and the honeybee class is made up of the two younger girls. Brandi does all the teaching first and then gives assignments. After finishing one class, she repeats the process with the other class and then works one-on-one as needed. They do all their read-aloud together, and then the girls watch their math videos and finish their assignments.
"We also do Science Saturdays. It's not perfectly consistent, but it is a fun way to get dad involved in our science experiments." ~ Brandi Dyke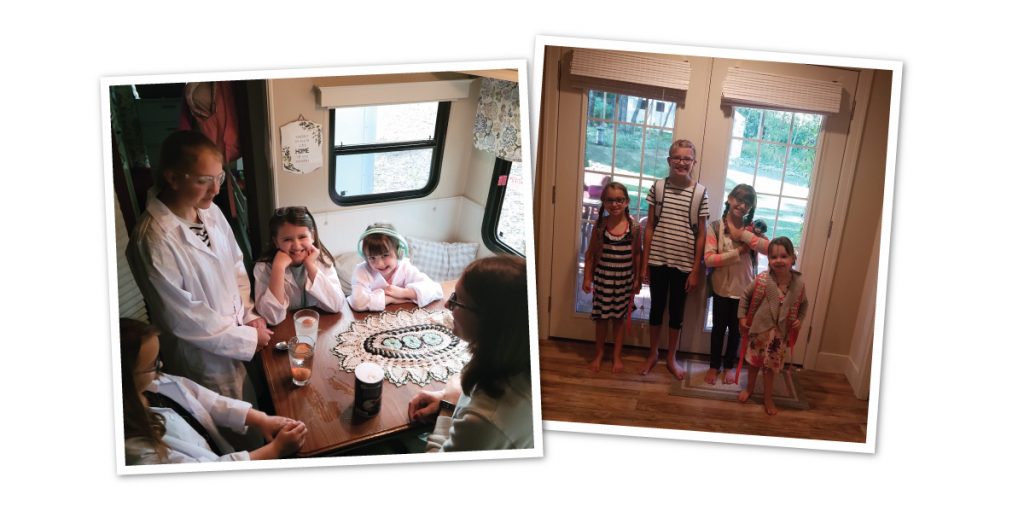 Incentives, Organization, and Electives
To keep their girls motivated, Brandi started an incentive program they affectionately call 'Cider Mill Shack.' They earn play money for their school work and a chance to earn extra for reading. Cider Mill Shack is filled with dollar store knick-knacks and school supplies. The girls can purchase small items right away or save up for bigger items if they like.
Because they live in a small space, Brandi uses most of her cupboards. She utilizes mini totes and a label maker to keep it all organized. On their bookshelf, they keep their current curriculum books as well as some of their favorites. In totes, they keep last year's books to reference if needed or pull out a favorite to revisit. Adventures with Waffles is always on standby to experience again and again.
No matter where their travels take them, they sign up with and participate in what is happening at the local library. They have been able to utilize online resources to continue their music lessons. Campers on Mission has taught the girls how to quilt, sew, crochet, and knit. Items are always being worked on to be donated to pregnancy resource centers and veteran centers around the country. Also, if there is a local YMCA, they join to swim and participate in lessons.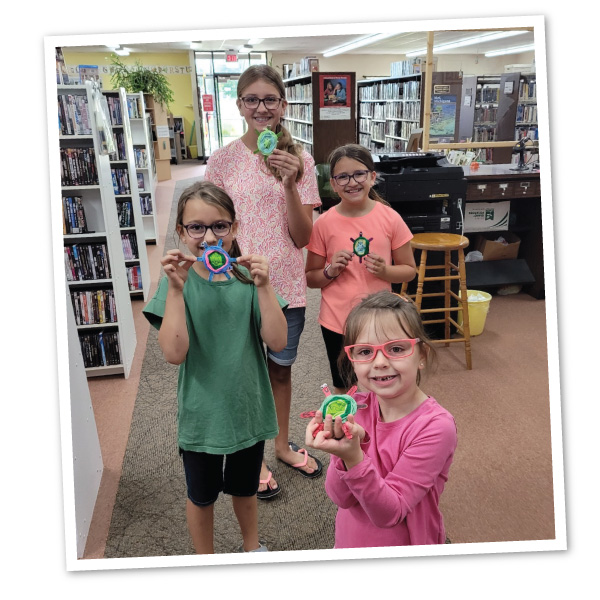 "It's been great being there to see them learn new things and witness their excitement." ~ Jon Dyke
Brandi finishes with encouragement to all homeschoolers. She advises us to not give up and to reach out to the advisors and utilize the resources Sonlight offers. The advisors give inventive, new, and creative ways of doing school.
"Build off simplicity. Don't think you have to fit everything in all at once. The Lord will build off of a strong foundation in him," Brandi reminds us.
While it is not always smooth sailing, the Dyke family worked with their girls and were able to see the results of their efforts. The Lord provided breakthroughs, and the girls' confidence soared. "Sonlight has been wonderful!"
"Keep being obedient in what you are called to do. Be a teacher when you are called to be a teacher, and be a mom when you are called to be a mom." ~ Brandi Dyke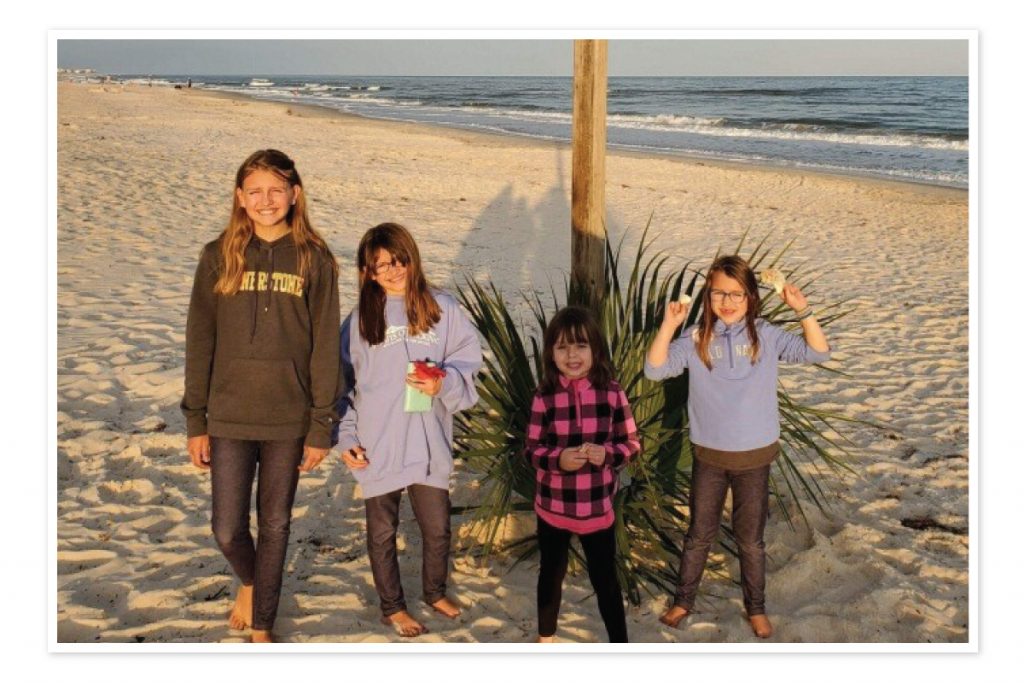 Dyke Family Favorites
Emily loves math, Morgan loves Science, Kylie loves math and art, and Aubrey loves Bible and Language Arts. They love that homeschooling with Sonlight is flexible, and you can go on vacation and homeschool at the same time. The Dyke girls' favorite book recommendations:
You can learn more about the Dyke family's Sonlight experience by listening to their full interview on the Sonlight Connections podcast.