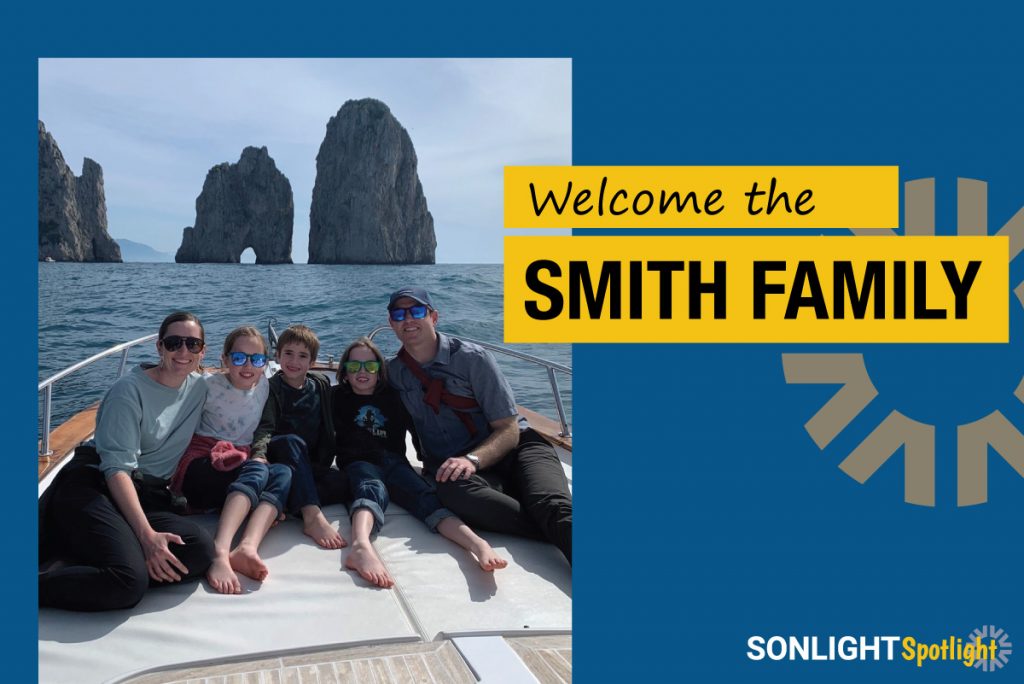 Each month the Sonlight team will choose a current family to highlight by sharing their #sonlightstories. If you'd like to shine a light on your family, apply here for a chance to be featured.
Meet the Smith Family!
Andy and Jillian homeschool their three children, daughter Harper (10), and sons Finley (7), and PK (6), in Oklahoma City. They were homeschooled themselves and met in a homeschool co-op at ages 9 & 11. Both ended up in traditional high schools, so they had a contrasting view of homeschooling and traditional school.  They really preferred homeschooling. Jillian says "When you're having to pick curriculum or research learning theories, stuff that I didn't have to do as a student, it was all new and maybe just as scary as starting without any experience. Andy was a big proponent and thought that we could do this."
Andy chimed in, "I really liked the freedom of learning at your pace, learning on your own and with your parents, and we wanted to cultivate that. We thought we'd start it and take it year-by-year, and see what happens. We've really enjoyed it so far!"
As Christians, the Smiths wanted to make sure during those formative years of their children's lives, they were as involved and engaged as they could be to better shape and present their faith to them in different ways. With parents who love reading and learning, they enjoy building memories around learning together. Some of Jillian's fondest memories are from the read-aloud books her mom ordered from Sonlight. Her mom still has these books and Jillian has gone back to read them again and again.
"I really wanted to give the kids time to learn to love to read, to learn, and to find the things they're interested in. They're not going to love every moment of it, but I wanted to give time for that." ~ Jillian Smith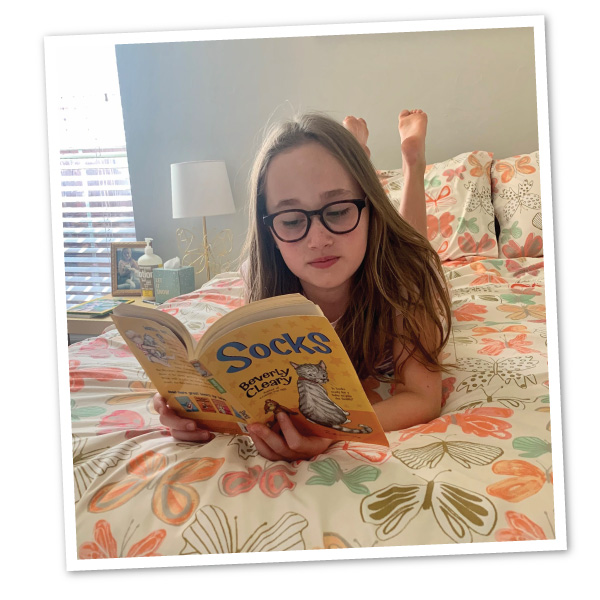 Field Trip Extreme
Something else the Smiths have enjoyed is taking their studies to the next level.  After finishing Red Sails to Capri, Jillian told the kids that the Blue Grotto is a real place. They turned to YouTube to see what it was like, and they realized they all wanted to go there!  The family thoroughly researched how they could travel there and was able to go in April of 2022.  They went to Rome for the first part of the week seeing some of the things they learned about in HBL B, and then took a train to Naples and a ferry to Capri to see the Blue Grotto. 
"It was pretty amazing to connect a place that we read about with a real place we could visit.  It was really wonderful!  The kids made connections between what they're learning, real life, and other cultures.  I'm trying to make the argument that we need to go to England in preparation for D next year." ~ Jillian Smith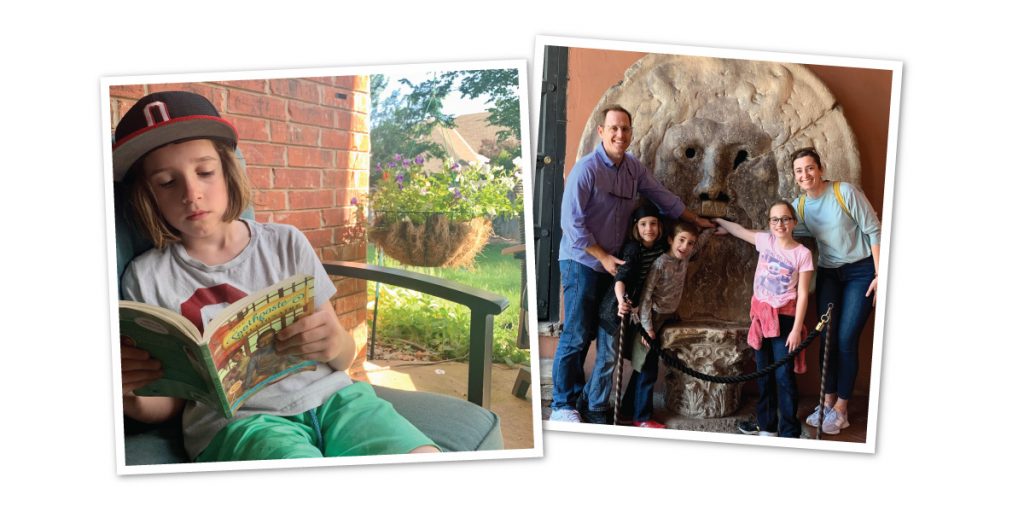 Flexibility
Thanks to the flexibility homeschooling offers, the Smiths have been able to travel when most kids would be in school. It took them a few years to realize that, but now they're fully leveraging it. Upon realizing they have a finite number of summers with their children at home, they decided to travel more. Both Andy and Jillian came from military families and were able to travel as children, so they travel around in their RV and overseas.
Jillian says, "It's still a process of trying to think outside the box, which is not as easy as you might think. You still fall back into thinking you need to take school breaks in the summer, but we are really trying to figure out what's going to work for us."
This summer is the first time they're doing some school work when most children are taking a break. They are anticipating this will make getting back to school easier since they're doing light math and reading right now.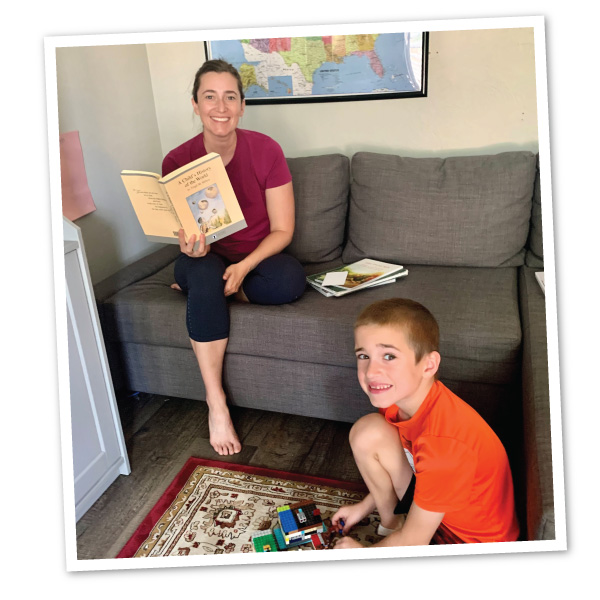 Father's Role
With Andy working from home, he is in a unique position. Jillian still does the majority of the teaching, but he supports her and is excited about the opportunities that are coming. They already get to share Read-aloud times, and the kids do presentations for him.
Andy adds, "These little tidbits when I grab a cup of coffee and I get to say hi. These are the moments I'm engaging with them. I think in years to come, we'll learn even more about how much that really means to us."
For Jillian, Andy's support keeps her going when things get tough. She's not homeschooling alone because he is there and encouraging her and the kids.
"This is a small amount of time that your kids are at home in the grand scheme of your life. Helping them learn and grow and being a part of their education is really priceless. We didn't realize it while we were being homeschooled, but in high school and college, we had a way to learn and a different view of learning. It's work, but it's worthwhile for sure." ~ Andy Smith
Smith Favorite Books
The Smith children have a lot of favorites, but these were the most memorable.
Escape from Mr. Lemoncello's Library
You can learn more about the Buckler family's Sonlight experience by listening to their full interview on the Sonlight Connections podcast.