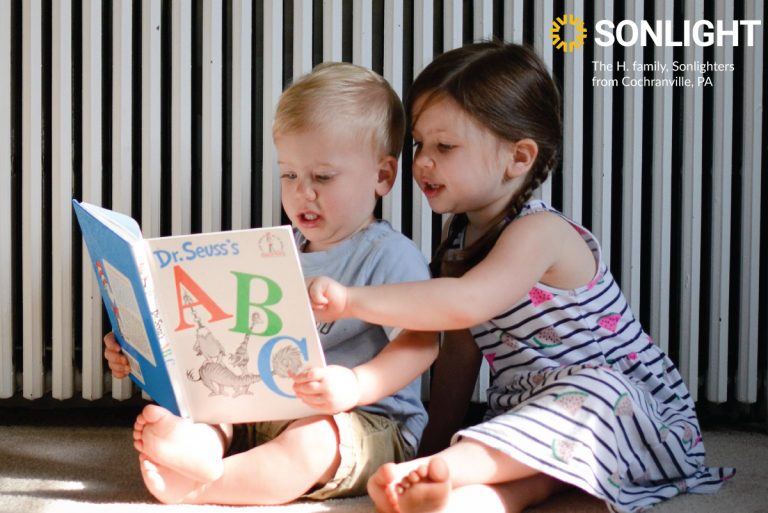 When you have a preschooler, you begin to worry about when and how to start teaching them. As parents, we have the amazing responsibility to create an environment that helps our children grow.
Luckily, a preschool education at home makes it easy to craft a culture of learning for your child. It begins with creating a lifestyle in which our children can learn—naturally. This is how homeschooling works!
When your home is full of wonderful learning opportunities, your children will naturally develop a love of learning.
Their innate curiosity is piqued, and they'll be inspired to learn all they can about the world around them. Because you've created an environment rich in learning experiences, learning naturally happens.
Continue reading for three ways to create that culture of learning in your home.
1. Introduce Preschoolers to Quality Literature
One of the best ways to begin to create this lifestyle of learning is to share amazing literature with your preschooler.
Imagine snuggling on the couch with your little one, reading beautiful picture books together. It's an experience your child will want to repeat over and over. I can't think of a better way to begin a love of books and reading. Plus, picture books are a great way to teach a variety of topics.
You can find a wonderful assortment of children's picture books and treasuries of great literature in Sonlight's Preschool curriculum. Sonlight chose favorite children's book classics that you and your child will love to read together. Using this program helps you build your home library with quality literature and inspires a lifelong love of reading and learning through books.
When creating a culture of learning in your home, consider how you organize your home library:
Set up reading nooks with comfy furniture and good lighting.
Place books baskets or caddies throughout your house so your children have easy access.
Organize picture books on low shelves so preschoolers can browse when the mood strikes.
2. Add Real-Life Experiences to Your Culture of Learning
Along with books, the experiences we have in our daily lives help us create a culture of learning at home. Allow your preschooler to join you in daily chores by following you around. They will learn simply through observation and helping you.
Let them add ingredients when you're baking.
Have them match socks while doing laundry.
Let them water the plants or pick from the backyard garden.
Give children household chores such as setting the table or feeding a family pet.
Letting children pitch in in meaningful ways teaches them responsibility and provides a sense of pride for their accomplishments.
Learning doesn't happen only within the four walls of your home or within the fence of your backyard. Occasionally, this culture of learning you're creating will extend beyond the home, for example through travel, field trips, or even day-to-day errands.
Help your child learn more about the community through field trips to local places, including zoos, museums, and historic landmarks.
Take nature walks around nearby parks or visit a state park to teach children about plants and animals in our natural world.
Lastly, plan your vacations to locations that are inspired by your preschooler's current interests or books.
3. Learn through Unstructured Play and Hands-On Activities
Never discount the importance of unstructured play. Time for truly child-led play is crucial for a preschooler's development. Children appreciate a much deeper understanding of the world around them when they figure it out for themselves.
Much of this play mimics real-life experiences your preschooler observes. For example, in my preschooler loves to head to his small play kitchen while I make meals. We don't hide toys like these away in a playroom. We set them in high traffic areas so our children will see them as invitations to play and learn.
Learning practical life skills is also important for preschoolers. These may include learning to cut a banana, wash a bowl, and transfer beans from bowl to pot. A great way to include practice for these skills is through a Montessori approach of self-directed, hands-on learning. Sonlight Preschool shares many ways to easily include these activities in the included Instructor's Guide.
In conclusion, a homeschool preschool education is so much more than a curriculum or a list of hands-on activities.
Every part of a preschooler's day contributes to an environment of learning.
This includes read-alouds, hands-on activities, chores, and even family travels. All of these aspects work together to foster a culture of learning throughout your preschooler's life. To help you craft this special environment, Sonlight's Preschool Package provide a wealth of books, hands-on materials, and a detailed Instructor's Guide. It's a fantastic starting point for the culture of learning you long to foster in your home.