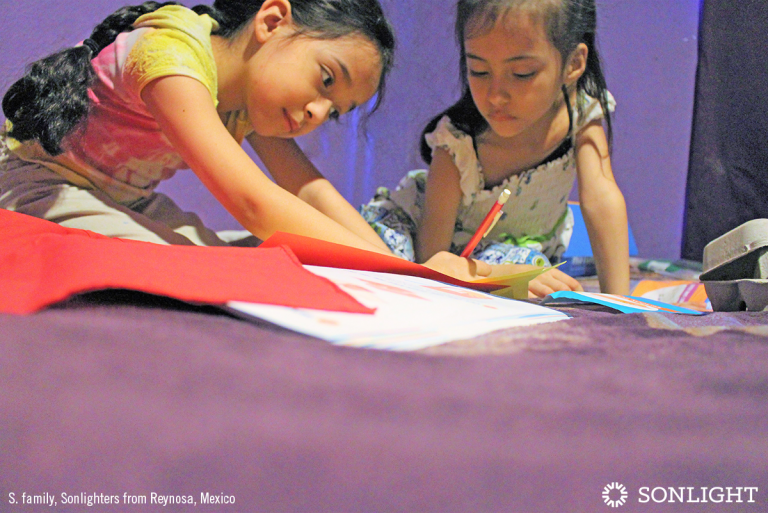 When I'm looking through homeschool blogs, I see bright, beautiful pictures of children playing with paint and making creations with macaroni and glitter. The parents and children all appear to be having a great time. But that happy scene isn't true for every family. What do you do when you're the parent of children who love arts and crafts, but you just don't feel that joy from hands-on projects? Maybe your projects are usually a flop, but you know your kids crave working with their hands to express their creativity.
My Epic Arts and Crafts Fail
Here's an example of how arts and crafts don't work in my home. Once I decided we would have an artist study and make our own versions of Picasso paintings. I printed pictures of his masterpieces and gathered the recommended paints and supplies from a tutorial I found on Pinterest. Calling my six children over, I taught a short art lesson, and we dove into painting. Fast-forward one hour.
My oldest daughter, 16 at the time, had done a very fast painting and then hied off to her room.
My 13-year-old was very carefully working on his 12th version of a painting. He had gotten frustrated with the first 11 paintings and had thrown them out, so he was now creating a new one, with high frustration levels.
My 9-year-old was doing paintings that looked nothing like what I had imagined in my head. He was just making a mess and having fun but with no real painting technique.
My 8-year-old had walked away over half an hour ago after not really trying.
My 5-year-old was crying because no matter how hard she tried, her painting wasn't good enough.
The 4-year-old had gotten less paint on her paper that she got on everything else within her reach.
I had a headache from dreading the clean-up process. I was exhausted and just wanted to go lie down.
Why Did Our Picasso Project Fail?
There are parents who can make art projects like this work, and I really admire that ability. But I must admit I will probably never be one of them.
Our art project failed because I tried to do art in a style that doesn't work for our family. Instead of taking a formal, parent-led approach to crafts and hands-on projects, my family does better when the activities are sparked by my children's own interest and done at their own pace. We're more unschoolers when it comes to arts and crafts.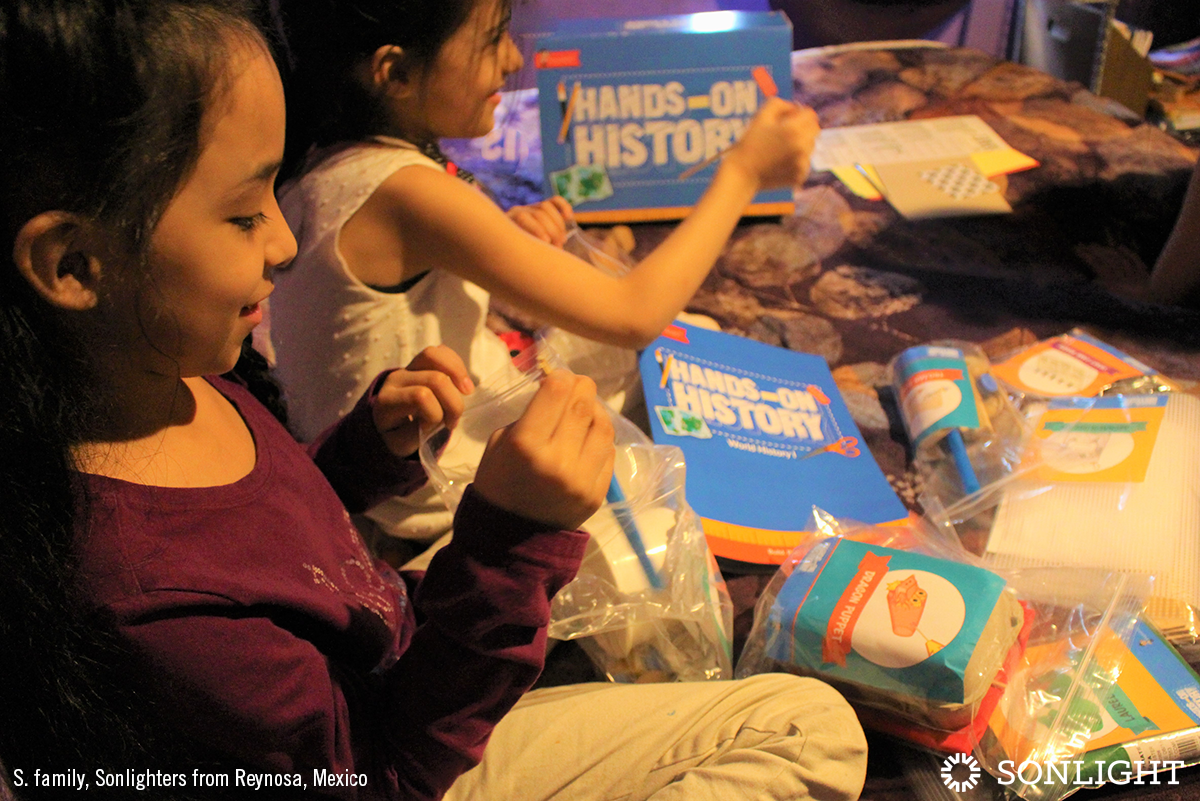 Our Successful Art Projects Are Student-led
Usually I don't plan art at all. I simply provide art supplies, and my children are allowed to create in their free time. For some families, this strewing method would result in disaster, but it works for us.
How We Set Up Our Art Station
For our at-home art station, I divide materials into two large plastic tubs and a book stack.
Tub #1: Non-messy Art Supplies
crayons
markers
papers of assorted styles
feathers
pom poms
googly eyes in all sizes
fabric
ribbons
Tub #2 Messy Art Supplies
paint and paintbrushes
the dreaded glitter
assorted beads
permanent markers
Book Stack for Inspiration
craft project books
a few DVDs
a list of approved websites they can use to find art tutorial videos
Rules for Getting Crafty
Children who are older and prove responsible can use either art box at any time. Less responsible or younger children can use the second box only under the direct supervision of a parent or older sibling .
Whenever a child wants to do art, they can rummage for the supplies they want, and then they create! When they are done, they put the supplies away and clean up. If they run out of something, they put it on my shopping list, and when I have the time and money, I replace it.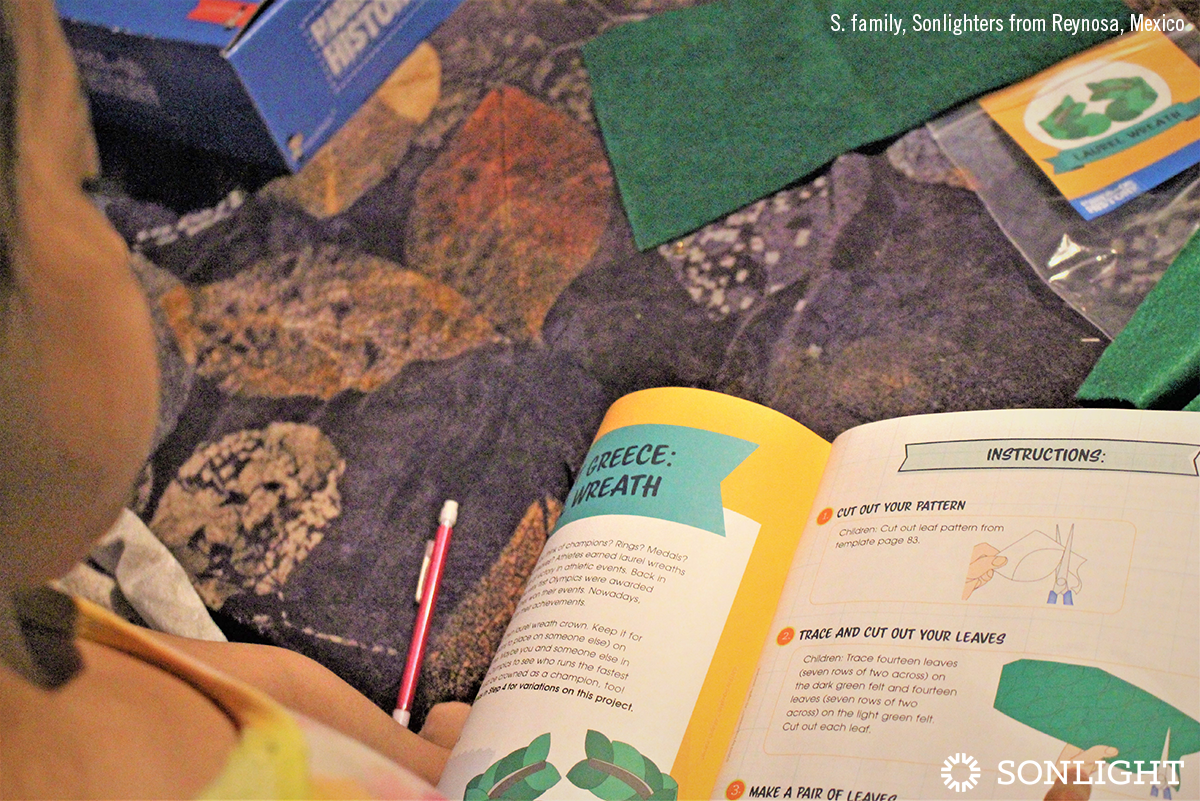 Sonlight's Hands-On History Project Kits by InquisiKids
Sonlight is now offering extra activity packs that children can do on their own with little parental help (via InquisiKids). They schedule a project every couple of weeks that expands on the history lessons, providing a depth that goes beyond your reading and discussing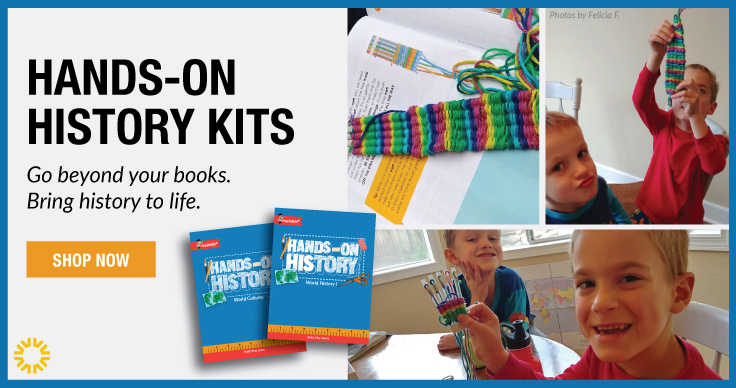 But the best thing about them? They are just like my art boxes, but better.
In the kit, there are almost all the supplies you will need to make each craft. And each project is packaged into individual bags to make all the required parts easy to find for small hands. The instruction booklet has step-by-step pictures that make completing the projects easy for the children to do with minimal parental involvement. There are even notes telling when parents should get involved, such as using the oven to harden clay.
All the child needs to do is find a project from the box, reference the instruction book, and start creating!
My kids love having these history project kits added to our art center because they are equipped to create whenever they are inspired. There's no waiting for me to find the right sized dowel or shop for some obscure craft supply. It's all right there in the kit.
These kits are set up to help your child succeed at art, even without a lot of parental involvement. My kids love the feeling of success they have when they can independently do the projects (and clean up afterwards). These kits are a lot like my art boxes, miniaturized and organized to create a great project every time.