Sonlight students demonstrate homeschooling works
Meet our 2010 Sonlight scholarship winners. And consider their stories an answer to the question, "Does homeschooling work?"
Through God's grace, hard work, their parents' guidance and Sonlight® Curriculum, these students have blossomed into mature young adults. Like so many Sonlight students, they have exceptional character, are active in their communities, and represent the cause of Christ exceedingly well. They demonstrate leadership, mission-mindedness, a heart for learning, creativity and spiritual depth. Several have very high test scores.
These students' eagerness to follow God's leading and their exceptional skills and talents make us delighted to invest in their education.
Sonlight will award $92,000 over the next four years to these thirteen Sonlight Scholarship winners (we've awarded $699,000 since we began the scholarship program!). All of these hard-working, talented students have completed at least five Sonlight History / Bible / Literature programs (including high school levels). We look forward to seeing all God does in and through them as they take what they've learned—through Sonlight and their homeschool experience—into college and into the world.
O.S.,
Winner of $20,000 Award
($5,000 each year)
O.S. of LA felt God's call to become a doctor while on a mission trip in Peru. A team of medical missionaries opened his eyes to the unique opportunities to serve others around the world through medicine.
Throughout his medical career, O. hopes to "aid the needy in Christ's name."
O. will surely be ready for the rigors of medical school. He has used every Sonlight® sonlight-product-videos program from A through 500. He nearly aced the ACT and SAT and is a National Merit Finalist.
An accomplished pianist, O. has won top awards at numerous competitions. He plays for church services and often accompanies the church choirs. He has volunteered for years with the children's program at church and helps lead the children's choir. He is the very picture of sportsmanship on his local basketball team.
O. is close friends with his brother, works exceedingly well with his younger cousins and spends much of his time with children. Perhaps the biggest compliment of all is when other parents share, as they often have, that they hope their children grow up to "be like O."
Winners of $10,000 Awards
($2,500 per year)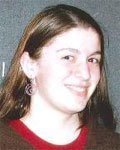 With a hospitable and compassionate heart, Dana Davis of Rochester, MN loves to build relationships with people different than her. She has close friends from many different cultures and connects naturally with others, whether she's overseas, in the inner-city or at her community college.
Dana has used Sonlight from K-12. As she finishes her high school courses, she'll also complete an Associate Degree from a local community college. She plans to earn a Bachelor's degree in Secondary Math Education.
Dana has served on her youth group leadership team, is a gifted figure skater, has written a complete novel, plays the piano, has won many local prizes for her artwork, and volunteers with an after-school ministry for children in low-income families.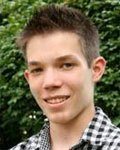 Isaac Harrison of Hong Kong stands out among the ranks of upcoming filmmakers. If you were at the Cannes Film Festival in 2009, you could have visited the Short Film Corner to see Ana, a film he directed. The film explores the difficult struggle with anorexia that so many students in Hong Kong face. Isaac has won numerous awards for his cinematic achievements.
He plans to study film at Asbury college in Wilmore, Kentucky. His desire is to "be a light for God in the film industry." And, in fact, he already is.
Fluent in Chinese (Cantonese), Isaac has immersed himself in his local community. He is known among peers and artistic colleagues for his faith, integrity, creativity and kindness.
Isaac participates in a local media club, chess club and film club. He is on his youth group's leadership team and serves as the group's worship leader. Isaac helps with VBS, plays table tennis and soccer, and teaches English to local children.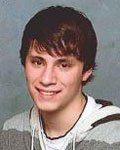 Ethan Green of Springfield, TN uses his astounding scientific aptitude to benefit others. Homeschooled with Sonlight since fourth grade by two parents with no background in math or science, Ethan has developed a unique method of creating three-dimensional images in motion.
The project not only earned him a finalist spot at the largest pre-college international science competition, it also shows promise for use in hospital settings.
Ethan has won a Congressional Award Gold medal and is an Eagle Scout. He will graduate high school with 60 hours of college credit. He has organized ongoing projects to provide free books to local children and hospital patients. His peers recognize him as a compassionate and responsible leader.
Ethan plans to study computer engineering, mathematics and physics in college. He hopes to help others and glorify God through his science.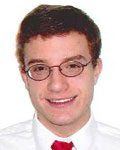 When Erik Messerschmidt of Holland, NY first studied Constitutional Law, he unknowingly started down his intended career path.
He enjoyed the topic so much he developed and taught a course on the Constitution to other homeschool students. The high schoolers and adults in his class were eager to learn under Erik's well-prepared and caring guidance.
He has served as his church's main worship leader for two and a half years. He chooses music for each service, organizes the praise team, introduces the songs, plays the piano and sings.
Erik also plays baseball and umpires Little League games. He plays the saxophone and classical piano and participates in 4-H.
Erik has used all the Sonlight high school programs and is a National Merit Finalist. He plans to major in Government at Patrick Henry College before pursuing a law degree. His goal is to uphold the Constitution and "fight for people's rights."
Winners of $4,000 Awards
Sonlight will award eight additional students a $1000 scholarship for each year of college (up to four years). We're confident all these winners will make a positive mark in the world and continue on the path of lifelong learning.
Winners in alphabetical order are:
Callie Bonin of Lafayette, LA plans to study Business Management/Human Resources in college. She has spent most of her life in Belgium, where her family is soon returning to continue serving as missionaries. Callie has used Sonlight programs E through 400. She has studied the violin for many years, taught Sunday School, participated in Christian Youth Theater and served with a dance/drama ministry. Callie shows a clear heart for international missions and has made great sacrifices to help children whose families are preparing to move overseas. She is a natural leader, good humored, mature and very creative.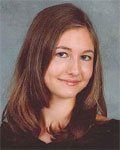 Kayla Griesemer of Ooltewah, TN plans to attend Patrick Henry College and eventually enter the political field. She has proven her ability to get the heart of issues, reason logically, think quickly and persuade effectively. With great diligence and natural talent, Kayla has earned high honors in several national NCFCA Speech and Debate League competitions. She studies classical piano and flute, plays in a worship band and participates in a dance and drama team. She also teaches piano, coaches a young debate team, serves as the accompanist for a middle school choir and works with a ministry to homeless women.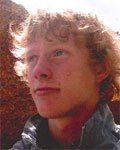 Caleb Kruse of Colorado Springs, CO plans to major in Biology at Pepperdine University or Stanford University. A professor at Stanford, who serves as a consultant to the President of the United States, has recognized Caleb for his original and very relevant scientific research. On his own initiative, Caleb is successfully researching methods to prevent bleaching of corals by reducing oxidative stress. When he's not winning top-tier science awards from prestigious contests like the Siemens Competition in Math, Science and Technology or the Intel Science Talent Search, Caleb enjoys sports, photography and art.
He is the head batboy for the AAA Colorado Springs Sky Sox baseball team, a serious runner and a skilled skier. He is very active and successful in Speech and Debate competitions. Growing up in Colorado Springs, Caleb has also acted on the hit children's radio show, Adventures in Odyssey.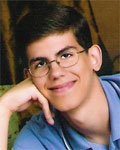 Josiah McCoy of Statesville, NC will attend the University of North Carolina at Chapel Hill. He has used Sonlight G through 500 and is a National Merit Finalist. A pianist and visual artist, Josiah also enjoys swimming and playing basketball. He has faithfully volunteered at his local library for years. Josiah has consistently volunteered for VBS programs at several churches over the past five years as a teacher, puppeteer, skit actor and assistant. He works very well with young children, who generally adore him. Josiah sincerely cares about others and consistently translates that concern into concrete, helpful action.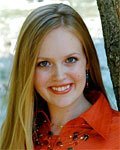 Katrina Parsons of Pine, CO will study Vocal Music Education at Colorado Christian University. She feels God calling her to mission work and looks forward to serving others through the power of music. She teaches a young piano student with learning and physical difficulties, interns for a children's choir and sings with an audition-only youth choir. Katrina leads a middle-school girls' weekly Bible study, teaches children's church for 4- to 5-year-olds, volunteers in her church's nursery, serves on her church's worship team and her youth group leadership team, and volunteers for Operation Christmas Child. In all of life, Katrina seeks to share God's love with others. Her life passion is to bless those who are poor, outcasts, or underprivileged and see people come into the Kingdom of God.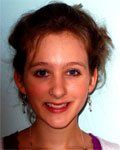 Cacia Scheler of Helenville, WI plans to pursue a double major in Nursing and Missions at Concordia University Wisconsin. Having used Sonlight since Kindergarten, Cacia shares her love of reading through coordinating an accelerated reading competition for homeschoolers. She is very active in 4-H and has held a variety of crucial leadership positions there. Many local children have benefited greatly from the 4-H day camps she has organized and led. Short-term mission trips throughout the years have confirmed Cacia's desire to serve the Kingdom as a missionary. She hopes to become a nurse practitioner and specialize in such a way that she can work primarily with women and children on the mission field.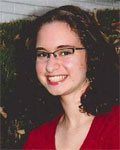 Kathryn Waldron of Vermillion, SD plans to pursue undergraduate majors in Economics and Communications with a minor in Math. She will earn the prestigious Awana Citation Award this year. Kathryn serves her church community as the assistant Awana secretary and has helped lead the preschool Awana program. When her family lived in Beijing during her freshman year of high school, Kathryn took up new challenges in stride and thrived in the international environment. She now helps with a ministry to international students who attend the local state university. Last November, Kathryn completed the challenge of writing a 50,000 word novel during the National Novel Writing Month.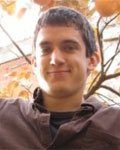 Caleb Zimmerman of Tirana, Albania plans to enter the world of Diplomacy and Foreign Service through studying Politics, Philosophy and Economics at The King's College in New York City. When his family moved to Albania during his 8th grade year, Caleb showed remarkable linguistic aptitude and was serving as his family's translator within six months. He coaches a soccer team for local Albanian youth and organizes informal basketball and football games. Caleb finished the Rome Marathon, has accompanied Albanian and French anthropologists on an archeological dig, studies the violin and teaches four violin students.
Caleb loves to build relationships with those around him as he joins in his family's work. He says that his experience working with his family in Albania during high school has been something he would never trade for the "routine comfort" he had in his home culture of the United States.
You could be a winner next year!
Sonlight will award 13 scholarships ($92,000!) for students planning to attend college in the Fall of 2011. Families who have ordered and used at least five History / Bible / Literature programs since 2000 are eligible. Visit www.sonlight.com/scholarships to find out the requirements and complete details for next year's scholarship competition.