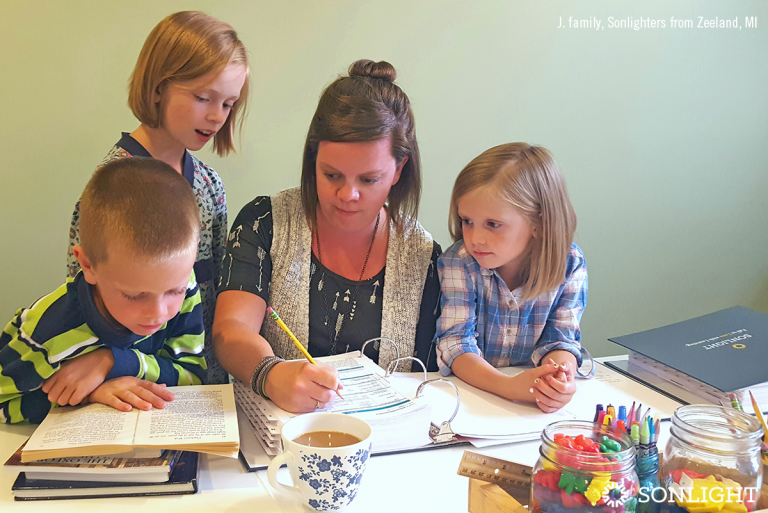 When it comes to your homeschool, have you considered who you are working for? It is a question worth asking because it determines the vision for your homeschool. Without vision, your homeschool is likely to derail as resentment blossoms like an undesired patch of poison ivy. It will cover you with frustration and exasperation until you look around, wondering what robbed you of the joy you used to have in your homeschool atmosphere.
This year as the back to school season was upon me, I felt the pressure mounting. The truth is I am not one of those homeschool moms who gets overjoyed by the thought of school starting. I love the books, but the rest of homeschooling trips me up. I love my kids, our curriculum, and being together each day; however, I do not always love getting back into a school routine and leaving behind the carefree days of summer.
One morning my feelings of inadequacy began to surface as I was dusting the nooks and crannies of our school room. Although I poured out my heavy heart on my husband's shoulder, I came to no solutions to my problems—only the will to continue despite my overwhelmed state of mind.
Feeling a Huge Burden of Homeschooling
We resolved to spend the evening on a much needed break with our usual date at home—movie and Chinese take out. Praise and worship music blaring, I drove home with my sweet and sour pork in tow when a train at the railroad crossing stopped me.
Waiting for a train is pretty ordinary where we live, but something inside made me turn off the radio and open the windows. It was a cool, silent night, and I listened to the wheels of the train grinding, hissing, and pounding on the tracks. Then it occurred to me—I felt like the tracks with the weight of my own burdensome train pressing down hard on me.
It's exhausting trying to do both the job of the wheels—rolling that train forward—as well as the job of the tracks, directing where the train should go.
It is this moment, God whispered a quiet message into my heart…
"You are not the tracks, I am. Who are you working for?"
God is the tracks, guiding me on.
God Helps Me Bear Those Burdens
I was not created to carry the weight of life's circumstances or in my case, my homeschool, on my own. Since God has directed me down this path, I must trust that He will prepare a way for me to do it, releasing my worries to the One who is in complete control.
"Whatever you do, work at it with all your heart, as working for the Lord, not for human masters" Colossians 3:23
When I forget I am working for the Lord, it is easy for my attitude to take a turn for the worse.
When I work for my husband, I get resentful when he doesn't pull his weight.
When I work for my children, I get angry when they aren't thankful for everything I do for them.
When I work for the approval of others, I get upset when they are unkind about the decisions we make for our family.
When I work for myself, I am my own worst critic, berating myself when I fall short of my own impossible standards.
What We Gain When We Work for the Lord in Our Homeschools
1. Glory
When we do the work that God has placed before us with our whole hearts, our lives reflect His glory!
"I glorified You on the earth, having accomplished the work which You have given Me to do." John 17:4
2. Wisdom
If Jesus is the the object of our affection as we go about our work each day, He will give us the wisdom we need when we need it.
"Remember the Lord in everything you do, and he will show you the right way." Proverbs 3:6
3. Peace
God cares for us and wants us to give our worries and anxiety to Him. How many jobs offer the option to cast our cares back to our boss? Not many!
God urges us to bring our worries directly to Him through prayer and then rest peacefully, knowing we can trust in Him.
"Cast all your anxiety on him because he cares for you." 1 Peter 5:7

"You will keep in perfect peace those whose minds are steadfast, because they trust in you." Isaiah 26:3
4. Strength
Throughout the school year, it is easy to grow weary in our role as both mom and teacher. Those are the moments I trust Jesus will give me the strength to do what I need to do as well as fill in the gaps where I fall short.
"So do not fear, for I am with you; do not be dismayed, for I am your God. I will strengthen you and help you, I will uphold you with my righteous right hand." Isaiah 41:10
5. Abundance
By pouring ourselves out through service towards God and the purpose placed on our lives, we, too, will receive an abundance poured out on us. This isn't always instant gratification. Instead it is a future promise from God which we must choose to trust in.
"Give, and it will be given to you. A good measure, pressed down, shaken together and running over, will be poured into your lap. For with the measure you use, it will be measured to you." Luke 6:38
It isn't always easy to think this way about my day, but it has certainly changed my perspective. This school year, I am striving to start each day with the mentality that I am working for the Lord with my whole heart!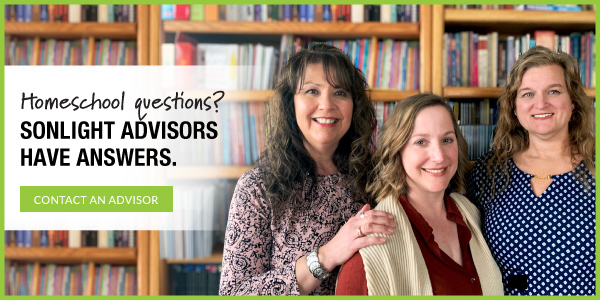 If you are overburdened with homeschooling and could use an empathetic ear, we have experienced homeschooling moms who would love to talk to you and pray with you. Click here to connect with your homeschool consultant.