As John and Sarita's daughter, I can say that Sonlight F – Eastern Hemisphere – most accurately shows the heart of my parents. They long for the Church to be a house of prayer for all nations. They long for people from every nation to meet Jesus. They long for people in the West to know about, and pray for, the people in the East.
So it is with great joy that this year we present …
A New Centerpiece for Sonlight F
Every Sonlight History program has a centerpiece book, or "spine," that serves as the foundation of that particular program.
This year, we are pleased to announce a new title, Journey to the Eastern Hemisphere, as the spine for Sonlight F. This book, which replaces the digital World Book Encyclopedia, is packed with informative articles about the countries and regions that Sonlight F covers.
Each location has a big-picture overview, a description of the geographical features, a look at everyday life, a summary of the area's history, and full-color maps and photos.
Journey looks in-depth at 11 countries: China, North Korea, South Korea, Japan, Russia, Vietnam, India, Israel, Saudi Arabia, Australia, and New Zealand.
It also looks at five regions: Southeast Asia, the Middle East, Africa, the Pacific Islands, and Antarctica.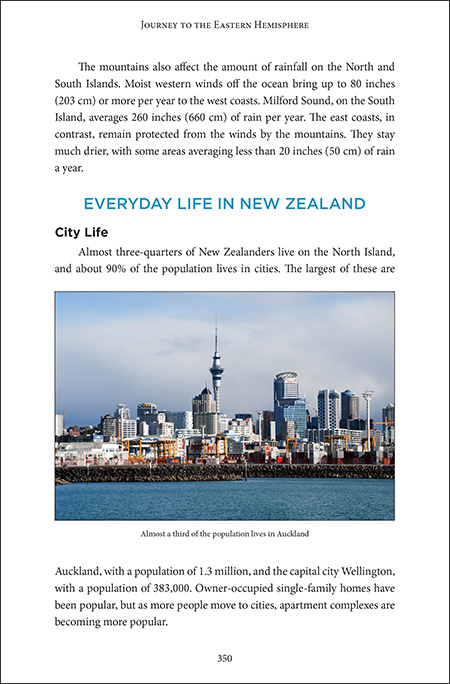 Click here to view a sample!
I got to do a final proof of the book, and I enjoyed the descriptions of the various places. If you've ever tried to summarize a lot of complex information, you know that condensing can be difficult. I thought the author did an admirable job summarizing such a wide range of topics as the Vietnam War and the story of the Endurance.
And … a Revised Reading List
Journey to the Eastern Hemisphere is informative. But it isn't intended to be story-based, the way most of our spines are.
For stories, we have the rest of the books!
Counting the Instructor's Guide, this program has 51 items (plus 13 more, if you add Science F). Sonlight F has 19 Readers, 18 Read-Alouds, eight History books (not counting timeline figures, the China Kit for calligraphy, and origami), and, for Bible, a book and a CD with Bible verses set to ethnic music.
This is a rich program!
In the 26 years since Sarita started Sonlight, the book publishing industry has experienced an explosion of new books from this part of the world. We're excited to introduce you to these new books.
Here's more of what you can expect.
We now have a collection of incredible stories of God at work in Iran.
The section on Russia expanded with two glorious books about life in St. Petersburg, one about the siege during WWII (it's outstanding!), and one set about 50 years later … same family, different time. Such a great way to look at these pivotal moments in the largest country on Earth!
We also have a collection of short stories from Africa, beautifully illustrated with woodcuts (Ashley Bryan has such joyful pictures). We have a Newbery Honor book set in Mozambique and Zimbabwe. We have a book set during the Partition of India! (How many books have you read about the Partition of India?! It's such a gift!)
And we have one of my personal favorites in recent years, Cornelia and the Audacious Escapades of the Somerset Sisters. A young girl enjoys the stories of her globe-trotting neighbor, and this helps her find her own voice. (One sentence is not going to do this book justice. Even if you don't ever get to Sonlight F, you should read this book.)
To sum up: Sonlight F now has a book for a spine, and the other books in the F program have more stories, and more stories specifically about the Eastern Hemisphere.
This program was already a customer favorite. We believe it's even better now.
Celebrate all the richness of diversity on this planet and how God is at work!
Hooray!
Amy Lykosh
P.S. If you haven't heard the music from the Sing the Word CD, you should check out the sampler. "All nations whom you have made shall come and worship before you, O Lord! And they shall glorify your name, for you are great, and do wondrous deeds. You alone are God!" So many different musical styles!