Since John and I are out-of-country, attending a conference of field staff from one of the mission agencies we support, I asked our second daughter, Jonelle, if she would write a "Word" in my behalf.
She readily agreed. And what you see below is the result.
Blessings!
Sarita
--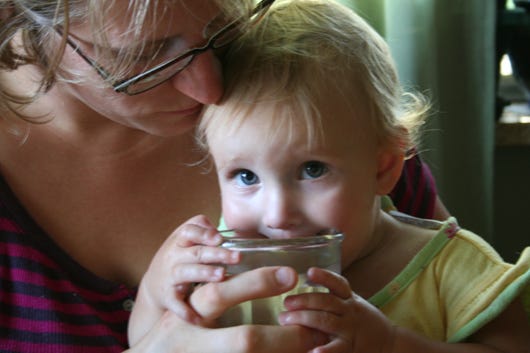 I imagine you are gearing up for the school year. May I encourage you to remember the blessing of being able to stay home with your children and keep them with you all year round?
My daughter Natalia turned one just a couple of weeks ago.
When I was pregnant with Natalia, my older sister told me that the one thing she wished she'd done more with her firstborn was to hold him as much as she could. I took that to heart and have hardly put Natalia down. (Now that she has begun to crawl and is pushing to walk, I am no longer holding her every moment of the day. But still ... )
That policy of holding her as much as she wants has yielded many positive benefits. It has also created some issues that aren't always pleasant to deal with!
Since I am with Natalia almost constantly, on the relatively rare occasions I go someplace during the day, she comes with me. The fact is, at this point, Natalia hates to be alone. She follows me from room to room, and always wants to participate in whatever it is I'm doing.
For a while, I was the only one who could hold her. If I didn't hold her, she would burst into tears. I felt (feel) trapped!
I have since found a few strategies to help ease some of the claustrophobia, but the reason I'm writing is to note that I have to get up each day, just like you, and believe, pray and hope that my relationship with my daughter will be stronger than it was when we went to bed. I am just getting started on this journey and, already, some days it all just feels like too much. But, then I remember something I have overheard my mom say to different people: "It all just gets better. When they get older you get to see all of your hard work pay off because they succeed."
I don't know if you're thrilled with the start of school, or wondering if you can enroll your child tomorrow in the local school because that just might be best. What I do know is, that children are a blessing from God, and we have an awesome responsibility, and gift, to invest in them.
I'm sure I'm preaching to the choir, here, but so many times I forget the gift side of things. I only see the parts I'm missing, such as the clean house (I've started joking that my house will be clean in 18 years when all my children are grown), the freedom to just go wherever I want (and when I had that freedom, I really didn't go anywhere! It's just knowing I don't even have that option now), and the time to talk with other adults: I miss that part of the job I used to have out in "the real world." ...
But what I need to focus on is the fact that my child is almost walking. She smiles and laughs at me. She can play catch if I'll just sit on the floor. She loves playing the piano at Grandma Beppe's (Sarita's house), and any time I sing or do rhythms, she claps along. And the great thing is I get to see that! I don't have to hear about it from the daycare worker. I have a million photos to sort through, but the important part is that I've taken them. I have the option to sort through them when Natalia's in college, because I've taken the time now to shoot them.
Ahhh, just writing this encourages me, brings tears to my eyes, and releases a sigh of joy.
I started this letter by encouraging you to remember the blessing of being able to stay home with your children and keep them with you all year round, and I think that's where I'll stop. Taking even just a few minutes myself to write up some of the things I am enjoying at this point in my life was helpful for me. Perhaps you'd like to do the same as well--here on Sonlight's blog, on your own blog, the Sonlighters Club forums, or just in a journal or diary.
I know I want to choose to rejoice today. Regardless of yesterday, the Lord made today, He made my child, and I can rejoice in that.
Blessings!
Jonelle
PS: I wrote the beginning of this "word" last week. At that point everything in my life was going swimmingly: good meals, birthdays, happy baby, happy hubby, happy me. Then, disaster hit. For whatever reason, everything in my life just felt (feels) like it's falling apart. I sort of wanted to start over, write something else that I could still be positive on, but the more I thought about it, the more I realized that I need to keep reminding myself that it is a blessing to be with my child. So, this "word" is for me as much as it is for you.
---
Want more encouragement?
Sign up for Sonlight's bi-weekly e-newsletter
You'll be encouraged by the words of founder Sarita Holzmann, inspired by real-life stories from other homeschoolers, pick up practical tips for the journey and more.
---