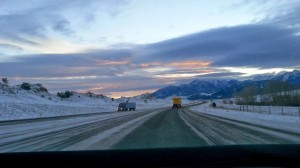 Last month I shared that my family was in the middle of a cross-country move. What I didn't share was that I was also making the transition from being a stay-at-home homeschooling mom to actually working full-time in the Sonlight office. After many years of working from home I was just a little apprehensive about going into the office each morning. I had been to the Sonlight office several times over the years for training in my role as a convention consultant, but I wasn't sure how it would be "in real life."
Now that I've been here two weeks, I thought you might be interested in some of the "inside secrets" I've observed.
I think the most impressive thing to me is that we start every morning with prayer. And not just a token, "Bless this day, O Lord. Amen." Rather, we gather in small groups and talk about specific prayer requests. We pray for various people groups around the world. We pray for missionaries. We pray for each other. And we pray for the extended Sonlight family... customers who share their prayer concerns with us. And then from day to day, we hear the updates about the things we've been praying about. I appreciate being involved with a company who puts such a priority on prayer and the things that really matter to real people.
Another thing I've observed is what an awesome Customer Relations team we have. My cubicle is in the middle of the CR department so I can "eavesdrop" on their phone conversations. They have the pleasantest voices and always call the customers by name. You can tell by their tone of voice that they sincerely want to do everything they can to help. And when they say, "Thank you for calling Sonlight!" they really mean it.
It's exciting, too, to be right in the middle of the ongoing curriculum development and improvements. I always wanted "the best of the best" in curriculum for my children. Now that my homeschooling journey is nearly over I'm finding that it's a blessing to be able to help guide other parents in teaching their children "the way they wish they'd been taught."
I'm looking forward to seeing what the future holds, both for the company and for my family!
Enjoying the adventure,
~Karla Cook
Lifelong Learner