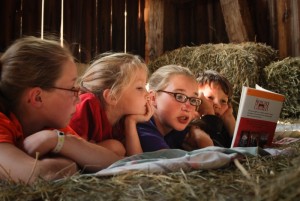 There are pros and cons to homeschooling just as there are with any education choice. But one of the greatest benefits that I found when home educating my children was the ability to teach *to* a student ... not to a test or to a curriculum.
I was reminded of this earlier this week as I had the opportunity to speak to a number of folks who were concerned that they were "getting behind" or just couldn't keep their head above water. One mom with two school-aged children and a brand new baby was lamenting the fact that they are 10 weeks behind in their schooling so far. The addition of a little one to their family was making it difficult to keep to a specific schedule, and she could feel their progress slowly slipping away.
Another mom was concerned because a writing assignment in one of our Core programs was stressing her son. She could sense the anxiety as they tackled the assignment each day and wondered if they would ever get through to the end.
It is so difficult to be raised in a more traditional school mindset, and realize that you don't have to follow that model with your own children. Education at home means you are free to tailor curriculum, and even specific assignments, to the unique needs of your student(s).
If you're half-way into your school year and have added a wee one to the mix, the fact that you're only on week 7 of your Core materials does not mean you're behind! Learning does not only take place around a kitchen table in front of a textbook. Education continues as children learn to help a tired mom around the house ... as they stare in awe at a tiny new baby in the cradle as dad talks about the wonders of her Creator ... as they learn patience when mom is unable to drop everything and read from their favorite book. Their homeschool is not "behind" ... their "curriculum" has simply changed focus for a season. Learning numbers and letters will continue, but it will be greatly enriched as their family works together to welcome a new member.
If you have a student who struggles with writing, or any subject, and you wonder if you'll be able to get through the next assignment, let alone the whole course ... be encouraged in the knowledge that your one-on-one time with him/her gives your student a definite advantage. Take what you know about your *child* and apply it to the assignment, not the other way around. If you're dealing with a short attention span, or anxiety over the length of an assignment, exercise your freedom to change or modify the materials to fit your child. It isn't about making education easier for your child, it's about meeting him where he is and giving him tools to keep moving forward.
Learn to think of a teacher's manual as a tool that you use in the best interest of your child. Your curriculum does not determine your path, you do! Force yourself to ignore the boxes and lists that need to be checked off, and learn instead to focus on your student and what you know about his/her academic and spiritual needs. Have confidence in the fact that you know your child best and thus are the best judge of what works and what does not.
If you're struggling with the mid-year January "blahs" in your homeschool, and have lost sight of your focus because you're too close to the situation, take some time this afternoon to sit down and listen through this series of encouraging webinars we produced a few years back. Has Your Homeschool Experience Become a Nightmare? is a great resource for restoring confidence to your home education plan.
Repeat after me ... I AM my child's best teacher. :)
Still on the journey,
~Judy Wnuk
PS: If you're just researching the possibility of homeschooling, or needing to make a change in your homeschool curriculum, be sure to check out our Switch to Sonlight Promotion which ends tomorrow!