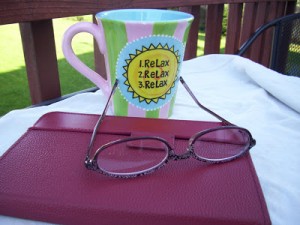 Yesterday, during my lunch break, I pulled out my Kindle to read a few pages of the book I had started over the weekend. As it turns out, I didn't end up getting much reading done because about that time several co-workers came into the lunch room. Someone asked if I liked reading on a Kindle, and so we had a discussion about all the options we have for reading books these days.
As a lifelong avid reader I had debated for a long time over whether to get an e-reader or not. After much consideration I finally made the decision to buy a Kindle about 3 years ago. I actually had a Kindle before I had a smart phone and it is my carry-around device of choice. It fits in my purse, and I think it's very cool to be able to carry around hundreds of books to choose from at any given moment.
I also like that the model I have includes an audio feature which can read the books aloud, or sync with a "real" audio book. There are times when my hands aren't free to "turn the page" so it's nice to be able to continue "reading" with the audio option.
Our conversation then turned audio books. Listening to a recording of a book while driving or cleaning or folding clothes is a great way to make mundane tasks more enjoyable. Luke shared how he had been able to listen to the Bible all the way through multiple times in a few months, something he would likely have not been able to accomplish had he done the actual reading.
My kids have long been hooked on audio books. For various reasons, they aren't avid readers like I am, but thanks to their Sonlight education, they do love a good story. Even though they have both graduated now, I'm sure they would be happy for me to continue reading aloud to them every day. Fortunately, I don't have to. With access to a wide range of titles in a downloadable format from the library, they can continue enjoy good books without having to read themselves.
I have to admit, though, that there's just something about an old-fashioned print book, isn't there? I still have way too many boxes of books yet to be unpacked from our move, not to mention several bookcases full. And I still love browsing the stacks in the library and bookstores.
Mainly, I just love books!
What's your favorite reading format?
Enjoying the adventure,
~Karla Cook
Lifelong Learner