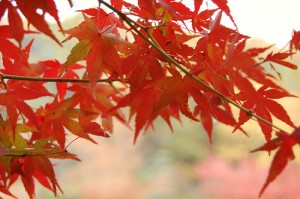 Many people look forward to Spring every year, because it's a time of new beginnings. Others claim that Christmas is their favorite time of year ... with all the decorations and music and good food and secrets. In our small group yesterday, the leader asked us to share our favorite time of year. Hands down, autumn is the very best time of year, in my opinion.
Here in upstate NY fall rolled in on Sunday with crisp temperatures and changing leaves. As I took a deep breath of bonfires and ripening apples that afternoon, I pondered why I so enjoy this time of year. Lots of reasons came to mind, but many of them had to do with the great fun we enjoyed in our homeschool when this season rolled around.
I always loved to find ways to make our homeschooling come alive, and this time of year presented so many opportunities. Science was especially fun during the fall months. Books like The Berenstain Bears' Big Book of Science and Nature and The Year at Maple Hill Farm were favorites during this time of year. Long hikes and visits to the local apple farm made for perfect field trips, and canning and freezing of the produce we grew and harvested created not only an effective science learning experience, but also developed valuable life skills.
Whether this is your favorite season or not, with just a bit of creativity, it is relatively easy to find opportunities enrich your Science studies. If you're not currently using a formal Science curriculum, check out Sonlight's Explorations in Science mini-programs. They are a great way to use hands-on activities to introduce your children to the world around them. But if curriculum materials aren't currently in your budget, learn to look for ways to utilize the current season to spice up your studies.
Still on the journey ...
~Judy Wnuk
Sonlight Customer Champion