What are some of your favorite memories about homeschooling as a child? What do you wish you could (or could not) have done now that you are an adult? I don't come from a homeschooled background, so I'd love to learn more.
My favorite memories from homeschooling are absolutely the books. I bump into so many favorites every time I flip through the Sonlight® Catalog. But it's not just the "fun" books that make up my favorite memories. My understanding of history is largely credited to the biographies and historical fiction we read together as part of our Sonlight studies. But even more important is the way missionary biographies shaped my theology. I can't emphasize enough how much of an impact these memories have had on me. My faith and my love for others, as well as my beliefs about what I can accomplish as I follow God, have been molded by reading Scripture and other accounts of believer's lives. This is huge.
Other favorite memories? Having time. Having so much free time that I could hone my skills and be creative.
I feel I should also point out: Homeschooling's not always sunshine, rainbows, and joy. Sometimes, homeschooling is simply hard work.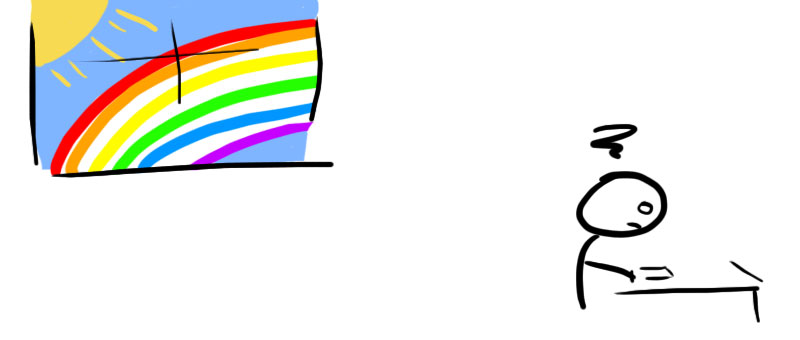 Not Always Sunshine and Rainbows
* * *
Are there things that I now feel I missed out on, or regret, having homeschooled?
No.
I spent seven minutes thinking about this. I tried to come up with something I missed out on. But I couldn't. That's because homeschooling, despite the stereotype, wasn't about being trapped inside my house. I participated in a band and a swim team. I was active in my church and youth group. I spent ridiculous amounts of time with friends. I went on missions trips and trips to the water park.
In other words: I had a normal childhood. I "merely" had the added benefit of a personalized education based on fantastic literature that shaped my view of the world and gave me time to develop skills and pursue my interests.
Not a bad gig.
Again, was it all perfect and awesome? No. But I have no regrets from being homeschooled. And now, as an adult, I keep finding new things that reinforce to me that homeschooling was a fantastic option and opportunity.
Do you have any homeschool memory favorites?
~Luke Holzmann
Filmmaker, Writer, Empty Nester