It's late in the day for me. I'm sitting here trying to conjure up a blog post topic.
Nothing.
I flip through my Other Posts of Note hoping for some inspiration.
Nope.
I stare out the window. I take a bathroom break. I get a drink of water. I spin around in my chair a time or two.
Nada.
'I wish,' I tell myself, 'I had some kind of schedule that just told me exactly what I should blog about every single...'
And there it is. My inspiration struck. The thing I was looking for was an Instructor's Guide. If I had an IG for my blog, I would simply open it up each day with directions, notes, helps, and other tools. Blogging would be a breeze! I'd simply apply my style, input, and time into writing my own post, and it'd turn out great.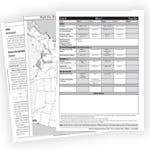 Unfortunately, the IG-for-my-blog idea is only good for a single post. But your Instructor's Guide -- part of your Sonlight homeschool curriculum -- is very real. And it gives you a framework for every single homeschool day. It's a tool you can use as much as you need or as little as you want. But it's there, ready to provide inspiration and direction as you like.
Your homeschooling experience, like my blog posts, are yours. But we can all use a little direction and support now and again.
~Luke Holzmann
Filmmaker, Writer, Guardian